Transforming your bathroom into a spa-like bathroom retreat goes beyond just color schemes and organization. By incorporating enhanced materials and luxurious features, you can create an oasis of relaxation and rejuvenation within your home. In this blog post, we will delve into the realm of elevated materials, including steam showers, soaking tubs, lighting therapy, heated flooring, and more. Let's explore how these additions can take your bathroom design to the next level.
What You Need For A Spa-Like Bathroom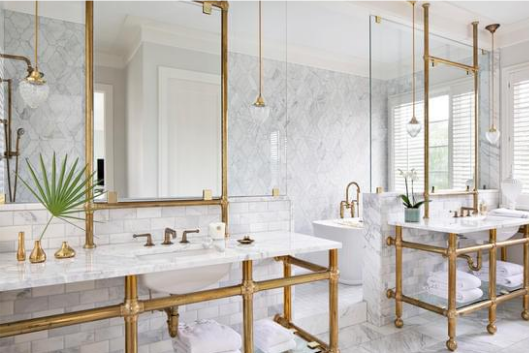 Design by Patricia Davis Brown Designs, LLC.
Indulge in a Steam Shower Sanctuary
Escape to a personal haven with the inclusion of a steam shower sanctuary. These lavish additions provide therapeutic benefits and an unparalleled spa experience. Select a steam shower unit equipped with temperature control, multiple showerheads, and additional features like aromatherapy diffusers and chromotherapy lighting. Incorporate luxurious seating or benches within the enclosure, allowing you to immerse yourself in a cloud of soothing steam and emerge feeling refreshed and invigorated.
Luxuriate in a Soaking Tub Haven
Elevate your bathing rituals with a luxurious soaking tub. Opt for a freestanding tub, a deep Japanese-style soaking tub, or a whirlpool tub with hydrotherapy jets for a truly indulgent experience. Place the tub strategically near a window or under a skylight to enjoy natural light while soaking. Enhance the ambiance with scented bath salts, flickering candles, and a bath caddy to hold your favorite relaxation essentials.
Illuminate with Tranquil Lighting Therapy
Harness the power of lighting therapy to create a serene and transformative atmosphere. Install LED lights or color-changing fixtures in your bathroom, strategically placing them to achieve a soothing effect. Blue light promotes relaxation, green light induces harmony, while warm hues like orange or amber create a cozy ambiance. Experiment with different colors and intensities to discover the lighting scheme that resonates with your sense of calm.
Embrace the Luxury of Heated Flooring
Step onto warm and comforting floors by incorporating radiant floor heating systems beneath your tiles or natural stone flooring. This luxurious addition ensures a cozy and inviting atmosphere in your spa-like bathroom. Radiant heating is energy-efficient and can be controlled via a thermostat, allowing you to adjust the temperature to your preference, even during chilly seasons. Experience the ultimate comfort as you indulge in your personal retreat.
Infuse Opulence with High-Quality Materials
To create a truly elevated spa-like bathroom, invest in high-quality materials that exude opulence. Consider luxurious options such as marble or granite countertops, high-end fixtures in brushed or polished finishes, and indulgent bath linens in plush fabrics. Incorporate rich textures through natural stone accents, intricate tile patterns, and decorative elements like mosaic or glass tiles. These materials not only enhance the aesthetics but also elevate the overall ambiance of your bathroom.
Conclusion
By incorporating enhanced materials like steam showers, soaking tubs, lighting therapy, heated flooring, and indulgent fixtures and finishes, you can design a spa-like bathroom that surpasses your expectations. These luxurious additions provide a sanctuary for relaxation and rejuvenation, enveloping you in a world of serenity within the confines of your own home. Consider your personal preferences, available space, and budget to select the elements that will enhance your bathroom's ambiance and elevate your daily self-care rituals. With careful planning and attention to detail, you can create a truly immersive and indulgent spa-like retreat in your very own bathroom.
Other posts you might enjoy:
Condominium Bathroom Renovation 7 Planning Tips
How To Design a Sleek & Modern Bathroom
Share This Story, Choose Your Platform!