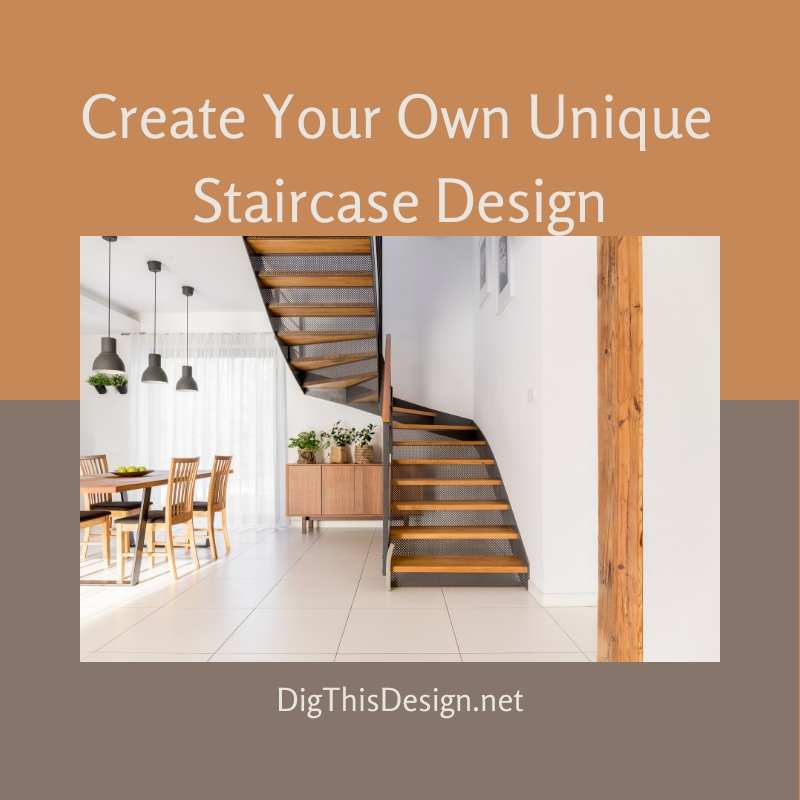 Staircases and staircase designs are often a central element in your home. They're a high-traffic area that takes up a large amount of room. And, without fail, they're apt to become a focal point for visitors and homeowners. Stairs are like a blank canvas, which is exciting. You have the unique opportunity to showcase your unique style and tie your home design together.
When househunting, it can be hard to find the perfect layout. But once you do, finding the right 3 bedrooms, 2 story home design can very well lead to this focus on your staircase. This is the turning point. You have an opportunity to make your house a home with careful design decisions. But do you know what those choices are? We're excited to help you perfect your home style with the ultimate in staircase design.
Create Your Own Unique & Appealing Staircase Design
Consider Custom Wrought Iron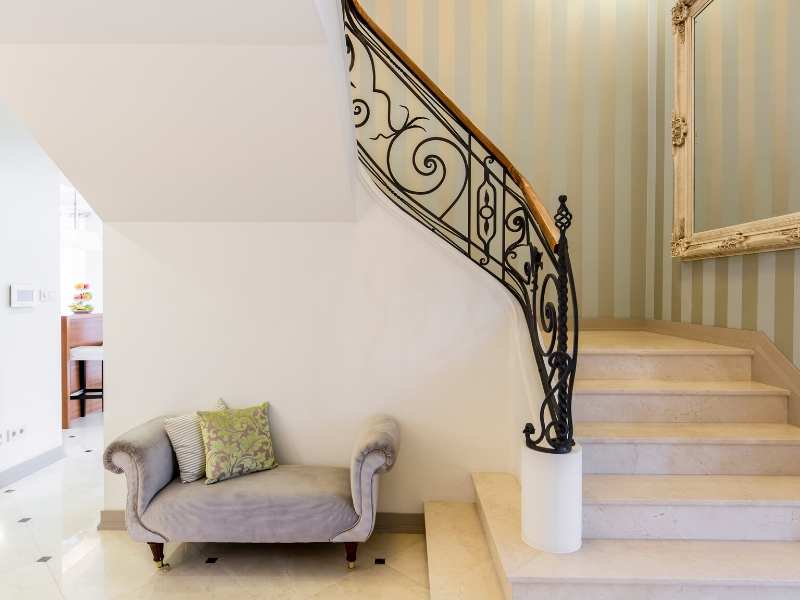 Wrought iron adds a classy, elegant, and timeless feel to your staircase design that will wow visitors. The options with wrought iron are endless, too. You could choose to go simple with straight bars, or you could add a flourish with small swivels or single-diamond balusters.
If you're going for a really elegant look, consider the details of your wrought iron design. Incorporating intricate swirls, leaves, and other elements can pull the balusters together, offering a gorgeous staircase design. Or, you could choose to go completely custom with something like a tree branch style railing. Whatever you choose, know that the personalized touch adds uniqueness to the overall look.
Make it An Artistic Wall
Go beyond the ordinary railing and spindle when it comes to your staircase. If you're feeling adventurous, close off the stairway with a wall. If that's not entirely your cup of tea, floor-to-ceiling balusters create that separation while still letting in the light. Either choose a straight up-and-down look or, perhaps, crisscross them for a more modern, whimsical look for your staircase design.
If you do choose to go with a solid wall like this Emmental staircase, you're guaranteed a modern look and feel. Looking for a more rustic vibe? Create a wall of separated barn boards, or go with stained pallets. Either way, you'll get the light you want with a completely unique feel.
Be Multifunctional with a Mini-Office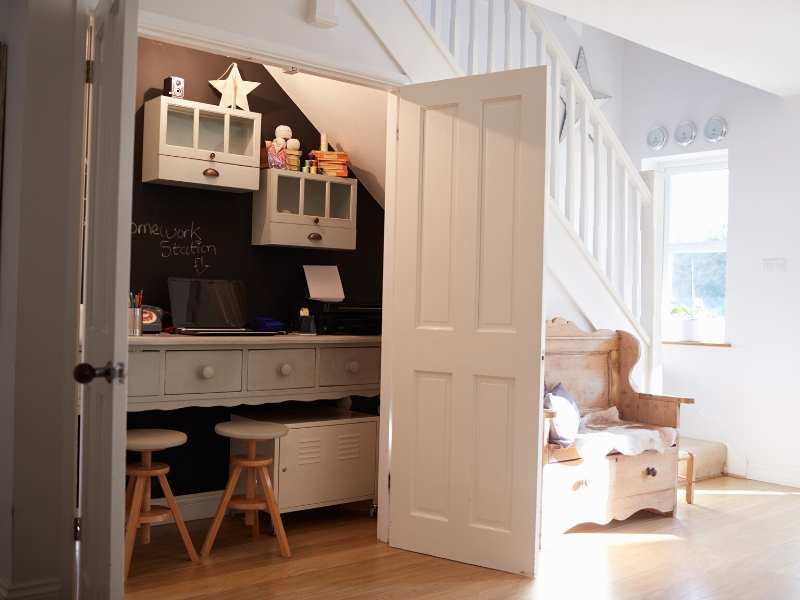 At-home workers will absolutely swoon for this staircase design. Make the most of what might otherwise be unusable space by using your stairs as a mini-office. There's actually a number of ways you can do this. Creating a built-in bookcase along the supporting wall offers a visually stunning staircase design. Also, add dual-purpose decor throughout as in the decor bin beneath the desk which is both functional and vintage.
Let in the Light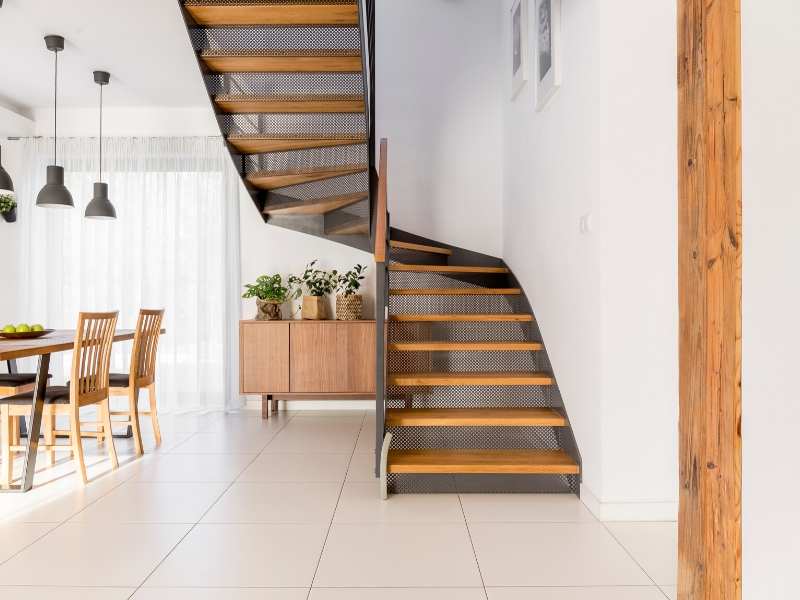 Because your staircase is such a focal point in your home, you definitely want to incorporate as much light as possible. You can either add light to the risers, directly under the tread, or you could have recessed lighting added to the floorboards along the wall. Not only is it a stunning design flair, but it ultimately eliminates the need for wall sconces that you might not otherwise want.
For a really unique staircase design, instead of the stairs, have the lighting incorporated into the railing. Take it one step further by incorporating a lamp or glass light block into the newel post at the foot of the stairs. How's that for gorgeous?
Explore Freestanding Staircase Design
The freestanding staircase design is becoming more and more popular. You can open up a significant amount of space in your home this way. Rather than a walled-in area underneath, leave it open to become an extension of your room.
If your stairs are in the entryway, perhaps use this area for storing coats, boots, and bags. If they're in the living room or office, consider adding a desk or writing nook. Is your staircase in the kitchen? Never fear! Expand your pantry, or create a one-of-a-kind coffee station.
The point is that your staircase design can be so much more than just your average staircase. Choose the right design elements, and you can enjoy a lifetime of elegant, functional space in your home.
Images Courtesy of Canva.
Other Posts You Might Enjoy:
How to Use Floral Patterns in Your Interior Design
French Interior Design Tips for a Parisian Look
Interior Design – The Importance of Craftsmanship