Hallways often serve as transitional spaces but shouldn't be overlooked in design. With thoughtful planning and creative ideas, you can transform your home's hallways into stylish and functional areas that enhance the overall aesthetics of your home. 
It pays to explore handy hallway design ideas that will help elevate your walkways, turning them from mere passageways into gorgeous areas. From showcasing art and creating the illusion of more space to utilizing color, adding storage, and maximizing the use of these parts of the home, the below ideas will help you make the most of your hallways in 2023 and beyond.
View Hallway D

esign 

as a Room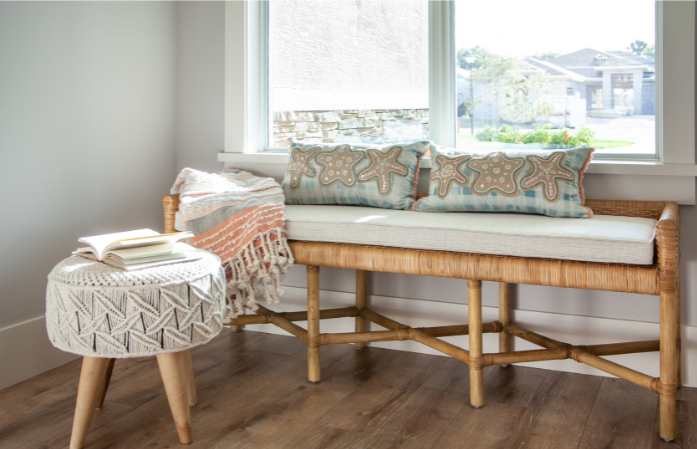 Instead of leaving hallways as neglected areas, start viewing them as rooms that deserve attention and design. Treat them as extensions of your home's overall style and incorporate elements that harmonize with the surrounding spaces. Adopting this perspective allows you to create a cohesive flow throughout your home and make your hallways feel much more intentional and inviting.
Showcase Art 
For starters, it pays to use your hallways as gallery spaces to showcase artwork and create visual interest. You might like to hang a curated collection of paintings, photographs, or prints along the walls. (Ensure you vary the sizes and styles of the artwork to add depth and personality.) This design choice not only transforms your hallways into art-filled corridors but also offers an intriguing visual experience as you or others move from one room to another.
Create the Illusion of More Space 
If your hallway feels narrow or cramped, there are design techniques you can utilize to create the illusion of more space. For example, choose light-colored paint or wallpaper for the walls to make them appear brighter and more expansive. Mirrors can also work wonders by reflecting light and giving the impression of a larger area. Consider placing a large mirror at the end of the hallway to extend the space visually.
Utilize Color
Injecting color into your hallways can add pizazz and personality. Opt for a color palette that complements the adjoining rooms while adding visual interest. Consider painting the hallway walls in a bold or contrasting color to create a focal point. Alternatively, you might use colorful wallpaper or decorative wall panels to introduce texture and pattern.
Add Storage and Seating 
Make your hallways more functional by incorporating storage solutions or seating options. Install floating shelves or wall-mounted cabinets to display books, decorative objects, or personal mementos, and take advantage of the space beneath a window or staircase by adding a built-in bench with storage compartments underneath. This layout not only provides a convenient seating area but also offers a place to store shoes, bags, or other items.
Don't Forget Lighting

 
Proper lighting is crucial in hallways to create a warm and welcoming atmosphere. Consider installing a combination of ambient, task, and accent lighting to illuminate the space effectively. Install wall sconces, pendant lights, or track lighting to provide ample illumination along the hallway. Additionally, incorporate dimmers to adjust the lighting intensity according to different needs and moods. If it's a decent-sized hallway, you might even want to buy a ceiling fan with lights for the space so you get both illumination and cooling in one. 
Bring in Greenery
It's also nice to introduce a touch of nature into your hallways by incorporating plants or flowers along them. Strategically place potted plants or hang indoor planters to add a fresh and pretty element. Choose low-maintenance varieties that thrive in indoor environments, and consider the natural light available in your hallway(s). Greenery not only adds a visual boost but also improves air quality and helps create a calming atmosphere.
Maximize the Use of the Space 
Hallways can offer more than just a passage between rooms. Make the most of the available space by incorporating functional elements such as built-in bookshelves, display niches, or a small workstation. These additions serve both practical and decorative purposes, maximizing the potential of your hallways and creating additional useful areas inside your property.
Create a Link to Nearby Rooms
Lastly, ensure a seamless transition between your hallway and adjacent rooms by creating a design "link." Carry over design elements such as color schemes, flooring materials, or decorative motifs from surrounding areas. This cohesive approach establishes a sense of harmony and flow, making your hallway feel like a natural extension of the interconnected spaces. 
Transforming your hallways into well-designed and functional zones can greatly enhance the overall ambiance of your home. By viewing hallways as rooms to really pay attention to in your design, you'll elevate the walkways in your property from ordinary passages to purposeful, stylish areas. 
Other posts you might enjoy:
3 Examples of Useful and Appealing Entryway Designs
7 Interior Design Trends to Checkout
Share This Story, Choose Your Platform!