Interior doors serve a dual purpose in your home, functioning as a gateway between rooms and adding a touch of style and personality to your space. They can be the focal point of any room, making them a statement piece with a multitude of options to choose from. To help you navigate through the available choices, we've compiled the latest interior door trends that are sure to inspire you. From unique textures to bold colors, these trends can help transform your doors from overlooked features to design highlights. Check out these trends whether you're renovating your home or simply looking to update your doors.
The Best 7 Interior Door Trends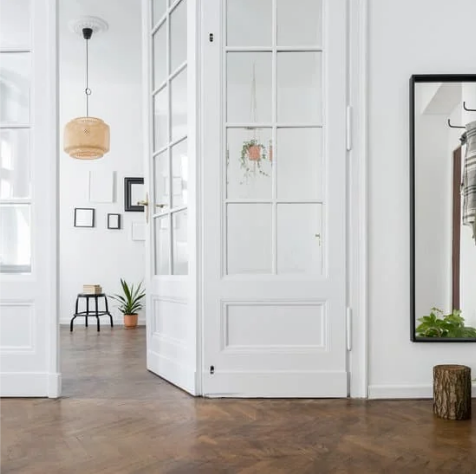 While timeless colors and traditional designs generally define exterior doors, interior doors offer more creative freedom, especially during the upcoming season when designers are focused on breaking away from stereotypes. Let's look at what experts predict as the top interior door design trends for 2023.
Non-Glazed Interior Doors
Glass is no longer being used in new interior door designs. While it was once common for almost half of the doorway to be made of glass, many building models are now designed without windows or glass. This can be a problem for houses with poor lighting, making corridors very dark. Internal doors are essential for privacy within the home, and as decoration has become more critical, they have started to take on more elegant shapes.
Exceptionally Handy Pocket Doors
Design by Patricia Davis Brown Designs
Pocket doors have become increasingly popular in recent years due to their practicality, particularly in bathrooms, but they are now being used in other rooms too. They feature a sliding mechanism that allows the door to move into the wall pocket, which saves space and emphasizes the simple style. A two-leaf pocket opening is recommended for larger spaces, and a combination of wood and glass is a great choice for pocket doors.
Swing Interior Doors
Swing doors are becoming increasingly popular in kitchen interiors and are predicted to become a must-have feature in any modern kitchen design. With their growing popularity and versatility, it's clear that swing openings are here to stay and will continue to be a key trend in interior design for years to come. If you're looking for interior doors in Los Angeles, swing entryways are a great choice to add a sleek and seamless look to your living space.
Custom-size Interior Doors
Designers are now giving more significant consideration to interior door designs, with many opting for up-to-the-ceiling high doors and some even going beyond standard widths to make them wider. This approach transforms the door from a practical feature to a stylish and eye-catching room component. Furthermore, it's not just about aesthetics, as high interior doors can also create an illusion of a higher ceiling, perfect for those who feel their living space needs a bit more height. Indeed, standard-sized and height options are still available. Still, with the increased attention to design and the benefits of higher doors, it's no surprise that more and more people are opting for these stylish and practical options.
Modern Plank Doors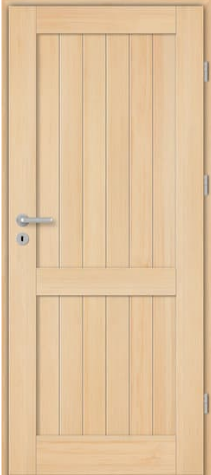 Modern plank doors are a fantastic way to add character to your interior design. With a balance of traditional and contemporary elements, these doors create a unique, eclectic, timeless, and contemporary look. The wooden planks give the entrance a traditional appearance, while the sleek and modern twist adds a touch of sophistication. These doors can bring warmth and texture to any room, making them perfect for homeowners who want to add a touch of rustic charm to their homes without sacrificing a modern aesthetic. Whether you want to revamp your bedroom, living room, or kitchen, modern plank doors are a great choice to enhance your home's overall personality and style.
Doors With Natural Motifs
In today's world, people are constantly on the go, juggling numerous responsibilities and tasks that can leave them feeling overwhelmed and tense. But everyone needs a place to retreat to at the end of the day, a sanctuary where they can relax and recharge their batteries. A comfortable and welcoming home can provide just that, offering a peaceful and safe haven where individuals can unwind and spend quality time with their loved ones.
One of the critical elements of a calming and inviting home is its decor. Creating a warm and inviting atmosphere can be achieved in numerous ways, but one trend predicted to be popular in 2023 is using doors with natural motifs. These doors, made from veneers and eco-veneers, can create a cozy and inviting environment that is both visually appealing and emotionally satisfying. With their earthy tones and organic designs, these doors can bring a touch of nature into any home, creating a sense of tranquility and harmony that will surely be appreciated by all who enter.
Conclusion
Interior doors play an essential role in a home's functionality and design. They can make a statement, add character, and create a cohesive look throughout your space. With the latest trends in interior door design, there are endless options, whether you prefer a traditional or modern aesthetic. From non-glazed doors to natural motifs, the key is finding a design that suits your personal style and enhances your living space's overall look and feel. So explore these latest trends to transform your doors into stunning design features that impress your guests and make you feel right at home.
Other posts you might enjoy:
Glass Interior Doors, Types and Styles
Replacing Cabinet Doors – A How-To Guide
Share This Story, Choose Your Platform!