Whether you're looking to revamp your dining room décor or have recently moved in and are unsure of how to style it, we've got you covered. Don't worry, your dream dining room is just around the corner after reading this blog.
4 Ideas For Your Dining Room Décor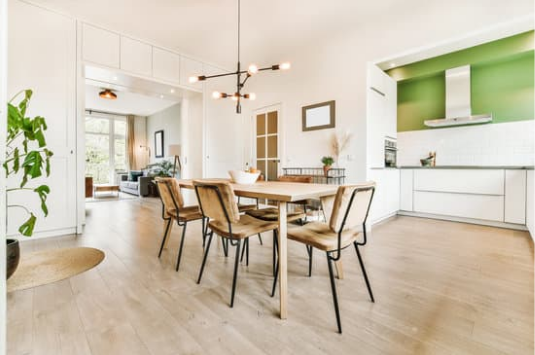 Enhance your home aesthetics with these chic dining room decor ideas that are sure to bring about some inspiration.
Embrace Neutrals
Neutral colors work best with most, if not all, types of themes and aesthetics. Whether you're planning an industrial-style dining room or a mid-century one, neutral decor can suit everything! From plant pots to lighting fixtures, rely on neutral-toned decor to add a touch of elegance. And don't forget, this also applies to walls, floors, wall ornaments/paintings, and rugs.
Opt for Classy, Stylish Lighting
The hallway and living room aren't the only places where you can incorporate classy and timeless lighting decor. Your dining room offers countless opportunities for you to use lighting beautifully. Head to an online lights shop to find the perfect lighting fixtures for your dining room. In particular, ceiling pendant lights that hang above the center of your dining table create a dramatic effect. Dazzling wall sconces can also be used to highlight cabinets or a bookshelf.
Don't Forget the Centrepiece
Speaking of the center of the dining table, don't overlook dining table centerpieces. From a vase to a fruit bowl, remember that your dining table is another canvas for decor! While flowers are certainly a common centerpiece, don't be afraid to experiment. From flamboyant to minimalist, the choice is yours. And here's a pro tip: consider the shape of your dining table to help you figure out the best type of centerpiece for your specific dining room.
Mix and Match Materials
Consider the shape of your dining table to help you figure out the best type of centerpiece for your specific dining room.
While you might already have a theme or style in mind for your dining room, have you given much thought to the materials you wish to use? The most common types of materials you'll see in dining rooms include wood, glass, and metal. While most people tend to stick to a fully wooden table and chairs, you have the freedom to think outside the box! Experiment with different types of materials, not just as a whole, but also with single pieces of furniture. For example, why not have a glass tabletop with a wooden hairpin leg for your dining table? This is certainly one way to create a unique dining room aesthetic that will impress your guests.
Feeling Inspired?
We hope that the above dining room decor ideas have inspired you! Remember, no matter how you choose to decorate your dining room, beauty is in the eye of the beholder. Ultimately, decorate your home in a way that you find most flattering. From extravagant lighting to simple and homey centerpieces, the chic dining room of your dreams is within your reach.
Other posts you might enjoy:
How to Create Inviting Dining Room Décor
5 Best Ideas on How to Decorate a Modern Dining Room
Share This Story, Choose Your Platform!