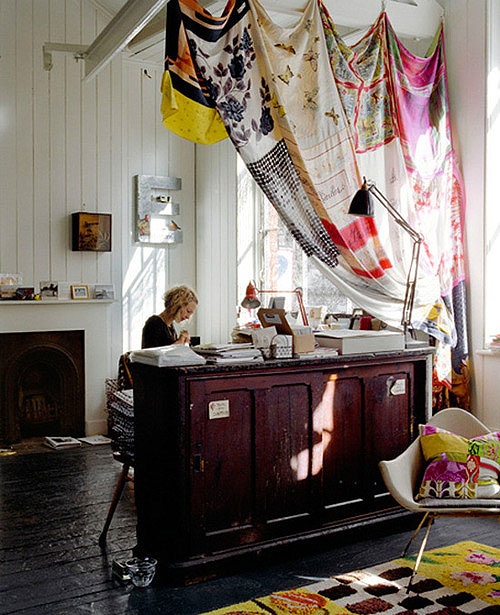 Looking for some new dorm room design ideas to help you add a splash of color and added style and function? We've got a great idea for you today: use curtains.
Check out these ideas for taking a simple piece of fabric and turning it into a useful and stylish item in your dorm room.
A Curtain for a Closet Door
Swap out your closet door for a curtain and you regain feet or inches of space to allow the doors to open and close. This picture (from a girl's bedroom) shows how simply pulling back the curtain gives you access to everything you need, without worrying about bumping into anything: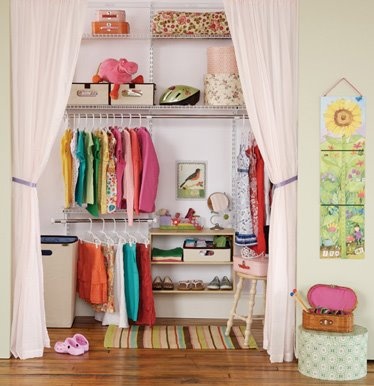 (Dig this dorm room closet idea on Pinterest)
As you'll see in this picture, using a curtain for a closet door also lets you use the space in front of the closet for furniture and storage. We love the brightly colored curtain used in this picture. Since you probably can't paint the walls in your dorm room, a curtain like this will be a bright, fun splash of color: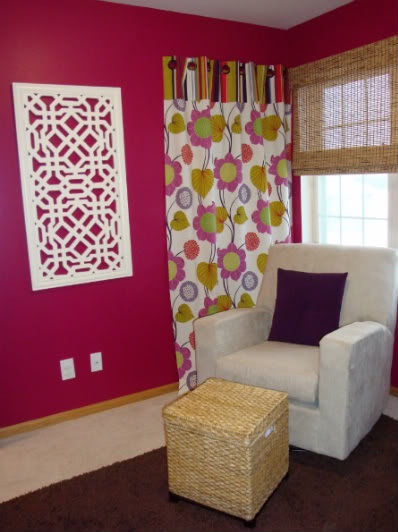 (Dig this dorm room layout idea on Pinterest)
Here's another example of how a curtain closet door can really change the layout of a room. In this picture, the bed was placed right in front of the closet. With just a few feet between the bed and closet to get by, this technique opened up a whole wall. For a dorm room application – we suggest removing the headboard. The closed curtains will fill the visual void and you'll have more room: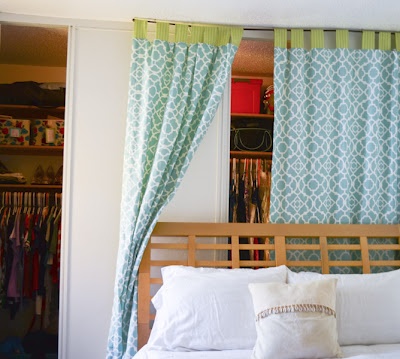 (Dig this closet idea for your dorm room on Pinterest)
Divide Your Dorm Room with a Curtain
Whether you're looking to separate study space from sleeping space or separate yourself from your annoying roommate… a curtain is a convenient and colorful way to get it done.
We found this example of a curtain dividing a workspace… but how cool would this look hanging from your dorm room ceiling: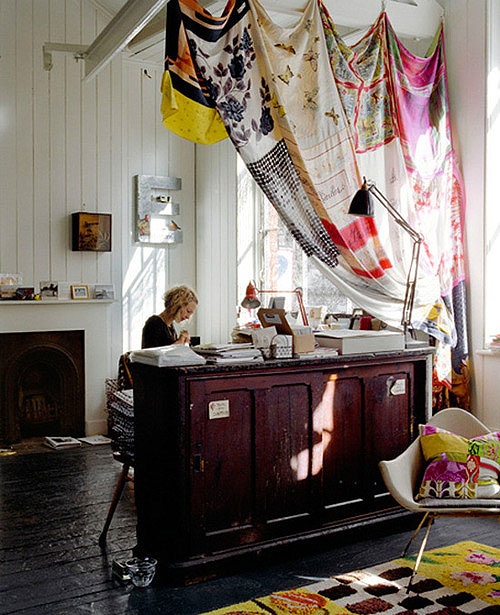 (Dig this room divider idea for your dorm room on Pinterest)
Here's another example that offers panels of privacy and a lot of color: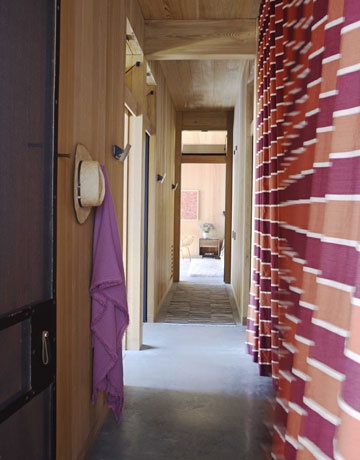 (Dig this dorm room privacy idea on Pinterest)
Create a Custom Designer Look for Your Dorm Room at a Bargain Price
The best thing about curtains is that they can be incredibly budget-friendly. Now, if you start searching for "curtains", you may find a lot of expensive options… but, if you start looking for "sheets", you'll find a lot of affordable options.
Looking for something that's completely unique? Head to a vintage or second-hand store to find old sheets, vintage curtains and fabrics.
When you find the prints and colors you love, simply attach tabs to the back and slide a curtain rod through, just like you see here in this picture: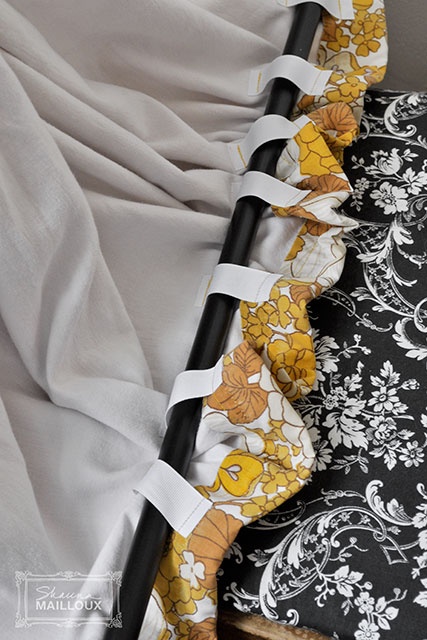 For picture-by-picture directions on creating curtains like this, visit Shauna Mailloux's blog.