Sometimes it's difficult to understand teenagers or to remember what it was like when we once were, but one thing is clear, teenagers find it important to express themselves anyway available, and girls in particular like to explore who they are.  Helping them discovered an inspired room is a great way to connect with them and allow them to express themselves.
Here are some teen girls bedrooms that may inspire them and you!
Pink Is Still Good
Pink doesn't stop being a girls signature color just because she gets older.  Many girls still love and adore the color pink, associating it with femininity and beauty.
This teen girls room takes pink to the next level of decor.  With plush carpet, contrasting textures, and exquisitely designed ceiling nearly every inch of this room is colored in pink.
(Dig This Bedroom On Pinterest)
For a teen girl wanting to hold onto some of her youthful adoration of the color pink, but wanting a more adult influence this one wall with small minimized accents in the room make this a mature yet clearly feminine room.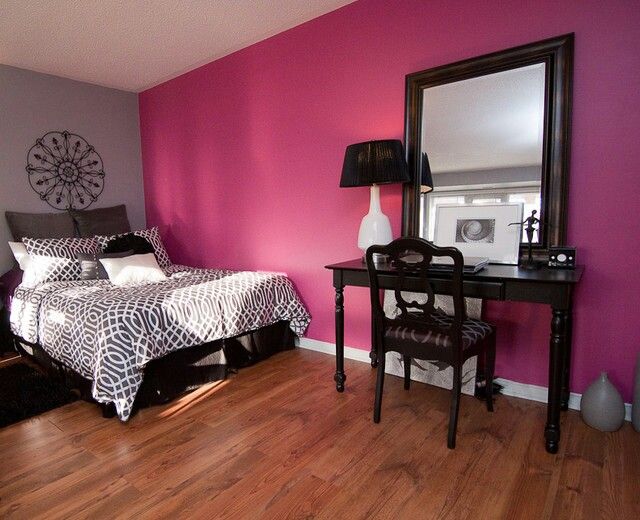 (Dig This Bedroom On Pinterest)
Not entirely lavish or over the top, the teen girls room decor featured below is dainty, but also mature.  Not ready to give up the frills entirely, but certainly entertaining a more adult point of view.
(Dig This Bedroom On Pinterest)
Go Green!
Pink is not the only feminine color of inspiration, even purple or other dainty colors aren't a requirement.  Some girls enjoy a still feminine room without the typically colored pink.
This teen girls room is lavish, exuberant, and full of over the top contemporary design, but some of the playful features like the chandelier and curtains are a reminder that this isn't likely a full grown adults room.
(Dig This Bedroom On Pinterest)
This beautiful teen girls room is white with green accents and ultra feminine, but still is inspired with a little fun with color and some of the fun items like posters and lamps.
(Dig This Bedroom On Pinterest)
You wouldn't think this color green would be a first choice option for a teen girls bedroom, but the lavish femininity cannot be missed.  With still a little pink and feminine decor this room takes a different point of view, but a very pretty one.
(Dig This Bedroom On Pinterest)