In a nation where financial freedom isn't what it once what was, many people are downsizing space in their homes, specifically bed rooms, and bunk beds are a great way to double up the kiddos and give them more space for activities. They are also a great space utilization for a cabin in the woods, a lake house, or some kind of vacation home for the family. It's an invitation for the concept of "the more the merrier" and gives the nostalgia of being youthful.
Here are some ideas to utilize small space, inspire your vacation space, or just be super creative and make those dream bunk beds for your kids!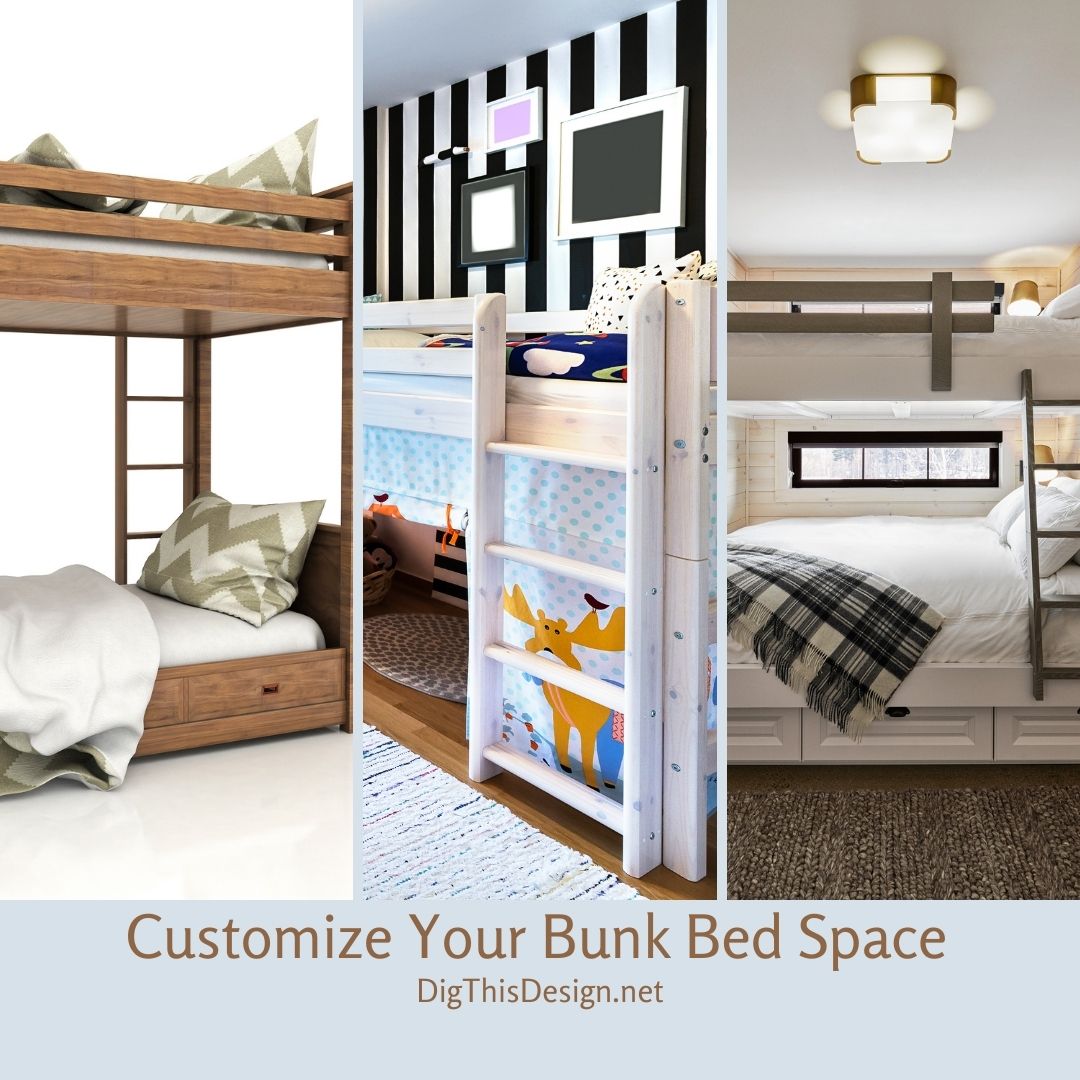 Bunks that Utilize Smaller Spaces
Often times the reason for kids to share bunks is because there isn't a huge space available and in small room you feel your options are limited, but these inspirational photos below offer several different ideas on exactly how you can have that bunk room, make it look attractive, and give those kids the space they need for activities and playing.
The idea of bunk beds was initially created for space conservation. The military, large families on a farm, etc. have used these forever, but just because your space is limited in these modern times isn't a reason to not make it aesthetically pleasing. The bunk below space is limited, but the bright white walls and trim have opened the room and with the orange accent in the back it really stands out. It's crisp, clean, and could be either a boy or girls room.
Custom beds can be cleverly built itself into an existing nook in the room leaving more space for toys, dressers, and necessities. This is also a good example to show that a bunk isn't always only a good option for a two person room, but opens up possibilities for more space for one kid, as the inspiration here gives the child a playhouse beneath the bed, giving it almost a tree house feel.
If your child has a hang up of monsters being in the closet, you can kill two birds with one stone by making the closet their bunk space. Not only have you given the room considerable more space, but it's easy to close the door and inspire the illusion that the room is quite larger than it is. Or perhaps it could be used as extra sleeping space in a guest room. The possibilities are endless when this kind of ingenuity is involved.
Inspire Your Vacation Space
Building a vacation home? Do you have a large family with kids, grand-kids, brothers, sisters, cousins, or maybe just a ton of friends? Here are some ideas for a cabin, summer home, or maybe even a room on a boat. Some of the below featured bunk beds inspire usage of space and some are more whimsical and fun. The point is, it's your vacation place spot, you customize it to your own dreams and desires.
Also design a bed that gives an excellent inspiration for making a large amount of sleeping space in a small area. The crisp colors, open windows have given the feeling that the space isn't confined and yet really all the room consists of is beds. A room like this would likely be used for a vacation space as there are no dressers or any other indications that there is permanent residence, but this idea is absolutely perfect for vacationing.
Sometimes just a personal touch is what makes a vacation home or summer house set a mood. The photo below gives the rustic and homey feel of a cabin somewhere in the woods. The paneling and simplicity really evoke a sense of emotion and care. Setting a theme to go with your vacationing space only elevates the experience you are already attempting to have and will inspire a night of even better sleep.
Create a Whimsical Theme
Not everything has to be about space conservation, or a casual theme. If you have the time, the space, or the money, why not use your imagination for inspiration and create your own room theme?
Every kid dreams of castles, the circus, and fantasies and to actually be able to exist in a room with that theme is a kid's dream come true. The photo below shows an excellent example of putting a theme together and making it not only fun and eye catching, but functional as well.
What kid wouldn't want to sleep in a fort every night? Didn't most of us try and make this possible with blankets and chairs as kids? This great concept below shows that exact dream realized, and it manages to create space within the space. This whimsical idea is not only pleasing to the eye, but completely functional as well.
Images Courtesy of Canva.
Share This Story, Choose Your Platform!