It takes a lot of effort, time, and energy when you are in the process of designing a new or revamping a bathroom. It genuinely is a big investment in terms of money. However, if it's done right then it saves you a lot in the long run by reducing the maintenance cost.
One must be vigilant when installing a new or remodeling a bathroom. In this article, we will guide you to achieve the dream resting corner. Let's dive into the main considerations to keep in mind before starting the job.
6 Steps to Consider When Designing or Revamping the Bathroom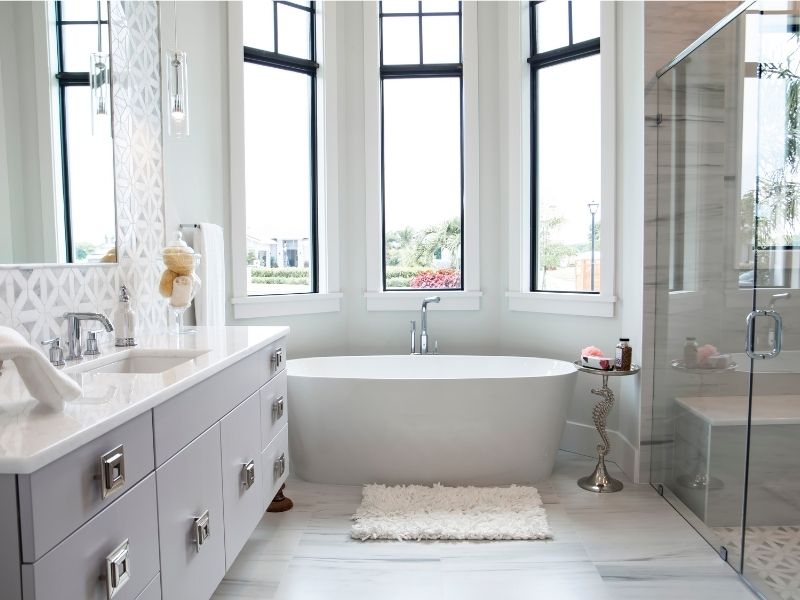 ① Evaluate the Cost and Material
This is the most crucial step since it is the base of the whole process. Plan your budget and start hunting for suitable material. Also, calculate installation costs.
It all depends on personal preferences and choices but you must also consider the return on investment for the long run.
② Design as Per Size
The available space matters a great deal therefore design the bathroom accordingly. Walk-in showers with crystal clear glass add a contemporary and modern look to the bathroom.
By replacing hefty looking bathtubs with glass shower screens, it will brighten and lighten your bathroom. But if you have enough space to work with, then, incorporating both is another consideration.
③ Make a Good Selection of Tiles
A decent selection of tiles is very important because a wrong selection can ruin the entire look of the bathroom. Along with tiles, considering the color of the walls and contrasting vanity area.
This is vitally important since all these surfaces go hand in hand to accomplish the desired look. Adding vibrant colors will help achieve a modern look whereas all-white is an all-time favorite for most people.
④ Pick the Best Toilet
Please don't be stingy while selecting the toilet because it will surely save you on maintenance. You can either go for a two-piece or a one-piece toilet all depends on the budget and personal choice.
A two-piece toilet set is less expensive and easy to carry but can be difficult to clean down the road since the seam between the two can be challenging to clean.
Additionally, the one-piece option is a bit expensive, looks lavishing, and is easy to maintain. Check out Victoria Plumbing to explore and find the best products. 
⑤ Install the Right Lighting
Investing in proper lighting in the bathroom just can not be ignored. Good lighting empowers the mood. The options are endless, so install the one that will satisfy your styling needs.
⑥ Choose a Reliable Supplier
Make ample research and find a reliable and positive reviewed supplier. It is ideal to select a supplier who will fulfill all your demands from supplying products to installing, plumbing, and guaranteeing the work done. 
If you have any questions or suggestions to add, please do so in the comments below. You will also find below several links to take you to more informative articles about ALL things DESIGN.
Images Courtesy of Canva.
Other Posts You Might Enjoy:
Designs of the Year: A Guide to the Top Bathroom Trends of 2020
4 Ways to Future-Proof Your Bathroom Design
Bathroom Design; Transformation on a Budget
Share This Story, Choose Your Platform!