Although a lot of people are looking for modern bathrooms these days, the classic look is still in style. In fact, a lot of homeowners are going vintage when it comes to their bathroom. However, when you do decide to renovate your bathroom, it can leave a lot of people puzzled about how to pull off a beautiful classic look. Therefore, here is what to do to achieve a vintage bathroom style when you decide vintage is the way forward!
Elements of a Vintage Bathroom Style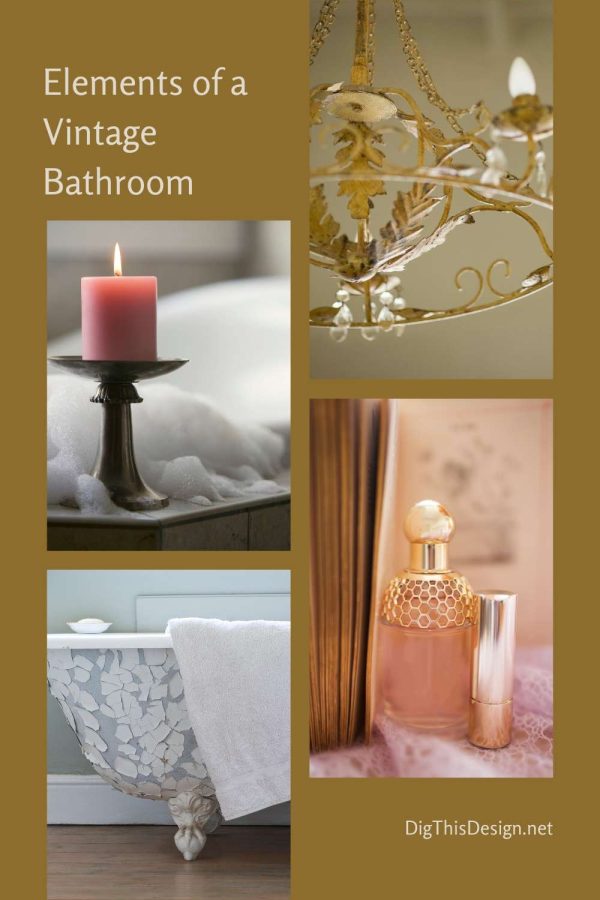 The Clawfoot Stand Alone Tub
A classic staple to a vintage bathroom is a clawfoot tub. The gorgeous bath tub which stands alone in the room is perfect for pulling off a vintage look. You can even add it to the center of your bathroom to ensure it's the focal point of the room. And it's ideal for when you want a lovely bath after a long day at work. You can just rest and chill out in the spacious bath! And remember to go for gold or brass taps to complete the perfect look. You could even consider painting the classic bath a bright color to make it look fantastic in the room!
A Vessel Sink
A Vessel sink bowl is a powerful statement in any bathroom. If your desire is to give a vintage look to your bathroom you can really build that character by investing in a vessel bowl for a big impact to the design. Vessel sinks are available in several materials including natural stone and marbles. One of the marbles known for its vintage look is Carrera marble. There are also many patterns offered in this type of sink that could lend itself to a vintage vibe. You can find a whole range of vessel sinks on sites similar to http://www.uniquevanities.com/vessel-sinks.html.
Vintage Accessories
If you think back to visiting your grandma when you were younger, you were bound to see floral towels in the bathroom. Therefore, you should give your own bathroom a bit of old glam by opting for some floral towels. In fact, you could put a pile of the different sized decorative towels on the side in the bathroom to pull off a fantastic look. And it doesn't just have to be towels; you could get a floral toothbrush holder and soap dispenser too! Both of these will help to add some vintage style to your bathing quarters.
Hang a Classic Chandelier
Nothing says classy and elegant than a gorgeous chandelier. Therefore, you should consider giving your bathroom a classic look by investing in a beautiful chandelier. It doesn't have to be huge, but a small crystal chandelier will add some elegance to your bathroom. If you don't want to spend much money, you could try and hunt down a second-hand one. As it says on http://freshome.com/2014/12/29/10-ways-to-make-your-home-look-elegant-on-a-budget/, you are bound to find some beautiful chandeliers at flea markets. They might just need a bit of a touch up before you hang it proudly in your bathroom!
Pedestal Vanity Sink
A lot of people go for a vanity unit for their bathroom. After all, it has great storage you need for all your belongings. However, for a traditional feel, you might want to go for a pedestal basin instead. They are perfect if you want to pull off a classic look. As http://www.houzz.com/ideabooks/75091877/list/10-traditional-features-to-make-your-bathroom-an-instant-classic says, with its period feel and simple line, it's ideal for your bathroom!
Pulling off the vintage look can be as easy as some vintage accessories or a complete remodel of your bathroom using materials that give a vintage personality to the bathroom. Working with a professional interior designer might be money well spent to get the perfect new bathroom you desire.
Images Courtesy of Canva.
Other posts you might enjoy:
DIY Vintage Chic Coffee Tables
Cool Find: vintage Beach Photography
Share This Story, Choose Your Platform!