Regardless of the reason why you need to purchase new showerheads, buying the right product is a top priority. Additionally, it's advisable that you replace them every six months to prevent bacteria from thriving in this bathroom fixture. Showerheads are available in different specifications, sizes, and designs.
If you want a satisfying experience, compare a couple of products, however, there are a wide variety of options on the market. This is why we've reviewed the top 5 shower heads for hard water your hair and skin will appreciate. If this is something you want in your home, continue reading for the results of our research.
Best Showerheads for Hard Water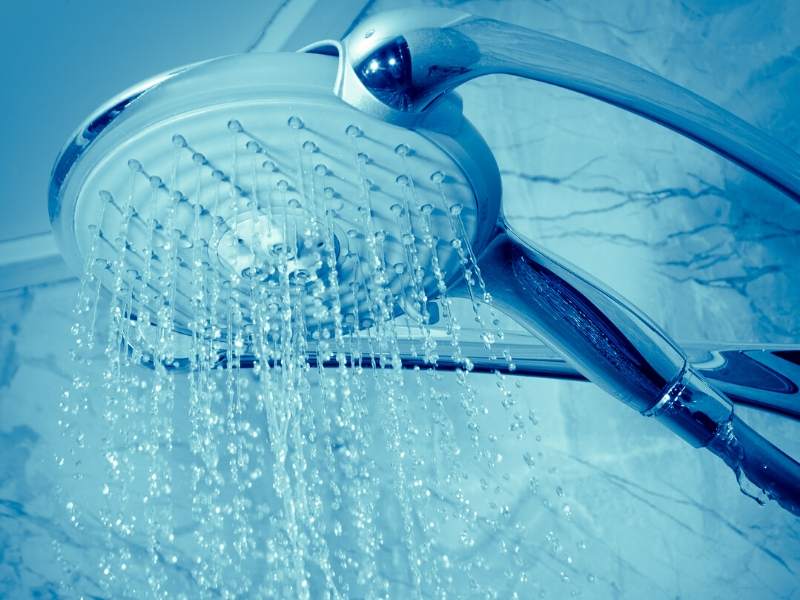 ⎆ Moen S6320 Velocity Two-Function Rainshower
For those looking to enjoy luxury showering experience, then purchasing the Moen S6320 Velocity Two-Function Rainshower is a smart decision. This fixture comes with top-of-the-line quality, remarkable water pressure, and a great warranty.
This product features an 8-inch diameter, which makes it a large shower head and offers wider water coverage to deliver a soothing shower experience. The Moen S6320 Velocity Two-Function Rainshower is equipped with immersion technology to provide a thorough rinse by improving spray power.
This unit offers two spray settings – the "rain shower" and the "concentrated skin," and both have a 2.5 GPM maximum flow rate. This fixture sports a unique spray nozzle pattern to create concentrated water force and flow.
According to most customer reviews, the showerhead offers impressive durability and high quality. On the drawbacks, some customers complain that the wide showerhead design prevents them from installing a shower organizer.
Pros:
Luxurious, high-quality spray
Two spray settings
Expansive water coverage
Cons:
⎆ Delta 58480-PK In2ition
If you are on a hunt for a handheld showerhead, then opt for Delta 58480-PK In2ition. One of the most exciting features of this fixture is its plethora of spray settings offered – H2Okinetic, full, and massage. These modes come with a maximum flow of 2 GPM. The "massage" option is powerful and strong enough to deliver soothing stiff muscles while the other option H2OKinetics to offer a pressurized water-like sensation.
More importantly, you can use the showerhead, and this hand shower together or separately. Above all, it features a flexible steel hose that is sturdy, long, and easy to use.
Pros:
Self-cleaning
Fully plated showerhead
Multiple spray options
Cons:
Water trickles down the handheld backside
⎆ Waterpik Showerheads
Next on our list is Waterpik Shower Head with Advanced OptiFLOW technology to deliver full, high-pressure body spray. The chrome handheld showerhead features five soothing settings.
Furthermore, it includes a 5-foot shower head for convenient use to bath pets, and wash kids. More so, the Waterpik Shower Head comes with an adjustable angle bracket, which makes it easier to position your shower head.
That's not all: the shower nozzles are easy to rub clean and won't clog thanks to its anti-clogging property. This fixture is easy to install on any standard shower arm since it doesn't require any pipe tape.
Pros:
Hand shower with a 5-foot hose
Anti-clog nozzle
Easy to install
Cons:
The chrome finish might flake
⎆ Speakman S-2252 Icon Anytime High-Pressure Adjustable Shower Head
For people looking to purchase an inexpensive model often found in several lower-level models, but it offers excellent values. Its incredible performance is due to the brand's Any stream technology allowing users to rotate the handle to change the water stream to your preference.
From an intense and full spray to light steams, to massage-style pulses for soothing stiff muscles, and rinsing the soap off gently. Plus, the transition between these spray options is swift by slowly moving the handle.
Speakman S-2252 Icon features 48 spray nozzles and six plungers without the sprays intersecting each other. This showerhead is made from solid brass and has three polish finish options: chrome, brushed nickel, and oil-rubbed brass. This model is also available in two water flow rates: 2.0 GPM and 2.5 GPM.
Pros:
Lots of options
Easy to switch between spray modes
Incredible performance
Cons:
Not the easiest to install
if you don't want to spend a lot on showerhead but still want performance, then American Standard 1660.717.002 Flatwise Water-Saving Showerhead can be just what you're looking for.
This brilliant showerhead uses less water than most options on the market without skimping on function. It is equipped with a turbine to boost force and delivers pressurized water. Above all, it offers a different spray combo from 1.5 to 2.0 GPM.
Pros:
Lifetime limited warranty
Full, turbine or combined function
Polished chrome finish
Cons:
Not an ideal option for people looking for a full feel
Conclusion
We've reviewed the top showerheads for hard water to keep your hair and skin glowing. However, in our expert opinion, Moen S6320 Velocity Two-Function Rainshower offers excellent value for the money. Also, Speakman S-2252 Icon Anytime High-Pressure Adjustable Shower Head is our top choice for people on a tight budget.
Images Courtesy of Canva.
Some Fun & Amazing Ways To Enjoy Your Deck
Benefits of Using Steam Cleaners To Sanitize Your Home
Carpet, Tiles, and Hardwood: Which Flooring is Right For You?
Share This Story, Choose Your Platform!