A great way to increase walk-in customers is to improve your business storefront. You got buried under mountains of work, saved and borrowed lots of money, filtered through thousands of ideas–to launch the store of your dreams. Business is flowing until you realized your store isn't getting enough foot traffic in the door.
Instead of feeling frustrated, learn how to pave your way to business success. Think first impressions and integrate marketing tricks that will amp up your storefront design to attract passersby. Now grab a cup of your favorite drink and explore the range of inventive ideas for designing your perfect storefront.
How to Amp Up Your Storefront Design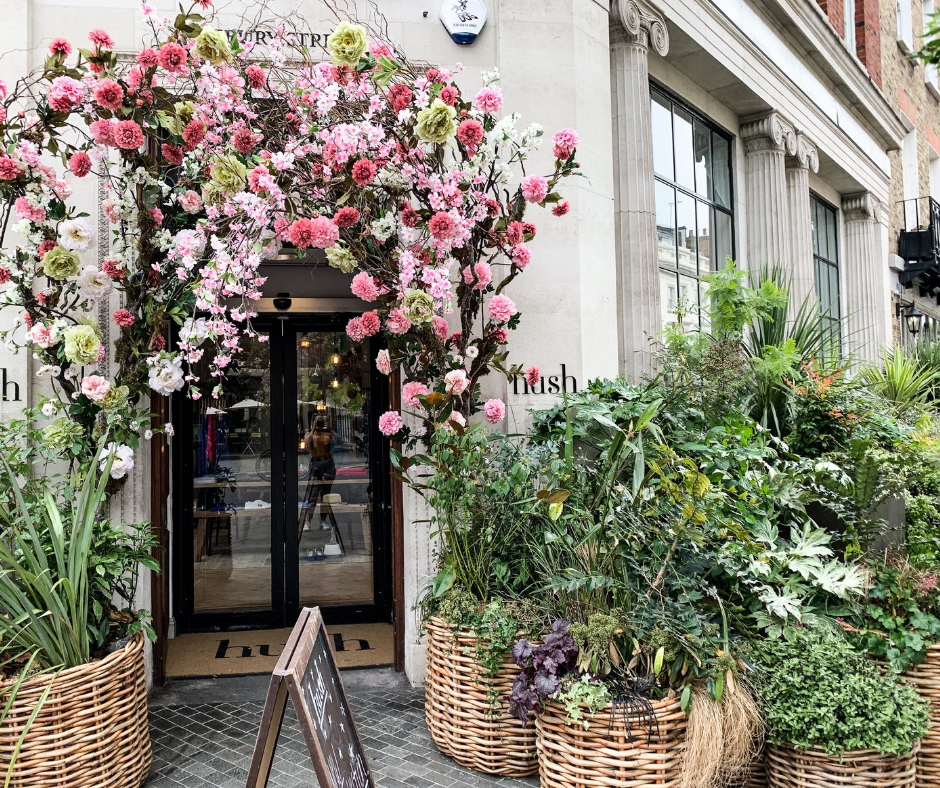 Use the Power of Red
Have you ever thought about why Coca-Cola, Levi's, Netflix, and other successful brands captivate people with red logos? It's because red is the most vibrant hue in the color spectrum, winning everyone's attention. Get ripe red pylon signs installed on your business storefront to emphasize your design and welcome customers from every corner of the neighborhood. Display jaw-dropping promotions, motion advertisements, and seasonal offers at impressive heights. Design the content in red or warm yellows and oranges to show it off boldly. Mount the illuminated board in front of your store and let it light up the surroundings day and night.
Who knows? After improving your business storefront, you might one day find yourself among the leading enterprises of the future, competing with other giants of the world market.
Show Your Product as Decor
A brilliant way to leverage your merchandise is to improve your business storefront by decorating it with your own products. Choose a pair of top items from the stock, mount them onto the storefront windows, or even set them up along the sidewalk. If you own a boutique, it's a great opportunity to decorate your outdoors with flowerpots and seasonal trinkets.
Do you know how colors boost marketing? You can lead their power if you do. Get colorful markers and create crafty notes or little drawings on the windows. Write all your product names or cover the glass with colorful benefits. The results will pleasantly surprise you.
Once you're all set, you'll attract customers and level up your competitive edge.
Turn Your Storefront into a Garden
Plants can be an eye-catching detail if your store is near the sidewalk and in a calm area. Place large potted plants with classy dark green leaves such as Monstera, sake plant, Livistona, or alocasia. This decoration will attract those who appreciate elegance and serenity. Let them step up, inhale the fresh oxygen, and feel like they've entered paradise.
You can place greens inside the store as well and transfer your shop into a lush nature-inspired setting. Also, turn on some music to accompany people into an aesthetic and spiritual atmosphere. Go original and avoid using artificial plants. Learn how to cultivate your small garden.
Play Music
If you've ever been in a noisy or dull situation, you may remember desperately reaching for your earphones. Music can benefit your body and mind, but the pleasant results are obvious to you even without study results to prove it. But can we consider music as a good way to enhance marketing? The answer is undoubtedly a "yes."
Design your storefront with uplifting melodies, but be mindful of the genre. It should go well with the season, area, and your brand's identity. Play the latest music trends, create a retro mix, or choose another style and check how it speaks to your audience. Another benefit for a music-based addition is that the idea demands fewer expenses so you can implement it right away in case you're a newbie in the market.
Roll Out a Welcome Mat
The best marketing strategy has a direct connection to psychology. To sum up, you can successfully attract people if you can sway people with your branding.
Rolling out a welcome mat is a great way to capture the attention of passersby. I don't mean brown mats that people will wipe their shoes on as they walk past. For instance, think of something in exciting patterns, quotes, and colors covering the sidewalk and leading people into your store. You can get custom-designed mats in unusual shapes or paint DIY looks on them. Therefore, it will guide people who are staring at the ground as they walk where the mat leads.
When you're set, the new design will give a fresh breath to the surroundings and make your store stand out from others on the block.
Set Up an Outdoor Lounge
Here's the idea that most store owners leave out while designing their exterior. Outdoor living rooms or lounges are an innovative breakthrough in modern house design you can also use for your storefront.
Place several chairs, armchairs, and coffee tables near the entrance and make it comfortable for people to sit down and take a break. Hang up lights from the facade or set up lamps on the tables to maintain storefront visibility at night. If you've decided to re-envision your storefront in retro style, don't forget about a classic radio. Set it on the table and let it spread melodies in the open air. Leave booklets of your retail store on the coffee tables along with sweets and lemonade. Organize all the comfort for people to sit and read about the business promotions in peace.
Use Cool Features for Photoshoots
Nowadays, social media is the number one booster for any business. People find out more from networking platforms than they do any other official website or advertisement channel. If a photo goes viral, it gets attention and earns people's trust over any TV commercial. In fact, to succeed in today's business sphere, you need to think about how to make people share your retail store in cyberspace.
Therefore, set up picture-worthy features like ornate mirrors, light-up quotes, living walls, and other artistic decors. Murals and graffiti are other creative ideas for you to consider. Provide passersby with a large area for photoshoots and let them promote your business on social media. This is among the most successful storefront design tips that will win more walk-ins than you'd ever imagine.
Final Thoughts
In conclusion, now that you have seven creative storefront design tips at your disposal, it's time to get crafty. See how compatible these suggestions are with your products. Make up your plan and go for it. This can be one of the most fun and creative steps to business success. The most universal way to connect with your audience is by getting personal with them. Improve your business storefront by showing off your character with decorative elements of your premises and enjoy the process. It's your moment to shine in the neighborhood.
Other Posts You Might Enjoy:
How to Create an Attractive Storefront Display for Your Shop
Preparing Your Front Entryway for Spring
4 Ways to Attract Homebuyers for Selling Your Home
Share This Story, Choose Your Platform!