Whether you are looking to equip a new home or replace your existing appliances, your home appliance products must be made by trustworthy manufacturers. Using items made by trusted, industry-leading brands is the best way to ensure they are reliable, long-lasting and fully featured. Explore some of the best home appliance brands available on the market and find out what sets them apart from the competition. 
Home Appliances You Can Trust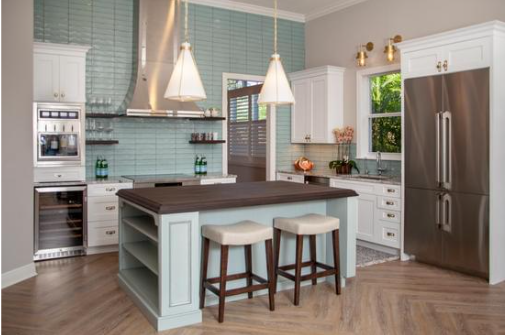 Design by Patricia Davis Brown Designs
1. ZLINE Kitchen and Bath
ZLINE is a family-owned manufacturer of premium-grade home appliance manufacturer based on the Nevada side of Lake Tahoe. The company produces numerous high-quality bathroom and kitchen appliances, including cooktops, microwaves, ranges, sinks, faucets, wine coolers and dishwashers. Many of these appliances are available in bundles and packages, offering homeowners an excellent way to outfit their homes with matching equipment. For example, the ZLINE 5-piece Appliance Package is an ideal all-in-one bundle for outfitting a kitchen with professional-quality equipment. 
This bundle includes a 48-inch gas-powered kitchen range, a 36-inch refrigerator with an integrated ice maker, a 24-inch microwave, a 48-inch wall-mounted range hood and a 24-inch three-rack dishwasher, all in matching black stainless steel. ZLINE appliances are 100% designed in the United States according to the company's philosophy of affordable luxury. They come with high-end features and innovative design elements usually found in professional kitchens, helping bring a luxurious restaurant cooking experience to your home for a reasonable price.
2. Thor Kitchen
Based in the greater Los Angeles area, Thor Kitchen is a medium-sized manufacturer of professional-style kitchen home appliance products aimed primarily at cooking hobbyists and enthusiasts. Thor appliances are easily recognizable by their sleek, stainless steel designs, features and accessories inspired by the equipment found in the world's best restaurants. 
The company's most popular products are its professional-style kitchen ranges, available in sizes ranging from 24-inch to 48-inch and in three different fuel sources: natural gas, propane or electric. Thor ranges are well-known for featuring high-BTU burners, providing amateur cooks with fast and efficient cooking capabilities. In addition to kitchen ranges, Thor manufactures numerous ancillary appliances to enhance your cooking experience. These additional products include pizza ovens, wine coolers, range hoods and ice makers, giving homeowners every tool they need to cook like a pro. 
3. MRCOOL
Few manufacturers offer home air conditioning solutions with the year-round functionality that discerning homeowners need. However, none offer the combination of convenience, efficiency and cost-saving potential that MRCOOL does. Headquartered in Kentucky, MRCOOL is a family-owned mini split air conditioning system manufacturer with a unique selling point: The company's products are the only ones on the market explicitly designed for DIY installation. 
No need to contact an HVAC professional to install these mini splits: Each MRCOOL package comes with pre-charged refrigerant line sets, mounting hardware and installation instructions that anybody can follow.MRCOOL mini splits are either single-zone units for single-room climate control or multi-zone systems for multi-room or whole-home heating and cooling. Multi-zone systems range from twin-zone (2 rooms) to Penta-zone (5 rooms). With five different capacities for each indoor unit and countless combinations available, MRCOOL mini splits are suitable for any home, regardless of size or room configuration.
4. Blaze
If you don't consider your home appliance collection complete without BBQ gear or an outdoor kitchen, you can't go wrong with Blaze. This Louisiana-based company manufactures an array of outdoor grills designed with home cooking and grilling enthusiasts in mind. Blaze grills range from compact 21-inch electric models to large, gas-powered, 44-inch models. The product lineup also includes charcoal-powered models and all-purpose Kamado grills, offering cooking enthusiasts unparalleled versatility.
All Blaze grills are manufactured from durable 304 stainless steel and come with professionally inspired designs and features that match the look, feel and capabilities of commercial kitchen equipment. In addition to outdoor grills, Blaze also produces a selection of outdoor kitchen equipment, such as ice makers and beverage centers with an integrated sink, cooler, towel rack and bottle opener. You can also upgrade your Blaze appliances with accessories such as a smoker box, infrared searing burners, towel holders and grill covers, ideal for creating the perfect BBQ experience at home.
5. Danby
Many homeowners consider their meals incomplete without the perfect beverage. If you love to whip up delicious cocktails or enjoy collecting wine, you probably have considered installing a wine cooler. Danby is a family-owned business with over 75 years of experience designing small kitchen appliances, including dedicated wine coolers, beverage centers and ice makers. 
Danby wine coolers are available in various sizes, capacities and configurations. They include 15-inch models supporting up to 28 bottles to 24-inch models with bottle racks for storing up to 129 bottles. Danby also produces combination beverage centers with racks configured at different heights, ideal for storing a mixture of soft drinks, beer, wine and other bottled and canned beverages. Capacities range from 6 to 27 standard-sized bottles and 60 to 126 tall cans. All Danby coolers and beverage centers are designed to maintain your drinks at the perfect temperature, with an operating range of 34°F to 50°F and either single-zone or dual-zone cooling configuration. Each model features LED lighting, sliding racks and frost-free tempered glass doors, ideal for displaying and selecting the perfect drink for any occasion.
6. KubeBath
Based in Commerce, CA, KubeBath manufactures premium-quality bathroom furniture and appliances for the discerning homeowner. All KubeBath products are designed according to the company's sustainability and affordable luxury values. KubeBath produces vanity furniture, shower sets, and bathroom faucets using 100% formaldehyde-free materials.
KubeBath vanities are available in sizes ranging from 30 to 60 inches. Depending on the model, they may feature one, two or three fully functional sinks with quartz countertops and stainless steel faucets. Each vanity comes with a cabinet and varying combinations of drawers, shelves and storage compartments manufactured using treated wood veneer, enhancing the look and feel of your bathroom. KubeBath also produces a range of shower sets manufactured from 100% solid brass and available in silver or black. They include a classic faucet, a ceiling-mounted square shower head, and wall-mounted body massage jets. All elements feature angular designs, perfectly matching bathrooms with a modern look and feel.
Outfit Your Home with the Most Reliable Appliances
Choosing these top-performing brands and manufacturers will help you outfit any part of your home with top-quality home appliances. Whether you need kitchen equipment, bathroom furniture, outdoor cooking gear or whole-home solutions, these brands offer everything you need with the features and build quality you can rely on.
Other posts you might enjoy:
Viking Refrigerator Repair Cost by Experts and Appliance Repair Men In San José
Smart Home Appliances are They a Good Idea?
The Finishing Touch: 6 Tips for Choosing the Right Kitchen Appliance Finish
Share This Story, Choose Your Platform!