As technology advances, the quality of appliances continues to get better. Many offer convenience at a level unfathomable to past generations and no other appliances do convenience better than smart technology appliances.
10 Smart Appliances for Your Home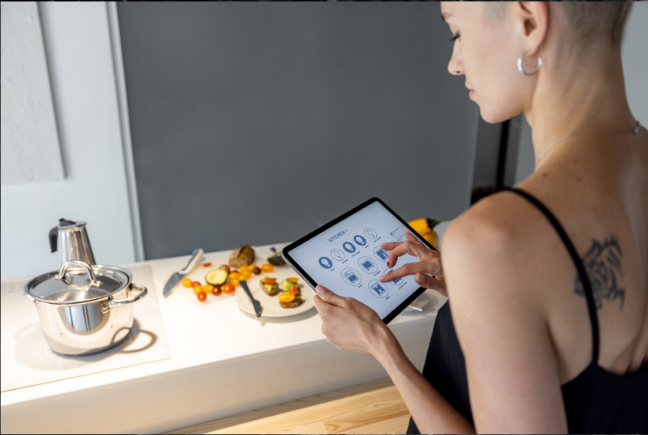 Created with wireless controls, real-time notifications, and updates, smart appliances are built to make life as easy as possible. If your home looks like it needs an upgrade, here are the 10 best smart appliances on the market now.
1.      Sharp Smart Countertop Microwave Oven (SMC1449FS)
The Sharp Smart Countertop Microwave Oven (SMC1449FS) is a powerful smart kitchen appliance with Alexa voice assist pairing capabilities that allow you to access a range of cooking options using voice commands. This microwave oven comes with built-in Wi-Fi, that connects to your home network and pairs with an Amazon Alexa device to receive commands. Defrost, warm, melt, and cook a wide range of foods without so much as lifting a finger.
2.      Instant Pot Pro Plus
The Instant Pot Pro Plus does the work of the typical pressure and slow cooker in about a fraction of the time and offers 8 different cooking styles. This device also offers sous vide cooking and control of the device via a mobile app. With all of these features combined, it's the perfect cooking device for the person on the go who prefers the "set it and forget it" style of cooking.
3.      Cosori Smart 5.8-Quart Air Fryer
The Cosori Smart 5.8-Quart Air Fryer offers many different cooking features – it can fry fresh and frozen food with little to no oil and has pairing features with Google Assistant and Amazon Alexa voice assistants. With 11 presets, this air fryer can take on almost anything. You can do a variety of cooking options with the voice command function at a distance. Not to mention it's incredibly easy to clean, making it ideal for the kind of person who struggles with cooking and cleaning.
4.      GE Profile Opal 2.0 Nugget Ice Maker
Representing the highest standard in ice-making technology, the GE Profile Opal 2.0 Nugget Ice Maker comes loaded with a host of features to support any kitchen transitioning to smart technology. Aside from dispensing quality nugget ice at quick speeds, it also comes with Wi-Fi connectivity to ensure the machine can always dispense ice by keeping the water tank filled. You can even create a schedule for the machine to remind you when to fill the water reservoir.
5.      BrewGenie BG120
A top-of-the-line smart coffee machine, the BrewGenie BG120 pledges to serve quality drip coffee with the tap of a button. The machine has an accompanying mobile phone application that allows you to schedule when you want to brew a pot and how long to keep the coffee warm on the machine's plate. The smartphone app also offers notifications in case of overheating or the completion of the brewing process.
6.      June Oven (3rd Generation)
Getting more for a smaller price tag than the previous generations, the June Oven 3rd Generation is a worthy successor with many of the same features. This oven has a mobile application that maximizes its utility, offering a camera look inside the oven and temperature sensors to ensure the food cooks correctly. It offers 12 different cooking modes covering a wide range of foods, the June Oven is perfect for cooks dealing with large families, thanks to its large internal capacity.
7.      Anova Precision Smart Oven
A countertop combination oven perfect for any smart kitchen, the Anova Precision Oven truly represents the best of smart ovens. This oven does it all – bake, roast, slow cook, sous vide, and steam all food.  This makes it a perfect choice for those who want to experience all sorts of cooking. The results of the cooking are nearly restaurant-quality.  Additionally, the price of this device is reasonable.
8.      Meater+
The Meater+ is a top-quality wireless meat thermometer that comes with an app that notifies you when your food is finished cooking. The probe apparatus comes equipped with both ambient and internal temperature sensors, making it perfectly sensitive and attuned to temperatures. While it's more suited for the oven than stovetop due to the build, the sleek design and sheer utility make it a worthwhile buy for any meat enthusiast.
9.      Smart Washing with The Samsung Series 6 WW10T684DLN 
Tailored for those who have already invested in the Samsung EcoSystem, the Samsung Series 6 WW10T684DLN comes with TheSmartThings integration. The sleek and stylish smart washing machine can help cut down on electricity usage with the EcoBubble technology, and the digital inverter technology keeps the laundry quiet. Plus, the AddWash feature allows you to add extra clothes mid-wash cycle, in case you forgot a few.
10. Anova Precision Smart Cooker
A simple and easy way to begin your sous vide journey, the Anova Precision Cooker is a gateway device to culinary greatness. This immersion circulator comes equipped with an onboard controller and Wi-Fi connectivity. This allows you to control the device up close or at a distance using your mobile device. If you choose to cook from afar, the connection allows you to monitor the precision cooker's process, ensuring the perfect cook every time.
As established across these 10 devices, smart appliances are the future of domestic greatness which can help make your life at home easier. Decide based on your needs, what devices you should install into your home to best serve you. In conclusion, if you're a housewife in a big family or a business mogul on the go, you're guaranteed to find the right smart kitchen appliance for you.
Other Posts You Might Enjoy
Kitchen Trends! What's Popping Up Now?
Smart Home Appliances, Are They A Good Idea?
Share This Story, Choose Your Platform!