When is the last time you took a serious look at your kitchen color combos? Because kitchens are so much more than a place to cook and eat, this is a room that deserves our special designing attention. Whether you're ready for a big change or a little change, here are some snappy kitchen color combos that will bring a breath of fresh air to any design.
Snappy Kitchen Color Combos
Red, White, & Black
This design with red, white, and black is a stimulating and modern environment. It's combined perfectly with stainless steel appliances and shiny black marble countertop. Beautifully, at the base this all, is a light-toned wood floor with a softening earthly texture for a cheerful and dynamic design.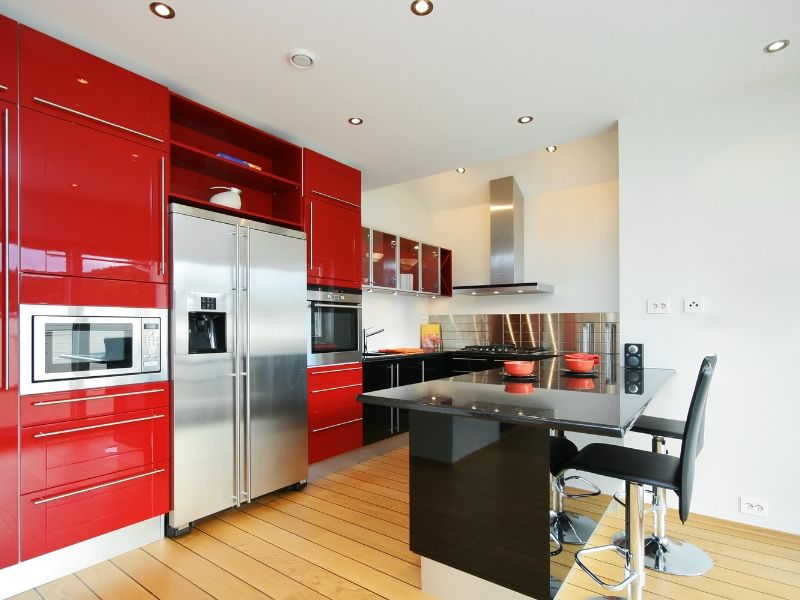 Yellow, White, & Black
Modern with a touch of nostalgia in the black and white diamond pattern in the floor, this white and yellow design will enliven your spirits instantly. This kitchen also has plenty of cupboard space with two rows of cupboards and lots of storage included in this modern design. Additionally, I especially like the horizontal tiled backboard – nice touch with the stainless and white appliances!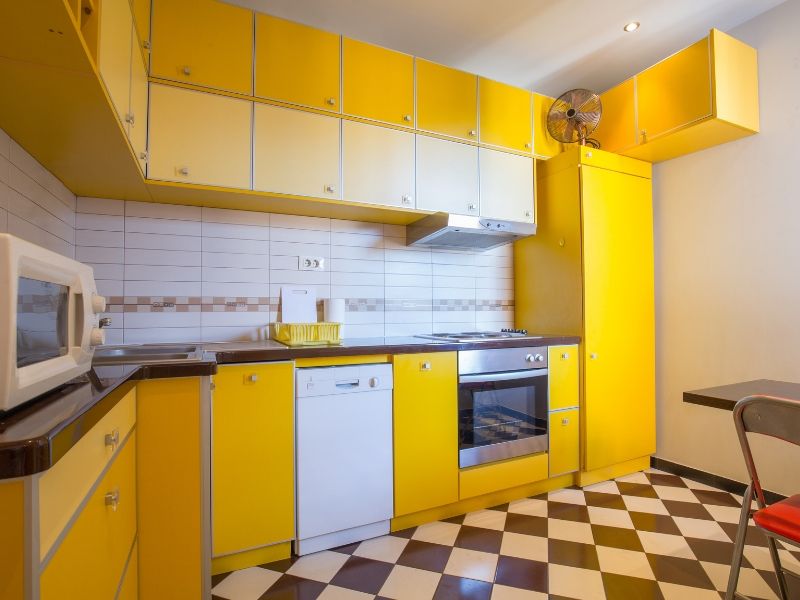 Green & Tan
Modernism bursts out with this exquisite green, tan and neutral color scheme. The nice part is, this summer green tone can be carried throughout the year with the right accessories added for each season. Also, the effect of the clouds on a tan-green wall gives this smaller kitchen a more expansive feeling. Moreover, the neutral tan colored door beautifully offsets the white countertop of the kitchen and melds with the gorgeous natural wood floor.

Burnt Orange & Neutrals
Ash tones in the neutral cupboards keep this room warm and the color is extended to the walls for a great background for this kitchen. To warm it up, even more, the incredible expansive marble countertop is surrounded by burnt orange stools. Moreover, the modern pendant lamps provide a good balance of lighting along with the recessed canister lighting.

Light Blue & White
Cheerful refreshment abounds in this lovely small kitchen with light blue or white appliances. There is a retro touch with a light blue refrigerator and dishwasher that works so wonderfully with the white cabinetry. Additionally, the custom design of the kitchen island is simply amazing and creates a statement right in the middle of this modern kitchen.

Enjoy the Heart of Your Home!
The kitchen truly is the heart of most homes in our modern society. So, strive to make yours exactly what you want and be sure it reflects the needs of all your family and guests for years of lively discussion, great food, and family enjoyment.

All images courtesy of Canva
Other Posts You Might Enjoy:
The Right Kitchen Appliances to Enhance Your Interior Design
Heart of the Home • Your Kitchen Renovation
An Essential 5 Step Guide to Home Kitchen Remodeling
Share This Story, Choose Your Platform!