Cluttered and disorganized kitchen? No thank you. There are simple things you can do right now to hack your kitchen cabinet space for optimal storage
Are you planning on redoing your kitchen? Are you sick and tired of having clutter or disorganization every time you go into your current kitchen? There are some great things you can do right now to get organized in your current space and some things you can add to your future plans.
Keep reading to learn how to get the most out of your kitchen cabinet space for the most optimal storage. 
How to Organize Your Kitchen Cabinets for Optimal Storage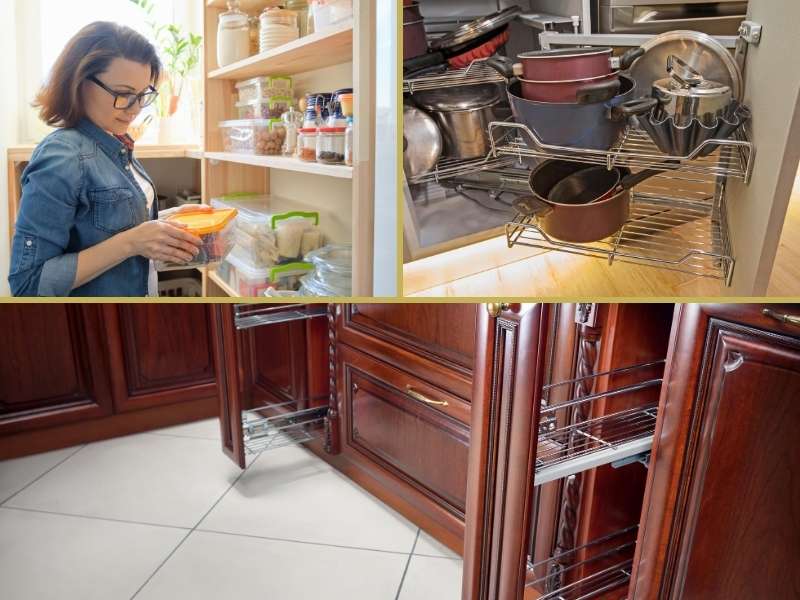 1. Spice Rack Pull-Out
One of the most troublesome items in the kitchen to keep organized is all the spices. Every time you try a new recipe or the holidays roll around, we tend to accumulate more of these small containers.
Most people store their spices in a wall cabinet, next to the stove, for easy access when cooking. This is where the trouble starts, because it's hard to see what you have and even harder to get all the different sized bottles organized. 
A great solution to this problem is a pull-out spice rack. You can retrofit your current cabinet with a pre-fabricated pull-out spice rack. If you are planning on creating a new kitchen layout, you can easily add this feature to your new kitchen space.
A 12-inch wide pull-out cabinet located near your cooking surface is a great location for you to easily access your spices when needed. If you have enough space, you can also add another cabinet on the other side to mirror the spice rack and fit it to hold your vinegar and cooking oils. 
2. Drawers
Drawers are a great storage solution for your kitchen. They are ergonomically better outfitted for you since the drawers come out to meet you and you don't have to squat or stoop to reach something at the back of the cabinet. They also can hold more items than most cabinets. 
The ideal set-up for your drawers is a three-drawer stack. A smaller drawer on the top holds silverware, utensils, and other small kitchen items. Then the two lower drawers are larger and able to accommodate pots, pans, and lids, baking dishes, or even small appliances. 
Not only do drawers offer great storage solutions and ease of use, but they also fit in any style of kitchen. Whether you are planning on updating your kitchen in a modern, farmhouse, or contemporary style, the horizontal lines add a nice eye-appealing look. You can use kitchen and bath design software to see how a three-drawer stack might look in your own space. 
3. Trash Pull-Out
When you are redoing your current kitchen or trying to design your new layout, one of the things you should consider adding is a trash pull-out cabinet. One of the most unsightly, but necessary, accessories in your kitchen is a trash bin. But this doesn't mean it has to remain out in the open to be seen or smelled. 
A trash pull-out cabinet uses a slide-out rail system that gives one or two small trash bins a home inside your cabinet. These cabinets are generally about 18 inches wide so can easily sit near your sink base cabinet. Many of them are also short enough to fit into a base cabinet with a drawer on top for more storage opportunities. 
4. Pantry Options
The pantry is one of the biggest areas these days for a serious upgrade in the kitchen. Some existing kitchens don't even have one, making you rely on your cabinet space. On the other hand, some kitchens have a small one that could use an expansion. 
When it comes to storage solutions in the kitchen, the pantry is the best place to maximize your space. In fact, there are more than a few options to select in regard to storing your jars, cans, and other dry goods. 
A chef's pantry is a shelving unit with layered shelves that can swing-out towards you and lets you have full access to the contents. It's also ideal for being able to arrange and organize everything easier. 
A roll-out pantry is great if your pantry space is limited. The roll-out feature allows you to make use of both sides of the shelving. It also makes it easier to see what you have and avoid purchasing duplicates. 
A wall cabinet pantry is a built-in cabinet with multiple shelves and a door to access. Some of these modern style pantries are even big enough to walk in, allowing you to really make use of the large storage space. 
5. Carousel Corner Cabinet
The corner cabinet tends to be one of the worst storage solution spaces in your kitchen. The bottom cabinets tend to stretch back further than you can see or reach and there have been many a good pot or pan lost to their depths. 
When updating or redesigning your kitchen layout you should consider updating your corner cabinets by adding a carousel shelf. These shelves allow you to make the most of the corners of your kitchen and provide you full access to their contents. 
For upper cabinets, the rotating shelves generally have shallower walls that will keep your items nice and secure when you rotate them. This helps keep items from falling back behind the shelves, never to be seen again. 
Lower base cabinets accommodate a larger carousel which is perfect for placing your pots, pans, and lids. What's really nice is this shelf system makes it easier to find what you need without stooping over too far to grab them. 
Learn More About Kitchen Cabinet Storage Solutions Today!
These kitchen cabinet storage solutions are the perfect upgrade to consider when renovating your kitchen or planning for your new one. With pull-out shelves in your cabinets and pantry, to carousel shelves in your corner cabinets, your new kitchen will be efficient and accessible. 
If you'd like more tips and information for your household, be sure to visit the links below for more excellent articles about all things design!
Images Courtesy of Canva.
Find Your Power as a Professional Structural Engineer
How to Add Outdoor Lighting to Your Landscaping
Organize Your Closet Like a Pro with These 5 Accessories
Share This Story, Choose Your Platform!