Adding a conference room to your business office is going to completely change the dynamic of the entire structure. A conference room makes it possible to have a special space just for business meetings. You may also furnish and design it to enhance meeting spaces.
Therefore, it's very important that your furnishings and decorations are conducive to the tone of a business meeting.
Here are four ways to design your conference room in your business office to give the impression that your company has Bob Iger net worth. Follow these guidelines and you will be sure to have a beautiful result, that is streamlined and aesthetically pleasant in appearance.
4 Ways To Design Your Company's New Conference Room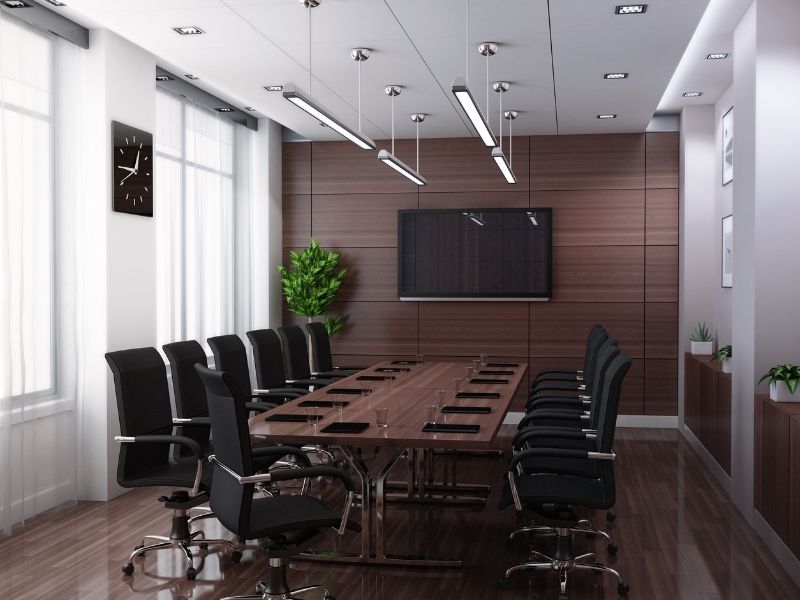 1. Color schemes are important.
First, you must ensure that the color scheme of your business office is professional. This means considering colors like slate gray, blues, and earth tones. However, some might consider bright neon colors in your business conference room. It really depends on the personality of your business. Make sure you consider these factors while designing your conference room.
You should choose a color scheme that is doable and reflects the color scheme of your business. For example, if you use a certain color scheme in your logo for your business then it is appropriate for you to use the same color scheme in the furnishings and design of your conference room. You might also want to consider grays and blues to reflect professionalism.
You may also choose a paint color that specifically matches the furnishings for your conference room. You want to make sure that everything including decorations, furnishings, and color of the paint on the walls matches a consistent color scheme. The associate at the paint store can assist you with this process, as they are familiar with matching paints to the furnishings in certain rooms. They are true professionals in this endeavor and can prove to be very helpful when you are designing the interior of your conference room.
2. Selecting the right furnishings.
You also want to make sure that you get the appropriate furnishings for your conference room. In a conference room, you need to have many chairs. Each of these chairs should be purchased of the same style and they should be comfortable for sitting for extended periods of time.
You should get adjustable chairs that can adjust in height and also at a reclining angle. Go to your local office store to purchase these chairs. However, make sure to purchase enough to accommodate a large business conference. Check out the chairs ahead of time and make sure they are of good quality. With chairs that recline, you want to make sure that it is of good quality so that it does not break. Also, check what company makes the chair so that you can ensure they are a quality company.
3. Painting the walls.
Consider painting the walls a fresh color when you are designing your conference room. You want this color to stand out from the rest of the business office. To do this, you might select the color that stands out as professional and aesthetic. But don't go too bright unless that's the vibe of your company.
Of course, you must also ensure that the color of the walls is consistent with the design of the room itself. So, consider the color of the chairs and of the decorations in the room when choosing the color of the paint for the walls. You can get samples of the paint colors from the paint store and bring them to the room to see what it actually looks like in the conference room lighting.
4. Décor for a finishing touch.
You must select decorations that blend with your furnishings. For example, if you choose to purchase chairs that have a silvery gray material for the upholstery, then you need to choose furnishings that have a metallic theme.
You can choose decorations that can be displayed on tabletops. Try to decorate minimally within the business office as it is a professional setting. If anything, you might place some metallic sculptures in the room. Also remember, that plants add warmth and bring the outdoors inside.
In conclusion.
Here's to your amazing new conference room design! If you have any questions or suggestions, we always love to hear from you in the comments below. Also below are links to more fantastic articles about ALL things DESIGN for your home or business.
Images Courtesy of Canva.
Other Posts You Might Enjoy:
How to Make Hot Desking Work for Your Business
What You Need to Know About Business Communications
Designing an Architecture Office – What you Need to Know
Share This Story, Choose Your Platform!