There is something about wood ceiling design that gives a warmth and personal feel.  It can take you back to the nostalgia of an old cabin, the memory of a lovely winter home, or the comfort of a childhood memory.  Besides that it's full of character with smell, color, and touch, so why not style your ceiling with it?
Go classic and rustic, upscale and modern, or use panel patterns for your own unique touch.
Adding Wood to Your Ceiling Design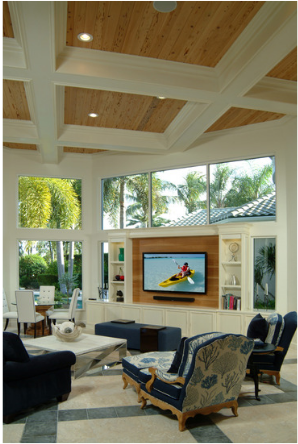 Rustic Wooden Ceiling Design
A classic wooden plank ceiling is comforting.  Whether it takes you to a place of comfort in a getaway cabin or even just the smell it omits and its simple design aesthetic familiar, its classic beauty lies in the fact that wood is truly a beautiful material all on its own, not manipulated.
Furthermore, a rustic ceiling gives the mood of a cabin or something outdoorsy, and yet the design in the room is very modern and it's designed very new.  The contrast somehow works together and shows that when inspired you can work two opposites together fluidly.
This entire room is covered in wood and everything in its decoration is celebrating it by its decorative simplicity making the wood the star of the room.  The acoustics in a room like this have to be incredible, but this design is a great inspiration for a person inspired by minimalism.
Work Your Wood Paneling On Your Ceiling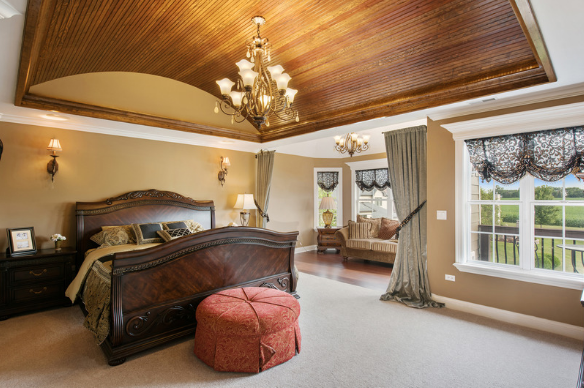 By using wood paneling it really does become more of an art or focus piece of your room, a true highlight.  In this case, it's an opportunity to be unique in your own design desires.
This point of view breaks up the room, but also draws a guest's eye to the ceiling.  This is a great motivation for a sitting room, but would also be lovely in a kitchen or dining area. This arched wooden ceiling paneled with dark wood gives the room a feeling of height, but also the centerpiece of the room. 
Upscale Your Wooden Ceiling
Take your design to the next level and work your wood into a design. It's your chance to be inspired and experiment and find something that's unique only to you and can not only define the essence of your room but make it set the mood.
Consider an elegant wooden design used on a ceiling.  The wood planks and the design of the room complement each other in a very upscale way.
A design aesthetic on a ceiling might be for an extravagant foyer perhaps a wine room, or even a dining area.  Certainly, a large room that you'd like to make a statement in.  Who knew wood design could be so delicate and elegant, almost an art piece?
Other posts you might enjoy:
Ceiling Design is the Icing on the Cake in Room Design
Living Room Design – How to Get a Designer Look
Images Courtesy of Canva.
Share This Story, Choose Your Platform!