High-end residential buildings, or what most people call luxury homes, are houses that offer excellent living conditions, comfort, and luxury amenities. Most of the time, these homes are constructed with premium materials, extraordinary architecture, and elegant details specifically suited to the requirements and tastes of wealthy people. 
The demand for luxury homes is increasing due to the convenience and fashionable lifestyle they offer. However, because of high construction costs, few can afford luxury residences. 
On websites like buildguardian.com, you can find luxury homes available in the neighborhood of your choice, whether you want to invest in or live in one. Finding the appropriate builder to realize your idea is essential if you're considering starting from scratch to build a luxury home. 
What To Look For In A Luxury Home Builder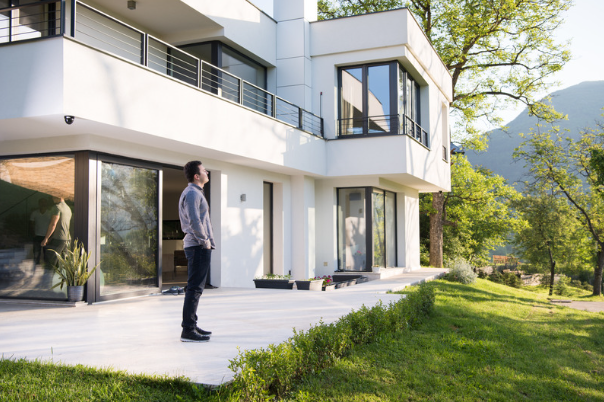 There are several things to consider when choosing a builder for your luxury home. The following factors should help you decide: 
Choosing a builder with experience building luxury homes is crucial. When assessing the level of expertise of a home builder, consider the following: 
Operational History: Be sure to choose a builder with a long history in the industry. Experienced builders have accumulated a great deal of knowledge and a vast portfolio. 
Relevant Experience: Search for a builder who has built luxury homes comparable to the home you want to construct in terms of style, size, and complexity. Consider hiring a builder with experience building contemporary homes, for instance, if you want a state-of-the-art luxury house. 
Portfolio: Examine the builder's project portfolio to better understand their experience and design principles. A comprehensive portfolio of various types and sizes of houses indicates that the builder has the knowledge and skills to construct a luxury home. 
References: Getting references from the builder's previous customers is ideal. You can also contact those customers to learn more about their interactions with the builder. Visit the sites of finished projects to view the builder's handiwork firsthand. 
Recognition: Choose a builder whose work has been recognized by the industry with awards or certificates. This indicates that the builder is reliable and has a history of delivering top-notch work. 
Building a luxury home is intricate and complex, requiring frequent and open communication between the builder and the homeowner. Seek a builder who responds quickly, communicates clearly, and keeps you informed at every step.  
The following are some things to look for in a luxury home builder regarding communication: 
Transparency: An excellent luxury home builder should be transparent in their communication, keeping you updated on the project's status, the budget, and any alterations or issues that occur while it's being built. 
Responsiveness: A luxury home builder should respond quickly to your questions and concerns. They should be reachable by phone, email, or other means of communication.
Communicativeness: A luxury home builder should be detail-oriented and can relay any issues and concerns that could affect the project's result. They should also ensure you know the specifics of the construction process and the materials used. 
Professionalism: A luxury house builder should act professionally, showing respect and using clear, concise communication. They ought to uphold their responsibilities and do their work honestly and transparently. 
The success of your project can be significantly impacted by selecting a luxury house builder who can communicate well. It can help you avoid misunderstandings, reduce risks, and ensure your ideal home becomes a reality. 
Building a luxury home costs a lot of money, so you want to ensure the builder can satisfy your standards for quality. Regarding the quality of their work, a luxury home builder should have the following attributes: 
Portfolio: To evaluate the builder's level of craftsmanship, look at their portfolio of completed projects. Assess the attention to detail, the quality of the materials, the layout, and the aesthetics of the houses they have built. 
License And Certifications: Ensure the builder complies with stringent professional, quality, and safety requirements by possessing the necessary certifications and licenses. 
Endorsements And Recommendations: It can be a great idea to ask former clients for recommendations and endorsements to assess the builders' level of craftsmanship. By doing so, you'll be able to evaluate the quality of their work and their reliability. 
Selecting a luxury home builder with a track record of producing high-quality work is essential to ensure that your home meets and surpasses your expectations. Make sure you choose the best builder by investigating and assessing potential builders. 
Costs Of Luxury Home Builders 
Luxury home builders' prices vary widely based on factors such as the size of the home, the location, the details, and the materials used. When estimating costs, the following factors need to be considered: 
Size: The size of the house is one of the most crucial factors influencing the cost. Larger homes are more expensive since they need more materials, work, and time. 
Materials And Equipment: Generally speaking, luxury homes are built using high-end materials and equipment, which can contribute to the high cost. These may include marble floors, slate roofs, handcrafted cabinets, and state-of-the-art machinery. 
Location: The cost of the house may also depend on where it is located. Prices will be higher in an area with a high cost of living, such as a major city. 
Expertise And Labor: Luxury home construction may cost more when highly skilled craftspeople, architects, and designers are involved. A luxury home builder may cost from tens of thousands of dollars to millions of dollars. Working with a builder who can provide a thorough estimate based on your needs is necessary. 
Customization: The degree of customization can have a significant impact on price. High-end building materials, specialist finishing, and unique architectural features can increase the cost of a home. 
What To Expect From A Luxury Home Builder 
Ideally, you should have the following expectations when working with a luxury home builder: 
Personalized Attention: Every luxury home project is unique and requires special care. Your builder will work closely with you to understand your goals and preferences and offer suggestions if needed. 
Attention To Detail: Because of the attention to detail luxury houses are known for, you can count on your builder to be meticulous in their work. Your builder should pay great attention to detail. This includes choices of materials to the positioning of each design component, to guarantee that your home meets your expectations. 
High-Quality Materials: High-quality materials are used in luxury houses, so you can count on your builder to acquire the best materials on the market. To guarantee access to a broad selection of premium materials, your builder should also have connections with leading suppliers. 
Expertise: Luxury house builders normally have comprehensive knowledge of their industry, and you can expect that your builder will be thoroughly aware of the most recent trends and construction methods. They ought to be ready to provide guidance and recommendations at various points to help you accomplish your objectives. 
On-Time Completion: You can rely on your builder to finish the job on time, even though constructing a luxury house is often a complex and lengthy process. A well-coordinated team of craftspeople and project managers is essential for your builder to complete the project on time. 
Working with a luxury home builder must be personalized. Thus, resulting in a house that suits your requirements and tastes. 
Summary 
Luxury housebuilders provide exceptional customer care, meticulous attention to detail with stylish home design trends, and energy efficiency. It's critical to consider a luxury home builder's experience, communication abilities, and level of craftsmanship before hiring them. 
When assessing a luxury home builder's background, it's crucial to seek a firm with a proven track record. It should consist of success and experience in constructing houses comparable to the one you want to build. A builder with relevant experience is more likely to be capable of building a high-quality, luxury house and understanding all the requirements of the project. 
Building a luxury home can be more expensive than a typical home because of location, size, and materials.
When working with a luxury home builder, you can anticipate a collaborative and customized approach to planning and building your house, with emphasis on the use of premium materials, including energy-efficient features, and prompt completion. 
Other Posts You Might Enjoy:
What Are The Most Desired Luxury Apartment Amenities?
Best Tips For Buying A Luxury Home
4 Mistakes To Avoid When Choosing Builders For Your Home Construction
Share This Story, Choose Your Platform!