Are you looking to raise your home value before selling it? If you're looking for some simple renovations to add some last-minute value to your home, here are some great ideas.
5 Easy Ways to Increase Home Value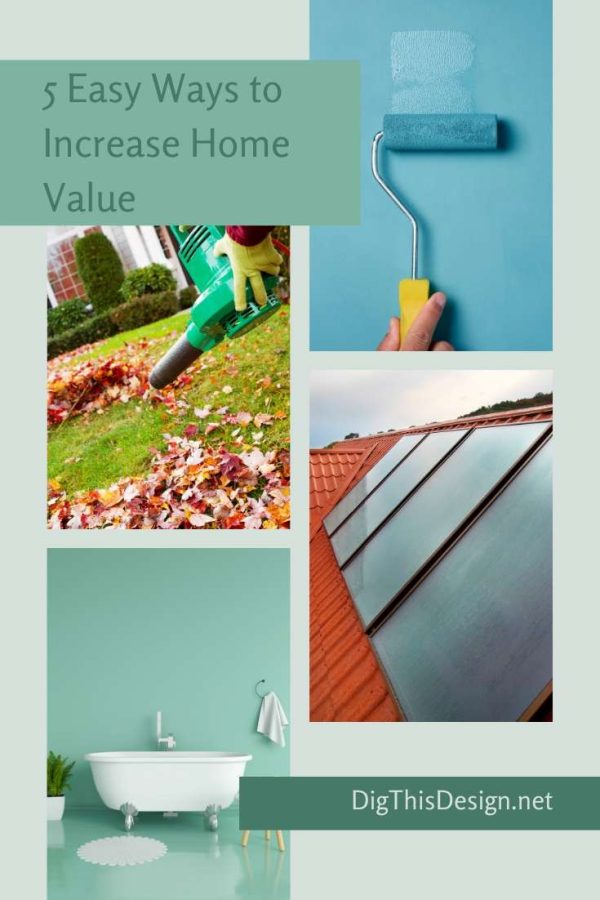 Add Some Fresh Paint
Controversial paint schemes can lower the value of your home. Neutral colors often work best. Yellow is common for good kitchen color. Soothing colors such as light green or khaki can make a good bedroom color. Avoid using red because it can be too stimulating for some people. Other colors to avoid are black and pink. The article The Right Paint Color Can Boost Your Home Value provides more information on the subject.
Tidy Up the Landscaping
A well-presented outside space can increase the value of a property. If you've neglected your yard in the years you've lived there, it might be worth giving it a makeover. Those who don't have a green thumb may prefer to hire a gardener to tame it for them. Consider planting some shrubs as well. Depending on your budget, you may be able to add a water feature to your garden to add more value. Even fresh fence panels can make a visual difference.
Renovate Your Bathroom
There are many cheap and easy renovation tricks that can be used to transform your bathroom's value. This article Bathroom Remodeling: Tips and News offers a few ideas. Simply concealing pipes with boxing could improve the look of your bathroom. Gadgetry is also becoming more sought after. Consider installing power showers and multi-flush toilets.
Convert, Don't Extend
Extensions are always costly and lengthy projects. In some cases, converting an already existing space such as an attic or a garage into a liveable room is the better option. It could be just as effective at increasing home value at a fraction of the price. For an attic to be classed as a liveable space, a staircase will need to be built leading to it. This is because a fire escape is a matter of health and safety, and a ladder is not considered safe enough in an emergency. It could prove an obstacle in some cases. Similarly, not all attic spaces are high enough to be legally classed as liveable space. This could involve the costly process of raising the roof. Make sure that you insulate these rooms (if there isn't a window, adding one could increase the home value).
Eco-vate
Eco-vating is a method of renovating a property with eco-friendly features. This can often increase value because it leads to lower utility bills. Therefore, it makes the property more appealing to buyers. Insulation is a popular way of eco-vating. This could involve adding in cavity wall insulation, adding in double glazed windows, insulating the loft, or insulating the boiler. Another method is to install solar panels on the roof. If you install enough panels, the property owner may never have to pay an electricity bill again. You can even add water-saving features such as a greywater recycling system.
Images Courtesy of Canva.
Other Posts You Might Enjoy
Home Improvement Ideas for Your To-do List
Winter Home Improvements: 5 Easy Tips
13 Free Resources for the Home Improvement DIY-er
Share This Story, Choose Your Platform!