While many property owners try to do their own roofing, this isn't advisable. It is understandable, considering the significance the roof plays. As a result, the best thing to do is hire a professional roofer. Although you will have to pay for the professional services, you will save in the long run. However, there are many reasons you must hire a professional roofer. So, if you're thinking about replacing or repairing your roof, continue reading to learn what you need to know.
Hire a Professional Roofer for Your Next Roofing Project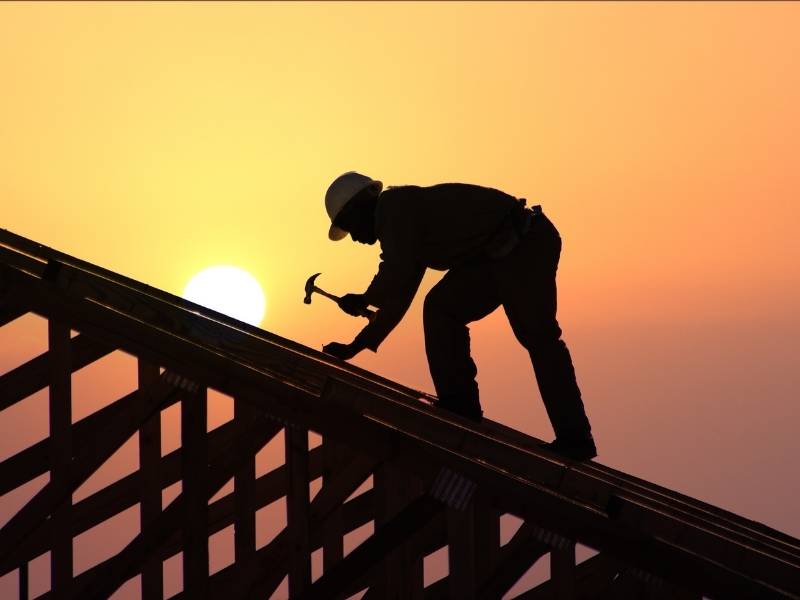 ⎆ Superior Knowledge and Experience
Although you might do your own research and find useful knowledge on repairing or replacing your roof, you're still not a professional with experience. Also, considering the roof's vital role, the last thing you want to do is experiment. Otherwise, you might end up making a huge mistake. Of course then, you must hire a roofer to correct your mistakes. As a result, you eventually spend more money than if you hire a professional roofer in the first place.
Professional roofers carry licensing which is proof of their knowledge and experience. This means that they guarantee quality work. They also make sure you have a correct estimate of what the material requirements are during the project.
Some roofing companies even adopt a lead generation strategy so they can connect with clients who need their expertise. If you want to know more, you can find more resources here.
⎆ Complies With all Safety Standards
Safety comes first, and you can't guarantee this should you choose to do your own roofing project. In contrast, a roofing contractor can do the roofing tasks while still looking after their wellbeing. They manage to achieve this through their experience working on various types of roofs with different slopes. Also, they have all the necessary gear requirements to ensure their safety while on the job.
⎆ Saves Time and Money
As you're inexperienced in roofing installation or repair, you'll certainly take more time completing the project as opposed if a roofer does it. You can, instead, use this additional time doing something else, such as spending time with your family. Hiring a roofing contractor ensures this won't be an issue as they'll complete the roofing tasks a lot faster.
⎆ Professional Roofers Carry the Right Tools
A roofing task requires you to have different types of equipment to ensure the project is completed successfully. These include the following tools.
Hammer
Scrapper
Air compressor
Caulking gun
Hammer, tackler, stapler
Scooper
Saw
Drill
You won't have access to these tools unless you choose to buy them. However, these will cost you a significant amount of money that might even surpass what you would have spent hiring a professional roofing contractor.
⎆ Guaranteed Quality Work
Roofing contractors use quality materials and have the expertise to guarantee the quality of the work. They also prioritize customer satisfaction. That gives you assurance that your roof will remain robust and functional for an long time.
These professionals also offer a warranty for their roofing services. Because of this, you get to enjoy peace of mind. You now know that should anything go wrong after the completion of the project, that you are covered.
⎆ Cost-Effective Solutions
If you choose to repair the roof on your own, the chance is high that you will make a mistake. Of course, that affects the roof's overall condition. Regardless of how minor this might be, it will lead to your roof needing more repairs. As a result, it will cost you more time and money to rectify the issue.
Hiring a roofing contractor helps you avoid this altogether, saving you money in the long run. They do this by ensuring the work done is of exceptional quality, so it lasts much longer.
Final Thoughts
It's easy to be tempted to take the DIY option when doing roofing installation or repairs. But, after reading through this guide, you now see that this is not the best idea. Instead, you must find a licensed and professional roofer to perform all roofing-related duties to ensure quality work and avoid costly mistakes.  If you have any questions or suggestions, please leave them in the comments below. Also below you will find links to more fantastic articles about ALL things DESIGN for your home or business.
Images Courtesy of Canva.
Other Posts You Might Enjoy:
A Guide to Finding The Best Portland Roofing Experts
5 Reasons To Use A Certified Roofing Company
Winter Proof Your Garden: 5 Tips!
The Dos and Don'ts of Hiring Roofers in Montgomery County PA
Share This Story, Choose Your Platform!