Kid's Backyard Playgrounds
Kid's backyard playgrounds do not have to be painted in loud colors or disruptive to the landscape. I think designing play areas that blend in with the geography of the space create the best backdrop for a child to use their imagination. I know as a child we could create any fantasy our hearts desired and it was all made up in our mind using whatever tree, playroom or water hole we had at our disposal. Who ever decided that loud colors and crazy spinning things worked better than a kid's own imagination.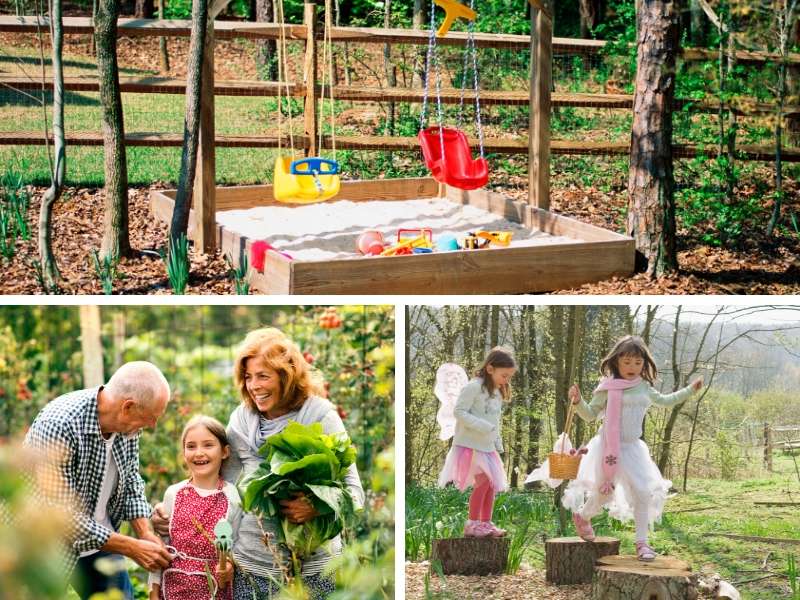 Look how these tree stumps create the most beautiful jumping fun. As a kid, you just want your own space to act as your stage to create the pretend fantasy for that day.
I think if we design play areas for children that are more organic in nature, they will learn to appreciate the pure beauty nature has to offer. I love how this play space is created to look like trees and natural stone. Growing up in the 70's my brother and I would seek out the biggest banyan tree we could find and with all it's twist and turns we could play for hours upon hours.
This tree fort blends nicely amongst the oak trees and allows kids to travel safely from tree to tree.
Creating a Playscape
It is super easy to create a playscape area. You do not need a lot of room and this becomes a place to learn about all kinds of nature. Your kids will love this whether they are studying insect or growing herbs, it is their little outdoor lab. Making a designated playscape works well for kids, it gives them a sense of their area and learning seems more like playing. This is also a great area for parents to interact with their children while teaching them all at the same time.
Images Courtesy of Canva.
Other posts you might enjoy:
Kids Rooms That Express Their Inner Pirate
Pretty & Fun Playscapes to Get Your Kids Playing Outdoors
Easy Ways To Organize Your Kids Bedrooms With Their Help
Share This Story, Choose Your Platform!