Creating an interior design style that truly reflects your style and tastes can be challenging amid many design trends on social media. Following trends rarely yields a space with lasting character and meaning like one that intuitively matches your lifestyle.
Creating a home that feels authentic begins with tapping into what inspires you and integrating your personality. Every element of the design should tell your unique story and match your needs to bring you comfort in your own space. Get to know your priorities before any designing – what colors, decor, and layout would truly work for you and bring you joy? Discover your authentic interior design style by trusting your instincts and letting your values guide every decision. Build a space that is yours, crafted to last by embracing your true personal preferences above all transitory trends. A design build firm can help you realize your vision and bring your dream spaces to life.
4 Interior Design Style Tips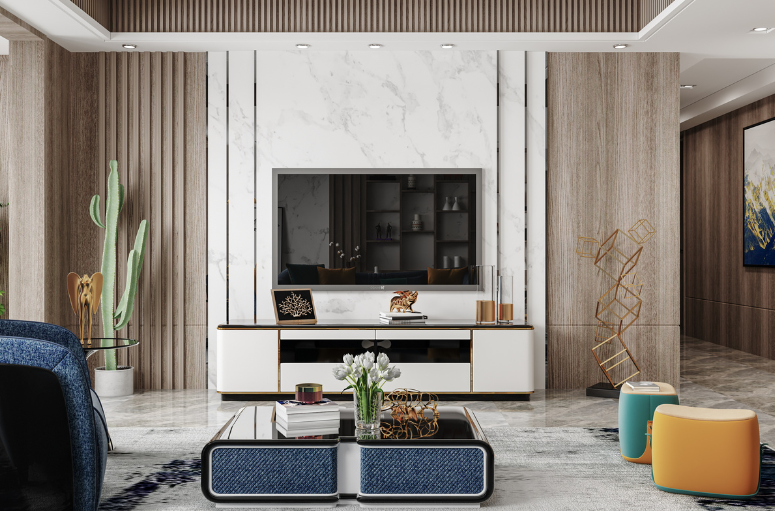 Use Colors That Reflect Your Personality  
Adding colors that reflect your personality is one of the easiest ways to transform your home into a space that feels uniquely yours. A carefully curated color palette based on the hues you naturally gravitate towards can tie your home's design together and give it an overarching cohesive theme.  
The colors you select will help set the mood for each room, so choose shades that match the atmosphere you want your space to evoke. Warm tones like yellows, oranges, and reds create an inviting, cozy environment while cooler blues and greens foster a more tranquil, serene mood.  
For example, if you are an outgoing, cheerful person you may want to incorporate sunny yellows and bright reds as your primary hues. These warm, vibrant colors will likely make visitors feel energized and uplifted the moment they walk through your door. On the other hand, someone who is more introverted and reserved may prefer neutral taupe and navy colors to create an atmosphere that feels peaceful and understated.  
In the end, the colors that bring you joy and have positive associations are the ones that will imbue your spaces with your unique personality. Allowing your natural inclinations to guide your color choices from room to room will give your home design personality and panache.
Add Decor That Reflects Your Interests 
Decorating your home with accessories that reflect your interests and passions is a great way to make it authentically yours. Filling your spaces with photographs, souvenirs, collectibles and decor pieces related to your hobbies helps infuse your personality into every room. 
For avid travelers, display memorabilia from your trips like postcards, wooden carvings, or paintings of places you've visited. Add travel-themed decor like ethnic baskets, beaded curtains, and throws in coordinating colors.  
Literature lovers can exhibit collections of beloved books on customized bookshelves,  place literary quotes on signs or wall decals, and decorate with book-themed trinkets like bookmarks, prints of old maps, and bulb vases shaped like ink wells.  
For gardeners,  incorporate natural elements like dried floral decorations, glass vases with fresh-cut blooms, and rustic wooden planters. Decorative gardening tools and ceramic pots, pavers, and statuettes enhance the home's cozy, earthy aesthetic. 
Decor that reflects your interests adds visual appeal and serves as a continuous inspiration source. Seeing reminders of your passions throughout your home helps fuel your desire to pursue the activities you love, leaving you feeling content and grounded. Let your decor reflect your whole self. 
Prioritize Function Over Fad 
One of the most important ways to make your home truly yours is by prioritizing functionality over following fleeting design trends. Optimizing storage, seating, and traffic flow based on your specific lifestyle needs will result in a space that works beautifully for you and your family.  
When decorating and arranging rooms, focus on practical layouts and organizational systems supporting your primary activities. For example, if you entertain often design an open floor plan that allows easy access between rooms and includes extra seating.  If you have young kids, integrate kid-friendly storage like baskets and cubbies, add extra desks and play areas, and keep fragile decor up high. 
Comfort should also take precedence over style. Choose furniture based on how comfortable it will accommodate everyday living rather than how on-trend it appears. Durable, customizable seating options that allow for adjustments over time will serve you better than trendy pieces you'll soon outgrow.
When it comes down to it, small changes in layout and major purchases that are simple and put function first will yield big returns in the form of a space that effortlessly supports your lifestyle. Optimize traffic flow, storage, and comfort based on your specific needs and over time you'll develop organizational habits and routines that feel natural and intuitive for your family. Make function – not fashion – the foundation of your home's design, and it will soon feel like an extension of yourself.
Display Sentimental Items That Hold Meaning 
One of the most effective ways to make your home truly reflect who you are is by carefully incorporating meaningful personal items throughout your decor. Favorite books, family heirlooms, photographs, and other sentimental objects imbue your space with memories, history, and character that define your unique life story. 
Display sentimental decor tastefully and strategically to avoid a cluttered effect. Use open shelves, shadowboxes, and framed gallery walls to showcase treasured photographs and memorabilia in an organized fashion. Arrange sentimental objects on open surfaces like mantelpieces, side tables, and bookshelves.  
The sentimental items you feature will naturally shift as your life changes. As a young adult just setting out on your own, showcase mementos from childhood like trophies, artwork, or toys you loved. For families with children, display their artwork, baby items, and childhood photographs prominently in common areas for daily reminders of how your family came to be.  
As you move into later life stages, heirlooms and vintage pieces from your parents and grandparents become powerful symbols of your personal history. Items they treasured, like antique furniture, jewelry, or sterling silver can anchor your home's style while evoking cherished memories with each glance. 
With thoughtful placement and curation, sentimental objects become integral parts of your home's decor, infusing each space with a sense of history, warmth, and comfort that says "This is truly mine."
Designing and decorating your dream home to reflect your unique personality and lifestyle takes some planning and thought. But following a few basic tips can help make the process more enjoyable and ensure you end up with interior spaces you love. Focus on personalizing with color, art, and accessories. Choose quality furniture pieces that will stand the test of time. Build in functional and multi-purpose design where possible. And most importantly, create spaces that inspire you and bring you joy daily. A home that reflects who you truly are will quickly become your happy place. 
Other posts you might enjoy:
Interior Decorating Ideas: How to Bring the Outside In
A Comprehensive Guide to Eclectic Interiors
Share This Story, Choose Your Platform!