What's one of the most basic items you need when you move into a new home? I don't know about you, but I definitely think about where to sit. Well, you can't just walk around the house or the apartment until it's time to go to bed, can you? Instead, perhaps it's time for you to think about shopping for the right sofas for your home. Whether you are moving homes or redecorating, it's important to go shopping for sofas to find the one that you will love to fall into after a long day at work.
When you are out shopping for this piece, you will come across more than a few beautiful options. In fact, there are so many styles on the market but, each of those has their own advantages. I bet you will fall in love with most of the sofas you see, making your choice that much more difficult. In any case, you must make the ultimate choice.
Let me narrow down your choices at least a little bit. First, there are more things to take into consideration than simply the style of the furniture piece. Then, when you know more, the number of options will definitely narrow down for you. If this piques your interest, I invite you to continue reading to learn more about selecting the right sofas for you.
3 Tactics for Selecting the Right Sofas for You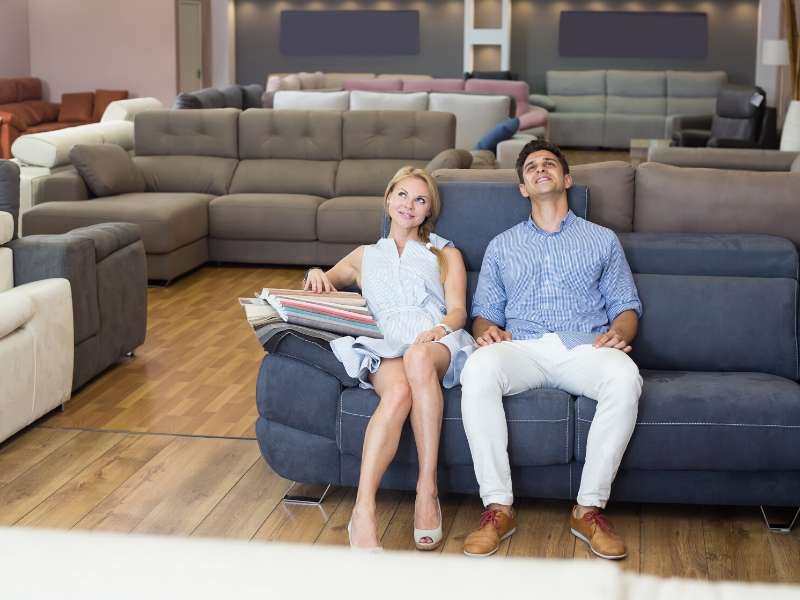 ➼ Size
The size of the furniture you buy will always be of great importance. You don't want your home to look crowded, do you? People usually make the mistake of not taking this into account and when everything they purchase finally arrives, they start pulling their hair out, because the items either don't fit or barely fit. Go here to learn how to choose the right size furniture.
When deciding on the size of the sofa, keep in mind the size of the whole living room as well as the coffee table. In addition, you need to think about whether you are going to buy one or more couches, as well as whether you are going to add chairs. While making decisions about all this, remember to keep proportions and measurements in mind.
➼ Shape
The next thing to take into account is the shape of the sofa. The shape you go for depends primarily on the space you have.  Not all types and shapes will fit in perfectly with any space. If you have a great, open area that you want to divide with the help of your furniture, try going with an L-shape sofa.
Overall, it's wise to learn about which shape fits in your space. Additionally, include an expert interior designer in your decision if it's too difficult to choose alone. These experts help you easily find the best pieces and make your home look absolutely amazing – even if you're on a tight-budget. I suggest using their services if possible, rather than making wrong decision by yourself.
Here's why these experts are important for us: https://freshome.com/inspiration/10-reasons-why-you-should-hire-an-interior-decorator/
➼ Materials
Every other decision you make won't matter if you get the material wrong. There are a few different reasons why you need to get the perfect material. The two most important reasons are, of course, style and durability. If you are not properly informed, you might find yourself buying a piece that will look amazing, but won't last too much, or vice-versa.
When choosing materials, also consider your own household. If you have children or pets, getting sensitive materials won't be a good idea. The same goes for selecting the color. Make sure to consider everything carefully, so that you find the sofa that looks and feels amazing in your home.
Here's to your new, beautiful sofa! If you have any other suggestions please leave them in the comments below. I've also included several other links below for your further enjoyment of all things design.
Images Courtesy of Canva.
Other Posts You Might Enjoy:
2020's Most Popular Luxury Apartment Design Trends
3 Tips for Choosing Painters in Spokane WA
Baring Your Soul: What Message Do You Want to Convey With Your Earrings?
Share This Story, Choose Your Platform!