So, you got an acceptance letter to your dream college? If yes, then, it's time to think about designing your college dorm room. Although it's exciting, leaving home for college can also be scary, especially if you have never been away from your family for long. However, you don't have to be scared. Going to college is a sign that you are becoming an adult, and you need to learn how to be responsible without someone constantly checking up on you.
It is your time to choose priorities, manage your schedules, make new friends, and above all, make your dorm room as comfortable as possible. You can choose to use your home bedroom theme to feel more at home, or you can take the opportunity to explore new and exciting themes. After all, you are going to spend several years in that room. So, you need to make it as homey as possible. However, as you decorate your dorm room, be considerate of your roommate to ensure that they are also comfortable.
If you don't have a clue how to decorate your dorm room, don't worry! In this post, you will learn five fantastic ideas for designing your college dorm room. By the end of it, you will be proud to host your friends in your well-decorated dorm room for those study sessions or to just hang out.
Designing Your College Dorm Room Your Way!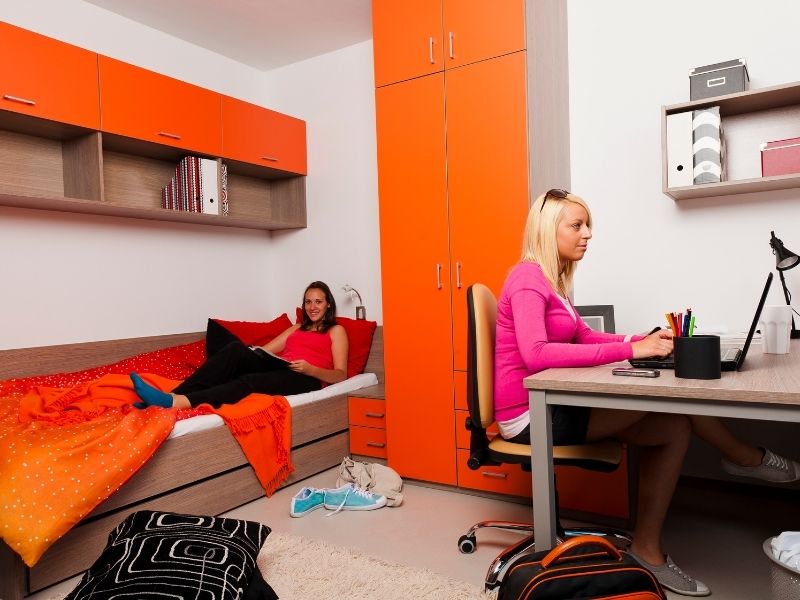 Add Some Plants
Adding plants in your dorm room can help you enhance productivity, feel better, lift your mood, and get better sleep. Plants use up the excess carbon dioxide in the air and offer you fresh oxygen. Keeping them in your room will freshen the air and the greenery adds a dash of color to it.
Look for low maintenance plants that also come with other benefits. You can hang them from a hook or have their pots resting on your nightstand. Some low-maintenance plants to consider include aloe vera, which is also great with skin-related ailments, including dry skin, sunburns, and insect bites. Other plants you can keep include a spider plant, Fishtail palm, and orchids.
Paint a Beautiful Tapestry
Tapestries are costly, especially those meant to cover a whole wall. However, you can improvise by making your own. Simply stretch out an old bedsheet in your basement or backyard before you leave for college and paint some beautiful designs.
You don't have to be great at painting as simple designs can work too. Simple paint splatters or polka dots will do the magic, and before long, you will have a masterpiece to decorate your college room. Tapestries add a dash of elegance and style to empty walls, and you can make one that matches your style. You can search online for tapestry making DIY ideas.
Online Slots Graphics Inspired Wall Posters
Are you an online slots fan? If so, this could be your inspiration for decorating your dorm. Slot games come in numerous themes, and you can print out these graphics and hang them in your dorm room for an exciting ambiance. Your room will resemble an online slot game, and it will be a conversation-starter among your peers. Some of these slots got inspiration from famous movies and television shows, which will look cool on your dorm room walls.
Side tip, if you are searching for the perfect slot theme to decorate your room but you don't want to spend any money, you can visit freespinsnz.co.nz. The site offers players free spins bonuses which you can use while you're exploring your soon to be favorite slot games.
Make a Photo Wall
Students get homesick once they go off to college. Making reminders of memorable moments with your friends and family can help ease the anxiety while brightening up your dorm room. Make a photo wall to make you feel closer to your family and friends even when they are miles away.
Album Cover Art
If you love music, this is a perfect dorm decoration idea for you. Use your favorite albums to decorate your walls. You don't have to be a collector to do this, just visit a music store that stocks cheap old records with beautiful album art. You can also get music albums at garage sales. These will make great wall art for your dorm room.
Ready for College?
Although you might be missing your family and friends, you can still feel like they are close to you using decorations. The best dorm décor should give you that 'home away from home feeling while displaying your personality. Plan your dorm décor and look for ideas online to ensure that you have a comfortable space away from home for the next few years.
If you have your own suggestions you want to add, please do so in the comments below. You will also find several links below that lead you to more great articles about ALL things DESIGN.
Images Courtesy of Canva.
Other Posts You Might Enjoy:
3 Money-Saving Tips for Designing Your College Dorm Room
Dorm Room Living; 5 Tips for an Organized Dorm Room
Make Your Dorm Room Home Sweet Home
Share This Story, Choose Your Platform!