If you've been dreaming of purchasing a perfect weekend getaway home, congratulations you finally did it! Now before we jump into all the fun stuff, remember moving paperwork is of great importance. So, be certain to keep it with on you on the big move day. This will help ensure everything flows smoothly during your move.
Vacation 'getaways' are becoming more popular, and many own one, without actually owning a primary home. This is because remote work is on the rise allowing many to live anywhere in the world and work from the comfort of their own home.  
How to decorate a vacation home? Second home checklist? Below, we'll list a few tips on how to decorate and maintain your vacation home. In addition, we promise if you follow these steps and ideas, you'll end up with a perfect weekend getaway home that your family and friends can't wait to visit!  
9 Tips for a Perfect Weekend Getaway Home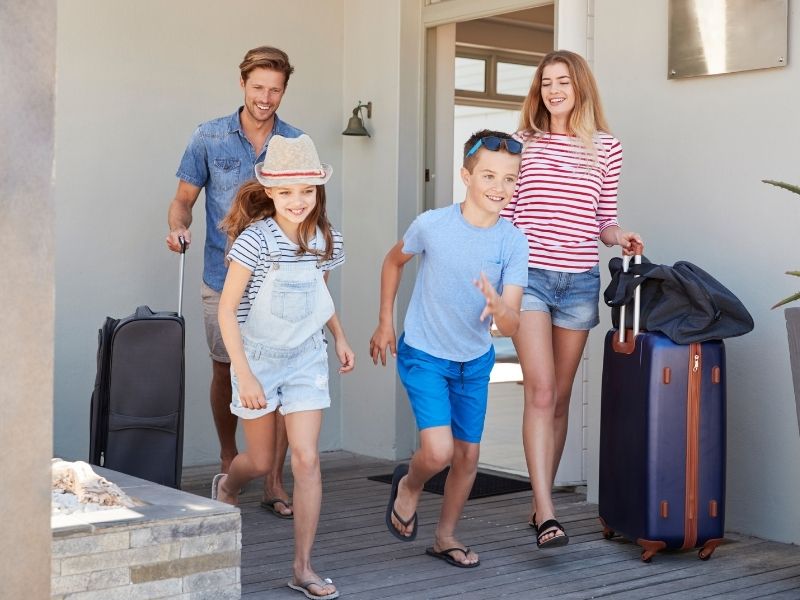 ① Consider Your Location 
It's called a getaway for a reason, and it's supposed to take you away from your everyday life. Therefore depending on the location, whether it's along the sandy beaches or somewhere in the mountains; that will play a major role when doing your interior decor. Whether you live here all year round or this is one of your favorite vacation places, decorating is a fun venture.  
② Beaches and Coastal Areas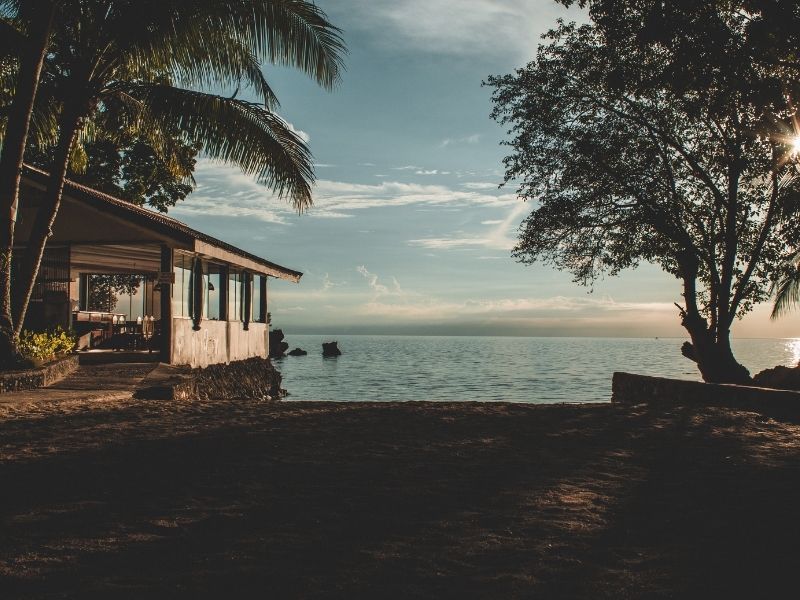 These areas have a high humidity level during the day, and lower temperatures during the night, therefore select building materials that allow air circulation but also isolate from the cold during the night.
Coastal areas also have salty air, so keep in mind that appliances and furniture must be treated accordingly to avoid rust.
Interior design color palette should never be dark and dim, but rather light, airy, and open. Glass doors, large windows, and skylights are the key! This describes a true coastal design.
It's a vacation home, so in order to create a relaxed and easy vibe, try and use natural materials as much as you can. Such as- wicker, rattan, light woods, and fabrics.
White is the most common color many use when decorating beach homes since it makes it airier, but it doesn't mean you can't accent with color. Accent colors are typically neutral like light greens, khaki, light blues, and greys.
An open floor-plan is perfect for beach gateways. Ideally, you want an open and airy house with light colors and opt for a minimalist vibe. In this case, less is more.  
③ Mountains and Hill Slopes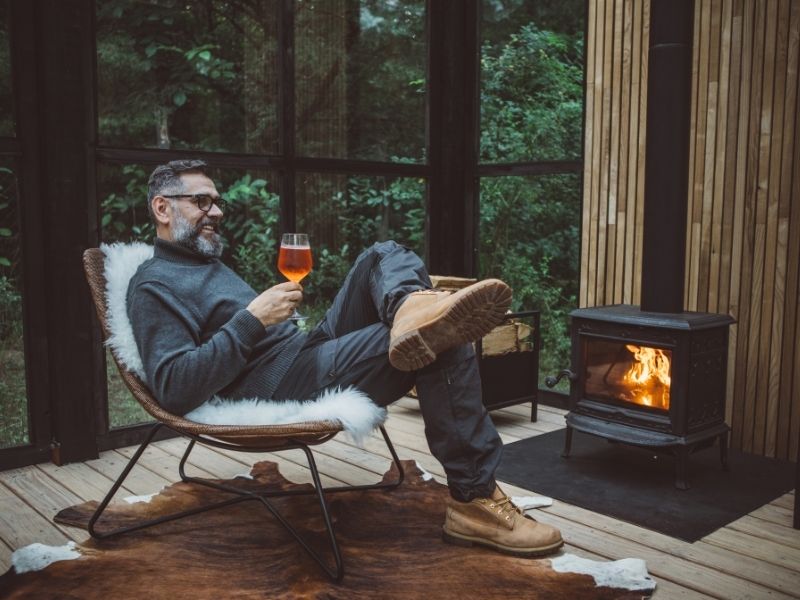 When you think of a cottage in the mountains, automatically your brain goes- warm and cozy.  
There is a lot of rain in these areas, therefore the building materials should be durable and isolated from the cold during the winter.
As time passes trends, change. A style that's becoming popular is a mix of rustic and mountain-inspired decor. Thanks to the farmhouse design, rustic decor is taking the world by storm. The great thing about this style is that it is timeless.
This style of decor often includes elements like natural greenery, creamy white colors, and metal for accessories and furnishing. Selecting furniture that blends metal and wood enhances that rustic-mountain look. For a cozier feeling, finish off your decor with velvet throws and fluffy pillows.
You want the vacation home to be a memorable experience for you and your loved ones. Let's be honest, when people go on holiday they want to experience a bit of luxury. In that case, you want your decor to feel homey but also, a grand escape as well! 
④ Plan Your Home With Purpose 
Putting rooms together and deciding on their function is essential in your primary house, but more in a vacation house. Because the big question is if you plan to rent out this place? 
When decorating you must take this into consideration. For example, add extra beds so that you can host larger parties. Also, find furniture with durable material so it stands the wear and tear of frequent use.  
Or, if you want this vacation home to be used as an escape for you and your family, you have more freedom to set up as you do in your primary home.
Either way, it's always recommended to have at least one guest bedroom, because vacation homes are a perfect place to host friends over the weekend.
You also want to ensure that the living and dining room is large and spacious, so you have enough room to entertain.  
⑤ Add Touches of Luxury  
Like any vacation, we all want to experience extravagant amenities that we usually would not at home. If you're lucky enough to have a big budget, this is a perfect time to invest in high-quality furniture.
Build each room around materials like real wood, granite, and marble. Design unique bathrooms for each room and add hot tubs.
A huge must-have is an outdoor luxury shower with steam and multiple showerheads along with heated floors. This will provide an adventurous outdoorsy feel with a breathtaking view of the ocean or mesmerizing greenery on top of the mountain.  
The luxury decor and extravagant touches are a great investment, because in the future if you ever decide to sell your vacation home, it will be listed for way more than your original purchase price.  
⑥ Be Energy Efficient 
Whether your vacation home is on the beach or in the mountains, it is a dream and a budget-buster! Here are a few energy-efficient and easy ways to cut back on costs and feel more at peace when you're away. 
⑦ Change Air Filters Regularly
Clogged or dirty air filters not only contaminate air quality, they also reduce your HVAC system's efficiency, requiring your units to work harder.
Surely, you don't want to spend your time cleaning air filters while on vacation, so next time you plan on coming bring a stack of reusable air filters that are a bit more eco-friendly.   
⑧ Turn Down the Water Heater Thermostat  
Once at your vacation home, before jumping in the shower after a long car ride or a plane ride, take a peek at the water heater. Most water heaters are preset to 140 Degrees Fahrenheit, but the energy department recommends turning it down to 120 for maximum energy efficiency.
If you don't plan on returning to the vacation home in several months, turn off the water heater entirely and shut off water supply valves to save additional energy and prevent water damage from burst pipes.  
⑨ Use Smart and Efficient Lighting 
For security reasons, many people tend to leave a light or two on when they're not there. Unfortunately, standard home light bulbs consume a lot of energy.
Instead, make a small investment in LED lights and compact fluorescent lamps. However, you don't have to worry about energy any longer because these bulbs last up to 25 times longer than traditional bulbs and use up 80% less energy.  
Here's to Enjoying Your Perfect Weekend Getaway Home!
Owning a vacation home is a dream of many, and if you're lucky enough to fall under this rare percentage, awesome!
We shared some tips with you when decorating, maximizing your space, and adding elegant touches to you perfect weekend getaway home. Together, these tips help design many wonderful experiences for you, your family, and friends.
If you have suggestions to add, please do so in the comments below. Also below are references to more interesting articles about ALL Things DESIGN.
Images Courtesy of Canva.
Other Posts You Might Enjoy:
5 Reasons to Get Home Inspections Before Buying
5 Mistakes to Avoid When Buying a New Home
DIY Home Renovation – When to Seek Professional Help
Share This Story, Choose Your Platform!