According to one survey, about 5 million Americans work from home. If you're one of those millions of people working from home, you should consider setting up a home office.
If you don't already have a home office area, you will quickly realize that working from the couch or your bed isn't always the most productive or ergonomic option for you.
If you have recently started working from home or need to make your office look nicer, we invite you to check out these brilliant home office decor ideas.
Office Decor Ideas for a Brilliant Home Office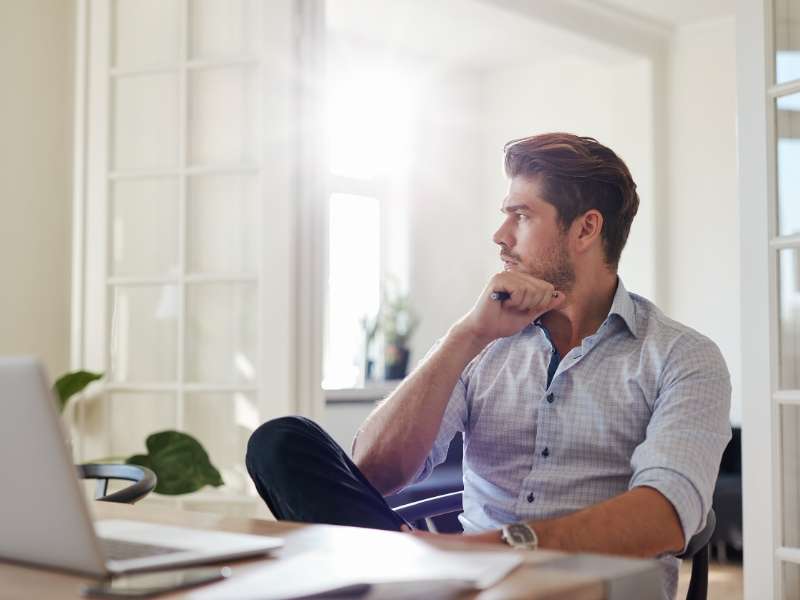 ① Learn How to Hide the Unsightly Cords
The first thing you can do is to get rid of or hide the cords in your office. The tech can start to clutter and make your office look messy. This may end up causing distractions.
However, you can do some things to hide the clutter. First, you should get rid of anything you don't need to minimize how many cords you have to hide.
Once you've done that, you have to figure out how to cleverly hide them. You could find an attractive box and cut a hole in the back of it to run the cords through there. That will also help keep them organized.
You may also be able to use command hooks to hang them up so they're not in a tangled mess on the floor. Additionally, using a power strip may also be a good option if you are running out of outlets.
② Incorporate a Nice View
While you're working on doing administrative tasks, like using a free paystub generator, your eyes may start to wander. So, it's important to ensure that you have a nice view. It will help you avoid the feeling of the walls closing in due to confinement.
Make sure you have open windows that let natural light in to make the room feel bigger than it actually is. However, if your office doesn't have many windows, don't worry. There are still things you can do to make it feel open and airy.
For example, you can paint the wall a light color. Don't get heavy curtains, but try some sheer or lighter ones. You can also incorporate potted plants or succulents to bring some of the outdoors to you!
③ Let the Light In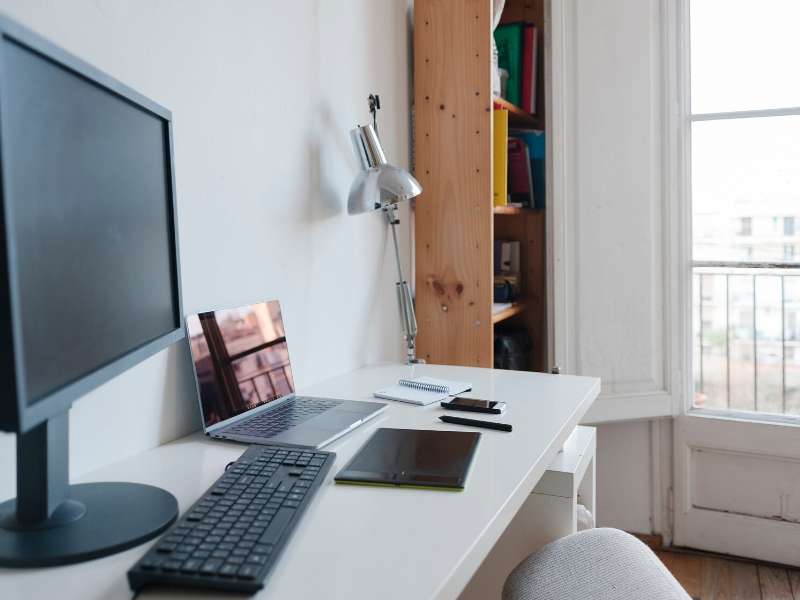 Letting the light in if you have a window is always important. If you don't have adequate light, you won't be able to get very much work done anyway.
However, you should also be careful when choosing the light in your actual room. Try and avoid fluorescent lights because they make the room feel cold and eerie, and that's not how you want your office to feel. If you can't use natural light, make sure you choose "happy" lighting and lights that illuminate the entire room.
④ Hang Paintings
To make your office really your own, you need to make sure you incorporate some decorations. Since this isn't a common area, you can make it your own with whatever you want. That may be a unique desk design, some interesting lamps, or some really bold paintings.
Art isn't only to be displayed in the main areas of the house, like the living room or master bedroom. Rather, it can also be a way to make you feel happy in your home office.
Just be careful not to hang too much art and make your office look cluttered.
⑤ Be Minimalist
Not hanging too many paintings is part of a minimalist design. This new trend is in use by so many people now as it focuses on making a clutter-free space with simplicity.
With a minimalist design, you'll also incorporate a neutral palette of colors into the room. With fewer distractions, your mind will open up and you can spark some creativity.
On the other hand, with too much clutter or on your desk, it just opens up the potential for endless distractions.
⑥ Create Your Own Home Office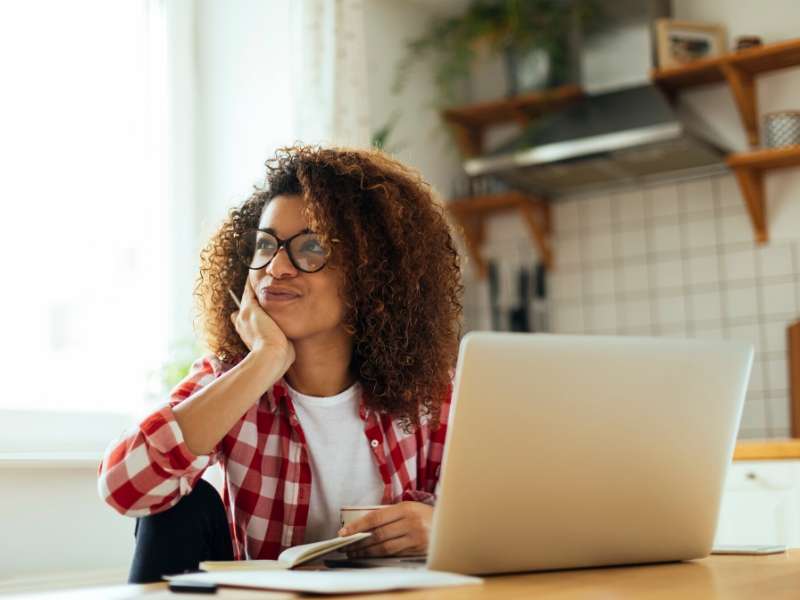 If you're working with a small office, you may be wondering how to fit in everything you need. However, if you don't have room to designate as a home office, you may have to get creative. Additionally, you can always build a custom desk into a corner of an already existing room.
If it's not in another room but out in an open room, you may need to get a versatile desk. You'll want to consider something that you can hide or disguise as something else when you're not using it.
If your makeshift home office turns out not to be what you want, try including some color to make it a little bit more comfortable.
⑦ Focus on Productivity
Lastly, you should make sure that however you design your area you make sure that your focus is on productivity. Even if you have a small office, you can still have great decor while organizing the space to help you get as much work done as possible.
If you don't have much space to work with, you can always go vertical instead of horizontal. That means incorporating floating shelves, hanging calendars, or notes. You could also install cabinets to organize and store notes or memos.
You're more likely to be productive if you aren't having to spend fifteen minutes always searching for where you left your notes or if you can see your calendar just by glancing at the wall.
Discover More Office Decor Ideas
These are only a few office decor ideas that you can use to decorate your own home office. Being able to decide your own special decor is one of the benefits of working from home, so make sure you turn it into a space that you love.
Images Courtesy of Canva.
4 Top Reasons Why You Need To Invest in Home Renovation
Some Fun & Amazing Ways To Enjoy Your Deck
Benefits of Using Steam Cleaners To Sanitize Your Home
Carpet, Tiles, and Hardwood: Which Flooring is Right For You?
Share This Story, Choose Your Platform!