Still, hung over the magical tropical vacation you had earlier and wanting to have a tropical-themed bedroom? Why not transform your bedroom into a tropical paradise and get a little taste of it yourself? Yes, you read that right!
5 Decor Ideas for Tropical-Themed Bedroom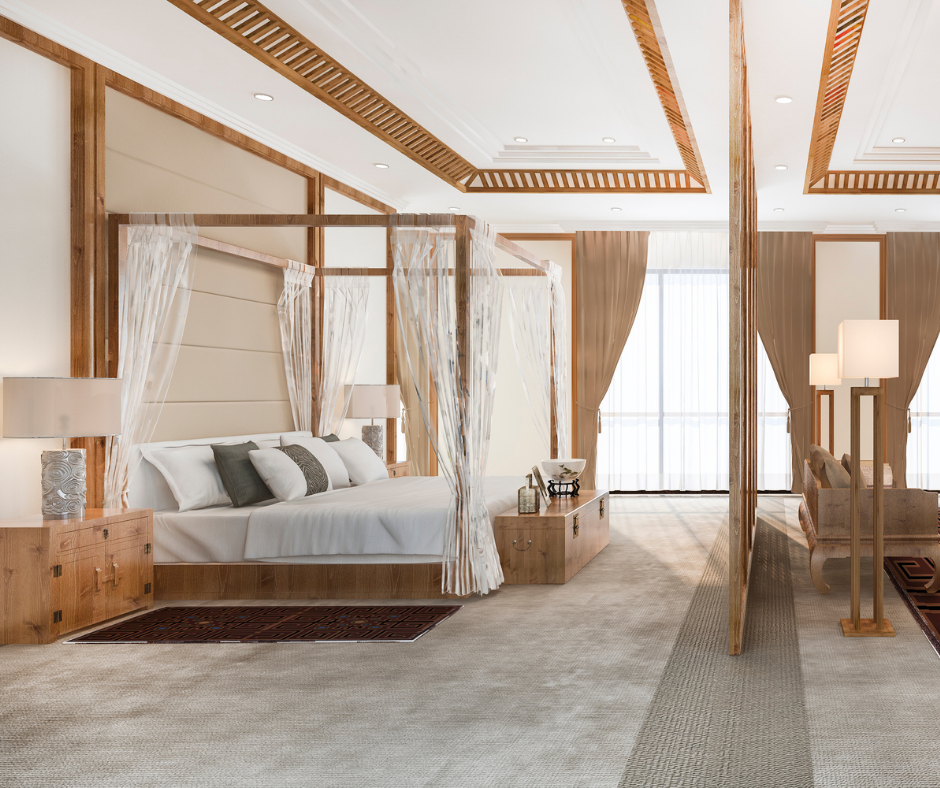 Today's interior designing world is so progressive that you can bring the aura of tropical regions into your room with little effort. From your walls to floors and furniture, we can customize everything as per the tropical ambiance. If you are wondering how then try out these ideas:
Wall Arts for the Tropical Walls
The best way to adorn your bedroom walls is by choosing a tropical-themed house wall painting for your bedroom. Look at the below wall art, for example! Doesn't it remind you of your tropical vacation? The coconut trees, the boats, the water, everything's just mesmerizing! 
Besides that, the house hidden behind the vegetation adds more authenticity to the picture. In short, it gives a quick glimpse of the simplicity of tropical regions.
You can add these wall arts either at the front or backside of your bed. Alternatively, you can add it behind any space that's dedicated to your tropical souvenirs. If you aren't satisfied with one, get two or more house paintings! They would look just as beautiful.
Tropical House Plants
Next, you can try getting tropical house plants for your bedroom. Tropical plants are perfectly decorative to bring color and exotic flair to your room. They easily adapt to indoor climate, so you wouldn't have to struggle with its maintenance. 
Select a plant that contrasts well with your wall colors. For example, if your room is orange, you can go to plants like Bird of paradise. Similarly, for something in greens, you can get a dumb cane. So, take a quick look at your room environment, and decide on a tropical plant accordingly. 
Some tropical plants that you can add to your room are:
Ficus

Peace Lily

Orchids

Jade plant

Rubber tree
Natural Furniture
When you are inviting nature to your room, why not do it right? Instead of the usual fabric sofas and modern furniture, why not give a twist to the room with everything natural? 
For that, you can be creative and choose exclusive furniture made from natural woods like oak wood, mahogany, teak wood, cherry wood, etc,. Meanwhile, try to stay away from plastics (or artificial materials) as much as you can.
From tables and chairs to cabinets, make sure that the construction is of natural wood. You can also get a small bookshelf with natural wood to keep your favorite books inside. 
Jute Rugs
Just like any other part of your room, it's important to give your floor a tropical or natural touch too! For that, you can use jute rugs. They made jute rugs from jute plants that are known for their soft and durable characteristics.
Not only do they add aesthetics to the room, but they also cut down the chance of rug replacement. They are thickly woven, so the soft fibers would give a cushiony feel to your legs. 
Select a jute rug that compliments the shades of your bedroom. As you are decorating a tropical bedroom, a green jute rug would be a fantastic option! 
Mirrors
!
This may sound surprising, but mirrors can be a go-to decorative item for your tropical room. Just hang them at a place where the sun's rays fall directly, and your job is done! 
The rays will fall on the mirror and brighten up your room. It will open up spaces and make it look as beautiful as possible! Mirrors enhance the green hues of the plant and the sun rays, giving an iconic tropical feel to the space. 
To Conclude
Lastly, we would suggest you select tropical colors for your bedroom walls (like different shades of green, turquoise, tangerine, etc.). It will add oomph to the room atmosphere. 
Try these ideas, and we are sure you will have yourself a beautiful tropical-themed bedroom.
Other Posts You May Enjoy:
5 TYPES OF BEDFRAMES FOR YOUR MINIMALIST BEDROOM
8 WAYS TO ORGANIZE YOUR BEDROOM
BEDROOM DECOR TIPS FOR DESIGNING A CALMING SPACE
Share This Story, Choose Your Platform!