Roman shades are the simplest and most practical window treatments that accent the interior while providing levels of privacy from noisy neighbors and bright sun's rays. The piece of fabric is actually mounted on the window and is pleated in a way that when you pull the shade string, the fabric keeps folding at regular interval. It is much better than the drab and dull plastic shade and above all, it uses less fabric to become a cheaper alternative to the ornate shade. It has been around for almost centuries and now you can choose from various styles of classic shades with lots of options. The fabric Roman shade may be raised and lowered with the pull cord. Shades are made in varied ways and a contemporary one is mostly preferred.
5 Benefits That Make Roman Shades a Great Choice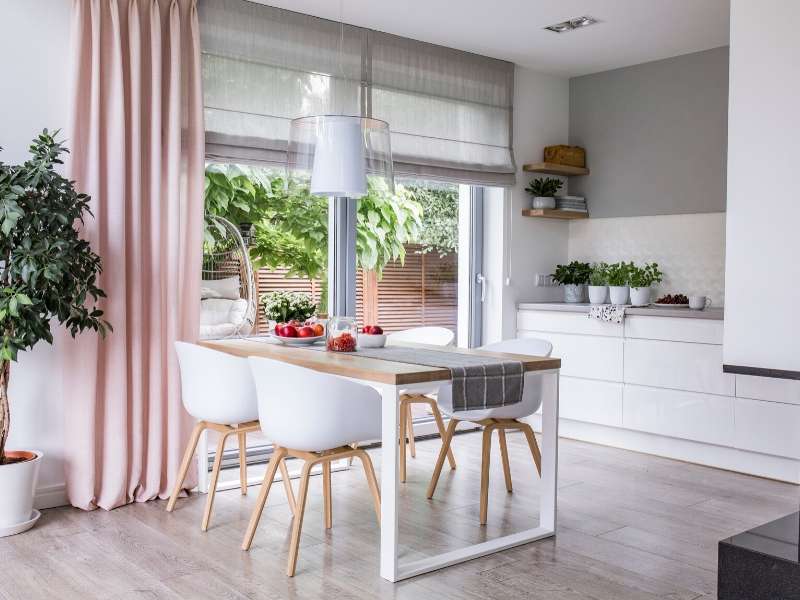 The Timeless Appeal of Roman Shades
This is one of the greatest advantages of using the Roman shade. Used for decades, they are popular for their timeless appeal. If the fabric is chosen with careful consideration, it will extend the life of the shade while keeping it on trend. It also offers some kind of softness to the window, unlike the harder window blinds. It offers a wide range of choices where homeowners can choose between looped, flat, dog-eared and balloon. The style might move from feminine to soft and from tailored to masculine.
You Can Make a Roman Shade
Roman shade may also be made at home. The exercise will be a kind of mathematical practice. You need to fit the fabric to your window and hooks in order to draw the shades up. Hooks need to be placed at regular intervals to make this happen. When compared to the kinds of fabrics, patterned fabrics are far more challenging. In fact, the fabrics are available at every price option from $30 to thousands of dollars.
Customized Roman Shades are Suitable for Various Interiors
It is an established fact that customized shades are suitable for almost all kinds of interiors. To add the burst of color to the monotonous interior, you may design your own shade as per the needs. Invest on bamboo ones and pastel shade if you want the room to be simple. If an unimpeded view is important such as a water or mountain view, then a Roman shade is the best choice. When in the up position you will have a full view out the window.
Buying Ready-Made Shades
A Roman shade may be bought ready made from the seller. Thus, you can buy and directly use it. If you are on a budget this is a great option to do. Your windows will need to be a standard size as the ready-made Roman shades come in standard sizes.
Better temperature and light control
Roman shade is light, efficient and flexible. When compared to other kinds of shades, they offer much better temperature control. Draw them high during winters to let the maximum sunlight come in. Prevent overheating of interiors by opening the shade in the evening during summers.
Thus, it may be said that Roman shades are highly beneficial when it comes to home décor and offer home temperature control. The buying convenience with the advent of the internet is another merit.
Images Courtesy of Canva.
Other posts you might enjoy:
Window Treatments and Decor Add Style To Your Living Room
Tips on Picking the Right Window Treatment
Window Treatments 101: Spruce Up Your Windows
Share This Story, Choose Your Platform!