A true lighting plan is mathematically formulated to fit the space.
How do I know if the home lighting symbols I'm looking at on the plan from my interior designer is actually a mathematically formulated lighting plan?
When the lighting legend lists the actual lamp going into the fixture. Here are lighting plan symbols (each standard home lighting symbol for interior) and what they mean:
### 
Watch Patricia walk you through a true Lighting Plan:
###
In the example above the home lighting legend has no specifications. This example only shows lighting symbols, which means  there was not a formulated lighting design. It is left wide open for interpretation.
This is an example of a formulated lighting design. This home lighting legend is specifying fixtures, trims and lamps, leaving no room for interpretation.
Many times the wattage is specified on a lighting legend. Wattage tells how much electricity the lamp will burn. Wattage tells nothing about the amount of light a lamp can produce. Candlepower is a lamp measurement. It measures the focused quantity or intensity of directional lamps (recessed cans). A lighting designer measures the candlepower and formulates how much is needed at that area.
When the fixtures are measured to their centerlines on plan view.
EXAMPLE OF CENTER LINE OF FIXTURE FOR PLACEMENT
This is important in figuring how the beam spread will impact the design. The illustration below shows the beam spread missing the face of the wall cabinet and hitting the countertop. If the fixture was placed to close to the wall the beam spread would intersect the face of the cabinet creating a harsh scallop of light on the face of the cabinet and not covering the counter space as it should. To avoid this, the lighting designer would figure the degree of beam spread with the proper candlepower for the height of ceiling and calculate placement.
This illustration shows the proper calculation of beam spread in relationship to cabinetry and countertop.
Kitchens and baths should have a layered home lighting design. Dimmer switches should be installed giving the user full control for their lighting needs. This is aesthetically more pleasing because you can pick your scene but, more importantly this ensures enough light at task areas where it is absolutely needed. Task areas have triple the candlepower to the general areas which need just enough light to navigate safely.
###
Patricia shows you a layered lighting plan and tells you how to place each type of light in your kitchen or bath in this Instant Video at Amazon:
###
Below are pictures of a kitchen with a layered lighting plan and one that did not, can you see the difference?
    EXAMPLE "A"   
Example "A" shows a kitchen with no lighting design over the task areas, the island and sink. The mullion glass display cabinet is not lit and fails to focal point what was meant to be seen. The under cabinet lighting is florescent fixtures with a very green color changing the color of the tumbled marble which I am sure was not the intention.
Example "B" shows a layered lighting design. The task areas have sufficient light at counter. The glass cabinets with dark interiors are lit evenly by running the lighting vertical illuminating each shelf. The designer used a continuous strip lighting fixture for above and below the cabinets giving even illumination. Notice the difference between example "A" color and the true color of example "B". Having an expert design your lighting can mean the difference as seen above.
Every kitchen and bath deserves a good lighting plan especially yours!
Lighting for Your Kitchen
Every kitchen also deserves a great set of lights – here are some of our favorites:
This copper cone pendant light fits several styles and works as task lighting over an island, sink or table and offers a decorative touch. See the PDB Homestore for our entire collection of Decorative Copper Lightining Fixtures.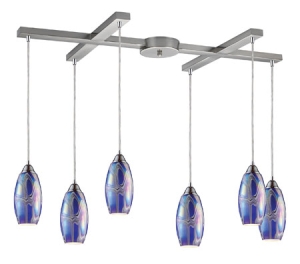 If you're looking for truly unique lighting options – the kind of light fixtures you don't see everywhere – you may like this Storm Blue Hand Blown Glass fixture. It's part of a full collection of unique, beautiful Hand Blown Glass fixtures at PDB Homestore.
There's nothing wrong with traditional lights with clean lines, classic appeal and long-lasting style – just don't settle for "builder's grade" lights. This 5-light over-the-table chandelier in satin nickel will remain stylish for years to come. You can see it in other finishes, matching light fixtures for other areas of your kitchen and more traditional choices in the PDB Homestore.
Share and Inspire!
You Might Also Like...