With the millennial generation now old enough to start buying homes, it only makes sense that the houses are as tech-savvy as their owners. Who doesn't want to get home after a long day at work and be greeted by a full pot of coffee that was automated for your homecoming? Or when you're struggling through a meeting and all you want is to cuddle your dog – who could say no to a quick video chat with your fur baby? There are many home technology advances that are designed to make your life easier and more futuristic. But when is it too much? There has to be a line between enough tech and too much tech – perhaps it's when the technology in your home outnumbers the regular features.
Home Technology • What's Available?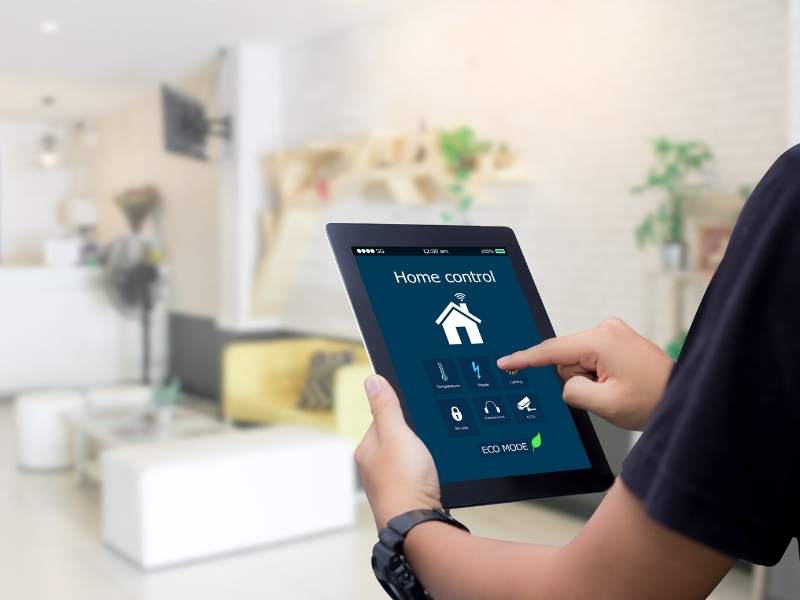 Talking Fridge
Much like Beauty and the Beast, now your furniture can talk to you. Well, it can let you know reminders and can tell you when you have things scheduled in your calendar. Samsung's smart refrigerator has a tablet built straight into the door. You can even look in your fridge without opening the door. You can get notifications when food is about to go out of date, and you can double-check what you need on the go with the handy app. I know there are many times when I am at the grocery store and can't remember what all I actually need. A refrigerator that can actually give that to you in the palm of your hand is a great home technology and could really enhance my world.
Singing Bath
If you want more from your furniture interactions, you can install a smart-bath and have it sing to you. VibrAcoustic® by Kohler offers acoustic therapy vibrating soundwaves while you bath by playing your favorite music or a pre-programmed playlist. The bath implements hydrotherapy by mixing the sound waves and the water to completely relax you. A little over the top? Maybe, but I am one who loves taking a warm bath to decompress every night. This bath would definitely be a step up from just the typical soaking tub.
Smart Lock
And on the subject of remembering things – who wants to remember their keys? Not with a smart lock, you can rely on Siri to unlock the door for you. You can share your virtual key with guests and visitors. Just don't forget to remove them when they've left. And don't get your phone stolen, or forget your phone charger.
Robot Vacuum
They've been around for years and have been a source of comedy on many occasions; with added googly eyes, or a happily perched kitten. The Neato vs. Roomba robot vacuums war has been on-going since the companies began, but the downfall they both have is the inability to detect black flooring.
WiFi Coffee Makers
WiFi Coffee makers may be taking it a little too far because programmable coffee makers pretty much do the same thing. Although using your smartphone coffee app to turn on the coffee maker just before getting in your shower is kind of cool.
Hands-free Secretary
Amazon's Echo and Google's Google Home (imaginative) now makes it unnecessary to use your phone in the home. Want to play some music, just ask. Need to set a reminder – just tell it. It's pretty straightforward, but the reviews on these technological items are mixed. Google and Apple (Homepod) had to scramble quickly to catch up with Amazon and no one is sure about who is the winner for this one.
Smart Thermostats
Here's another thing to not get up for – your thermostat. With smart thermostats like Google's Nest, you can control your home temperature with your phone. After a while, you won't even need to do that; this gadget learns your preferences and behaviors and acts accordingly.
Pet Feeder
You can now feed your pet without interacting with it! An automatic pet feeder will ensure that your fluffy loved one gets fed at a set time with the right amount of food. This does seem like a good idea if you're out all day – but the issue does arise if you want to feed your pet wet food as well as dry (think of the cleanup.) it could also be detrimental when your pet gets more food-related interaction from a robot than from you.
Pet-cam
In a world of pet-fanatics, where technology is used to feed our four-legged friends, we can also bribe them into communicating with us. A pet-cam allows you to video chat with your pet while you are out and about – the youtube videos will be fantastic and worth it – but is it really necessary? And coaxing your pet over with an automatically dispensed treat is bribery, not love. The benefit would be if the pet is home alone for most of the day, or you are away on holiday. With the optional extra toys, you can also remotely play with your pets. This is great fun with a laser pointer and a cat, but it's also a bit impersonal.
High Tech for Pet Grooming
With the Dyson Groom Tool, you can brush and trim your dog by vacuuming them. This additional hose can be fitted onto your vacuum cleaner and you just vacuum your dog for fast grooming.
There are many gadgets and technological advances that can be very useful at home, and everything on this list has its pros and its cons. The question is whether tech has taken too far in the home? Is it really necessary to video chat your dog, and is it really that much of an effort to open the door of the fridge when you're standing directly in front of it? The cool thing about today's home technology is there are lots to choose from. The one thing you need to consider is if it simplifies or improves your life and if the answer is yes then it is a good home technology.
Images Courtesy of Canva.
Share This Story, Choose Your Platform!