Buying a house is an excellent investment. Real estate values have shown a consistent upward trajectory over the past years and analysts believe this trend is set to continue. Gated communities, in particular, are a great choice for those looking for extra safety and peace of mind, such as families with children and elderly people. Studies have indicated gated community security systems deter crime and have a 33% lower likelihood of burglaries compared to non-gated environments.  
Your gated community security should have modern technological solutions, such as access control and visitor management systems. Real estate investors can also benefit from the installation of these technologies, as they reduce operational expenses, boost revenues by making the home more desirable to potential tenants, increase energy savings, and add value to the property by future-proofing the building. 
Let's explore the best technological solutions to look out for when buying a new home in a gated community.
What Your Gated Community Security Should Have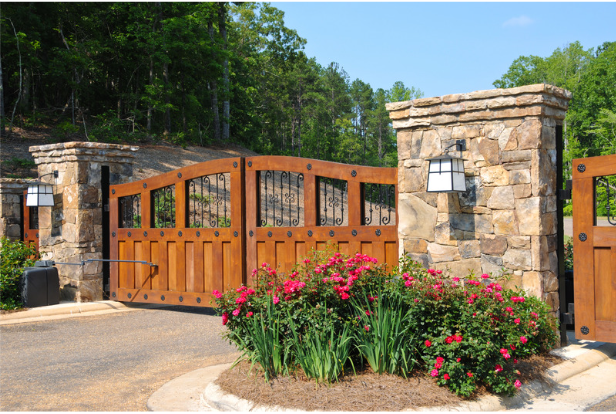 Access
Control Systems in Shared Spaces
Access control technologies are designed to ensure that only the residents and other authorized individuals have access to the gated community. Keypads are one example of an access control system, as they allow residents to use an assigned PIN or code to open gates and doors. Only those who have a valid combination of numbers will be able to access the community or specific areas of it. 
Another example of an access control system is RFID devices. The acronym stands for Radio Frequency Identification, and it refers to technologies that use radio waves to open gate entries. Remote controls and magnetic keys are some of the most common RFID tools used by residents of gated communities. These devices can also be configured with a computer or smartphone, which allows managers to add new cards and remote controls, as well as delete existing ones.
Visitor Management Systems
A visitor management system is a form of access control system that tracks and verifies non-residents entering the property. It helps insulate residents from the risk of uninvited or undesired individuals entering both the gated community and specific areas of it while making it easier for authorized visitors to access the property. Without an effective visitor management system in place, guests or delivery workers could face long wait times or numerous obstacles before being finally let in. In case of multiple visitors, there is also the risk of people or vehicles stacking up at the gate.
Intercoms in a lobby or outdoor gated entry area can help prevent these undesirable scenarios. These devices allow residents to check who is requesting access and open gates or doors by using multiple devices like just a mobile phone or a laptop. This can reduce wait times considerably and save time for the property security workers, who can concentrate on other tasks. 
Reliable Video Security Systems
Installing video security solutions is another important step you need to take if you want to maximize the level of safety in your gated community. It's very important to install security cameras in a way that eliminates blindspots and seamlessly integrates with the community's access control system in order to obtain a more effective verification of users' credentials. A reliable video security system is one of the most effective deterrents against criminal activities and can also help you locate lost pets or stray animals wandering in and around the community, as well as find missing items. 
Modern video security systems come with a lot of new features that maximize their effectiveness, such as perimeter security and remote accessibility. One choice usually faced by residents of gated communities is IP vs analog security cameras. While the former transfer recorded images using wired connections, the latter does it through the internet or other wireless network.
Using Cloud Solutions to Achieve Perfect Integration
Integrating these devices and solutions can elevate the overall safety of your gated community. Using cloud-based access control and video security systems has numerous advantages. First of all, it makes it possible to manage IoT devices from anywhere by using an app and receiving alerts on your smartphone. It also allows you to choose who has control of these devices. For example, if you are on holiday or are having a particularly busy day at work, you can select a person you trust as the temporary manager of the security system and add his or her smartphone or laptop to the list of authorized remote devices. 
Another advantage is that footage from security cameras can't be stolen by thieves entering the community and trying to remove any evidence of their actions. It's safely stored on the cloud, and it's also protected from cybercriminals through advanced encryption solutions. Finally, cloud security is easily scalable and adjustable to your specific needs, which makes it a more cost-effective solution than systems that don't use the cloud.
Other posts you might enjoy:
Pros of Living in Gated Communities
Home Security: The Importance of Keeping Your Home and Family Safe
How to Avoid Mistakes with Home Security System
Security Features Every Home Should Have
Share This Story, Choose Your Platform!