How smart is your home? Maybe you walk in each evening to curtains that close automatically, a spotlessly clean floor thanks to your Roomba, and lights that dim gradually each hour until bedtime when they eventually turn off.
Ironically, all your smart technology, such as that $1,000 Roomba or $7,000 flat-screen TV, is always at risk of theft if you don't put proper security measures in place. According to Forbes, more than 1 million American homes are broken into each year. Additionally,  75% of homes don't have a security system in place.
Why Every Home Should Have a Smart Lock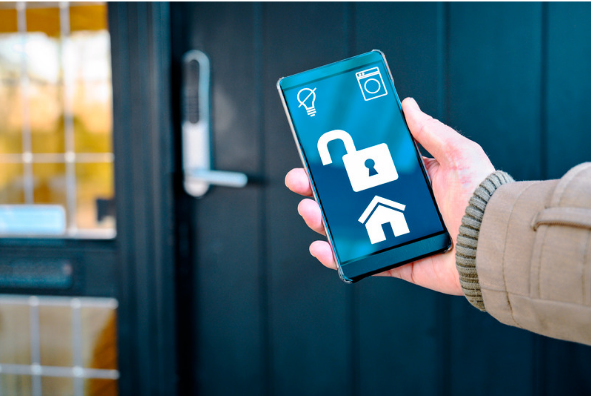 For a smart home, you need even "smarter" locks and security systems, especially for your front door. Here's why every home could benefit from smart locks.
No More Lost or Forgetting Keys with  Smart Locks
Everyone has lost their house keys at least once. And often, you're never sure if you lost them. With a smart lock, the days of losing keys or driving back to work because you left them on your desk will become a thing of the past.
Additionally, most people hid a spare key under their doormat or maybe a flower pot, and most security experts warn against this. After all, that's where most intruders look first. Using a smart lock can ensure only you, and certain people can have access to unlocking your doors. 
Smart Locks Connect with Other Security Appliances
A single security solution, such as an alarm or a camera, may do little to protect your home. A variety of different strategies, however, continues to prove to be effective. One study in the Netherlands discovered that a combination of door and window locks, along with prominent external lighting, confers at least 20 times greater protection against burglaries.
A smart lock does that and more, allowing you to wirelessly link all your devices and control them remotely, further strengthening your security strategy. For example, you can link your smart lock to your porch lights, cameras, and alarm systems. Some security devices can even link with Amazon's Alexa, and Google Home for voice control. 
Sometimes it's worth it to have more than a smart lock. Incorporating more to create a smart home has many advantages. A closer look reveals that smart homes:
Better for the Environment
It could be your sensor-sensitive lights that turn off when no one's in the room or those smart taps that save a few drops of water each time they're in use. All in all, with smart appliances, you play a small yet important role in making the planet more energy-efficient and sustainable.
Maximize Your Home Security
Smart locks, alarms, and cameras go a long way to deter intruders and ensure your home remains safe. Going that extra mile by adding a layer of security may be all you need to keep you and your loved ones protected.
Other Posts You Might Enjoy
10 Smart Appliances for Your Home
Smart Home Appliances Are They a Good Idea?
Share This Story, Choose Your Platform!