Summer is that time of the year when you can unleash your creativity in dressing up. Bright colors, shorts, sandals, and more provide the perfect pairings for showcasing your summer style. But when it comes to accessorizing, we often feel a little lost, especially with the heat making heavy accessories a burden. Fear not, as in this article, we will be talking about the best ways to accessorize your summer wardrobe, the do's and don'ts, and the trendy pieces this season.
Accessory Ideas for Your Summer Wardrobe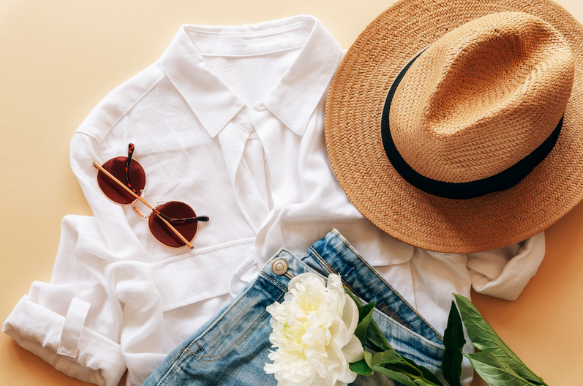 The Power of Simplicity
The first rule of accessorizing your summer outfits is the power of simplicity. In summer, less is always more. You don't want to be dripping in heavy jewelry or uncomfortable accessories that make you feel hot and bothered. Instead, opt for minimalist pieces that subtly accentuate your outfit while keeping you comfortable. For example, intricate bracelets, delicate earrings, or a sleek necklace can make a world of difference to your summer outfit.
The idea is to find balance and not let the accessories overpower your look. In the context of watches, a classic and slim watch can add an element of sophistication to your summer wardrobe. There are a variety of elegant women's watches that can make the perfect addition to your summer style. The best watches for summer are smaller and light.
The same rule can be applied while selecting other accessories like shoes and bags. Instead of flashy, heavily ornamented items, go for simpler pieces. Espadrilles, sandals, or canvas shoes can be a great addition to your summer style. A lightweight bag in neutral tones can complement almost any outfit.
Color Coordination is Key
Summer is all about vibrant colors and fun prints. Accessories are a great way to participate in this trend without going overboard. To balance things out, it's essential to understand color coordination. Start by identifying the dominant color in your outfit. Once you've identified the main color, look for accessories in shades that complement it. For instance, if you're wearing a bright yellow dress, try pairing it with accessories in cooler shades like blue or green. Similarly, pastel outfits go well with metallic accessories. Remember, it's all about creating harmony.
Color coordination also extends to the type of accessories you choose. For instance, if your outfit is dominated by warm tones, opt for gold accessories. On the other hand, if your outfit has cool hues, silver accessories will blend in perfectly. Another great tip is to match your accessories to details in your outfit, like embroidery or trims. This ensures a unified look.
Lastly, having a signature color for your accessories can often be a lifesaver, especially when you're unsure. Neutral hues like black, white, and beige or metallics like gold and silver can never go wrong. These are evergreen colors that can work with almost any summer outfit.
Statement Pieces
Though we've spoken about keeping it simple, one statement piece can make all the difference in your summer outfit. It could be a funky pair of sunglasses, a vibrant scarf, a unique bag, or a chunky piece of jewelry from a quality retailer like Kendra Scott. Just remember to keep the other accessories to a minimum when you're wearing a statement piece.
However, choosing the right kind of statement piece is critical. It should not only match your personal style but also enhance the outfit you're wearing. For example, if you're wearing a monochrome black and white outfit, a brightly colored bag or necklace adds life and zing to your overall look.
Remember, your statement piece is a reflection of your personal style. So, choose something you love and are confident to carry off. Have fun with it. After all, fashion is all about expressing yourself.
A Balance Between Functional and Fashionable Accessories
While accessorizing for summer, you also want to consider functionality. For instance, sunglasses aren't just a style statement but also protect your eyes from harmful UV rays. Similarly, a hat not only adds charm to your summer look but also provides protection from the sun.
Choosing the perfect pair of sandals that balance comfort and style is another example of a functional accessory. Opt for comfort while still looking stylish by choosing sandals with good support and quality materials.
While choosing functional accessories, it is important not to compromise on style. For example, a pair of quirky beach flip-flops can be both a style statement and a functional accessory.
Adopting the Layering Trend
Layering isn't just reserved for winter. With the right pieces, you can also adopt this trend for your summer accessorizing game. The key is not to become overwhelming. You can achieve this by layering thin, delicate pieces of jewelry—like necklaces or bracelets. With necklaces, try different lengths to create a fun layered look. Similarly, with bracelets, combining a couple of thin bands can create a more intriguing appeal than a single piece.
Layering works great for rings as well. Stacking thin rings can add a touch of elegance and sophistication to any outfit. And the best part about layering? You can mix and match to create a new look each time.
While layering your accessories, remember to keep the rest of your look simple so as not to create a cluttered look. For instance, if you're layering necklaces, it's best to opt for a simple top or dress that allows the necklaces to stand out.
Mixing Textures and Materials
One trend that never goes out of style is mixing textures and materials. Combining different material types, like leather with metal or fabric with metal, can create an interesting look. The contrast between the materials brings about a unique element to your outfit.
The same principle works for textures too. You can pair a smooth silk top with textured fashion jewelry to create an intriguing contrast. Similarly, a leather watch paired with a fabric cuff bracelet can be an interesting combination.
However, while mixing textures and materials, ensure that they complement each other rather than clash. It requires a delicate balance that comes with practice and experimentation. So don't be afraid to try out different combinations until you find the ones that work best for you.
Selecting the Right Size and Proportion
Selecting the right size and proportion of accessories can make or break your summer style. While small, delicate pieces work exceptionally well for formal or minimalistic looks, larger and bolder accessories can add an element of interest to a simple outfit.
Another important factor to consider is the scale of the accessory in relation to your body type. For instance, if you are petite, wearing very large accessories may overwhelm your frame, whereas, for larger body types, tiny pieces may get lost or seem out of place.
Ultimately, the best rule of thumb to follow is that if your outfit is busy with lots of patterns, textures, or details, it's best to stick with simple accessories. Conversely, if your outfit is simple or monochromatic, feel free to experiment with bold, statement accessories.
Altogether, accessorizing can be a fun way to express your individual style and personality. It can transform a simple outfit into a fashion statement and set you apart from others. So, go ahead, experiment, and create your summer style! Remember, the key to perfect accessorizing lies in balance, proportion, and a clear understanding of your personal style.
Happy summer accessorizing!
Other posts you might like:
Summer Fashion Trends 2017 – Just Me, Talking Fashion
The Nautical Look Always Rocks the Summer Fashionm Tips to Doing it Right
Share This Story, Choose Your Platform!