Nautical summer fashion is always hot for the season. What do you get when you combine red, white, and navy blue? You get a nautical flare, which currently is just about the hottest look in preppy style.
Because nautical summer fashion evokes sailboat travel and includes bright and bold colors, this is primarily a summertime trend. So how can you take advantage of this popular style without looking like a cruise director? Here are some tips for making it work.
Get the Nautical Summer Fashion Style with These Tips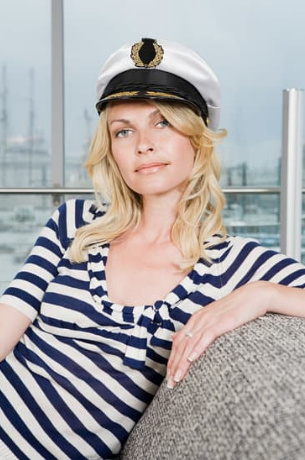 Pick Your Poison
Less is more when it comes to pulling off a nautical summer fashion look. Choose one major piece with a nautical summer fashion style and leave the other elements neutral. For example, a red-and-white-striped sweater can be paired with dark-wash jeans and sandals.
Pattern, Pattern Everywhere
Stripes of all sorts may be the hallmark of the nautical look, but they are not the only pattern option. White polka dots on navy blue can offer the same overall nautical impression. As for stripes, they are not created equal. Try wearing stripes of different widths or those displayed diagonally. Step out of the box and mix up patterns, it is the bold trend for this summer season.
Don't Forget Dresses for Your Nautical Summer Fashion
Although white capri pants and sailor-tailored shorts work well when going nautical, long, flowing dresses can achieve the same feel. Try to find frocks with large collars that button up high, and consider adding a nautical grosgrain ribbon as a belt to accentuate your waist. Or you can go pinup retro with a short jumper in 1940s red with white edging details or even something reminiscent of a sailor suit.
Accessories
Sometimes, just a touch of sea-going glamour is all that's needed to boost an ensemble into the nautical realm. Gold buttons, especially those with anchors embossed on them, always serve this function well, as do fun rope details and wooden jewelry pieces. Navy watch caps or trench coats can be on point if you are looking for a more unique way to incorporate the trend into your wardrobe.
Beach Bomb
Swimwear is a logical place to find nautical styling. Where else would sailing-themed elements be as appropriate as on a cute bikini top with gold hardware and stripes paired with shorty shorts featuring rope ties? All things beach and water combine to lend glamour to standard beachwear pieces.
Expand the Palette
The nautical color scheme extends beyond just red, white and navy in today's fashion looks. Grey-on-grey stripes can evoke the call of the ocean as well as creams and tans. Don't be afraid to mix up your ensemble with some aqua or bright yellow touches.
Conclusion
Do the nautical summer fashion look with a twist this summer making it fresh. Never overdo it because less is always more with this distinct nautical summer fashion look. Think flowy sun dresses accessorized with nautical jewelry. Swimwear is always a favorite for nautical wear and don't be afraid to expand the look with tones of blue, red and white.
Other posts you might enjoy:
Tips for Accessorizing Your Summer Wardrobe
Images Courtesy of Canva.
Share This Story, Choose Your Platform!