Sensual, exotic, eye-catching — all of these are words used to describe the look of sexy bodystockings adorned with a little bling. The standard bodystocking, with its body contouring fit, is a sensual piece of lingerie in its own regard. But when complemented with the addition of decorative rhinestones, it enters a class onto itself.
Regardless of body shape, sexy bodystockings have the ability to accentuate your natural curves, while delicately masking areas that you don't want to be overly scrutinized. It is no wonder that men go crazy to see their ladies in sexy bodystockings and women feel comfortable in wearing them, often much more than other forms of lingerie.
Bodystockings a Fashionable Choice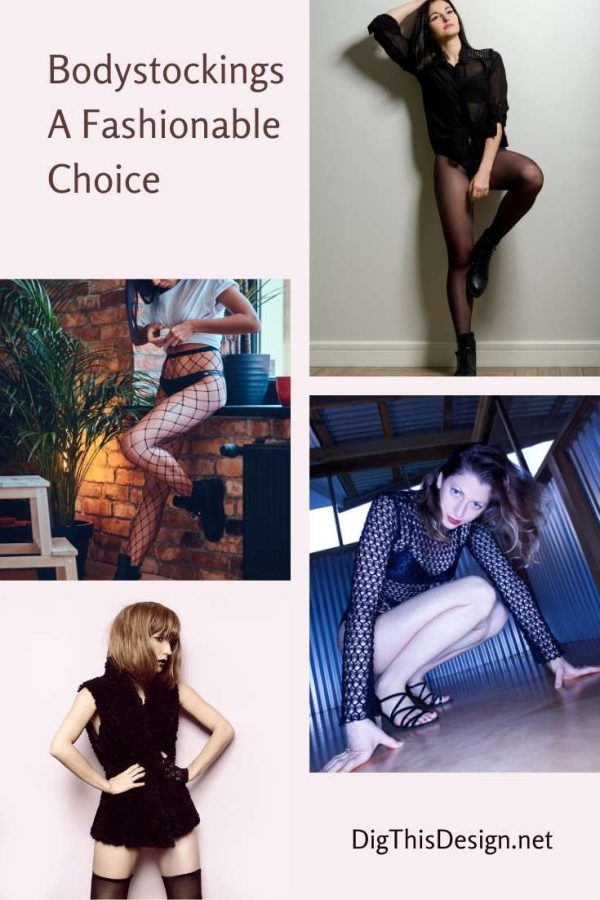 Add to this the increased creative expression that adding a little bling provides, and sexy body stockings with bling become an absolute must have for any lingerie wardrobe. Different style patterns can be found. These range from discrete rhinestone placements meant to sparkle, accentuating the sheerness of the body stocking — to more elaborate patterns designed to add creative flair to captivate your partner. Bling body stockings will easily enhance any romantic encounter.
Add Class with a Body Stocking
The versatility and elegance of bodystockings with bling come from the fact that they combine a variety of styles, materials and decorative accents to create an end product that is as unique as your expression. Sexy bodystockings can be found in a wide range of styles. There are full shoulder and open shoulder models. Likewise, there are long sleeve and sleeveless body stockings. Full shoulder body stockings can help more modest women create an air of seduction while giving full-figured women a leaner look. Open-shoulders varieties are great for showing off a more revealing look. The long sleeve body stocking is ideal when you are striving for a uniformed look, especially effective with sheer materials.
Turtle Neck or Halter Neck
The neck of the bodystocking can be a turtleneck or halterneck. For women with smaller bosoms, the turtleneck variety accentuates the curves of your natural silhouette without the need for padding your bust line. The halterneck designs are well suited for styles that focus on displaying cleavage. The halterneck design also has additional variants. These are the tank top design and those with attached garters and stockings. Both of these offer more revealing choices when it comes to sexy bodystockings.
Garter with Stockings Model
The garter-with-stockings models create an illusion that your one-piece body stocking is being combined with sexy leg hosiery. Of course, it is not, but the illusion created, especially in black, red or white sheer materials, is truly sexy and erotic. The cami-top varieties are best suited for women wishing to show off their mid-rift. These types of body stocking create a similar illusion to the garters-with-stockings varieties, but they usually reveal the abdomen and waist areas. For women with athletic or thin builds, the cami-top variety of body stocking is a superb way to light the fire in your partner.
Selecting the Style That's Right for You
Sheer materials are most frequently associated with bodystockings. Sheer bodystockings create an air of mischievous sensuality just from the way that the material hugs your body. For those seeking even hotter revelations, fishnet bodystockings are the answer. They offer the most variety in terms of provocative choices.
Additionally, opaque bodystockings are also available. These models offer a gentler suggestiveness, relying more on creating sexy silhouettes as opposed to flirtier sheer designs aimed at exposure. The opaque bodystockings can also be used for more practical purposes, such as in place of tights.
Satin body stockings, due to the increased thread density, offer the flexibility of being used in conjunction with other clothing; such as pants, shorts or skirts; and leaving the upper portion of the body stocking exposed as a top or blouse. This maximizes the use that you can get out of this piece of lingerie. It expands your lingerie and regular wardrobe simultaneously.
The myriad of styles in sexy body stockings are well suited for decorative accents in the form of rhinestones and other attachments. These body stockings with bling are a great way to add variety to your romantic evenings. Having unaccented body stockings and bling body stockings in your lingerie wardrobe is a great way to keep your partner enthralled and with high anticipation regarding how you are going to present yourself on any given evening.
Versatile, sexy and always pleasing to your partner, sexy body stockings, partnered with a bit of bling, offer an easy and affordable way to expand your lingerie wardrobe regardless of body type.
Images Courtesy of Canva.
Other posts you might enjoy:
Black Babydoll Lingerie – Timeless and Sexy
A "Brief" History of Underwear
Share This Story, Choose Your Platform!