Seductive, naughty, elegant, alluring — these are but a few of the ways that black babydoll lingerie is described by the women that wear it, as well as the men that see them wearing it. There is something mysterious, titillating and arousing that is invoked by black lingerie. More than any other type of sexy apparel, it is seen as being timeless.
Forever in style and forever sexy, it is no wonder that it is often compared to its more formal cousin, the "little black dress." Both should be part of every woman's wardrobe and both inspire reactions from men that, well… are exactly what one expects to inspire when dressing to impress.
Why is Black Babydoll Lingerie So Universally Sexy?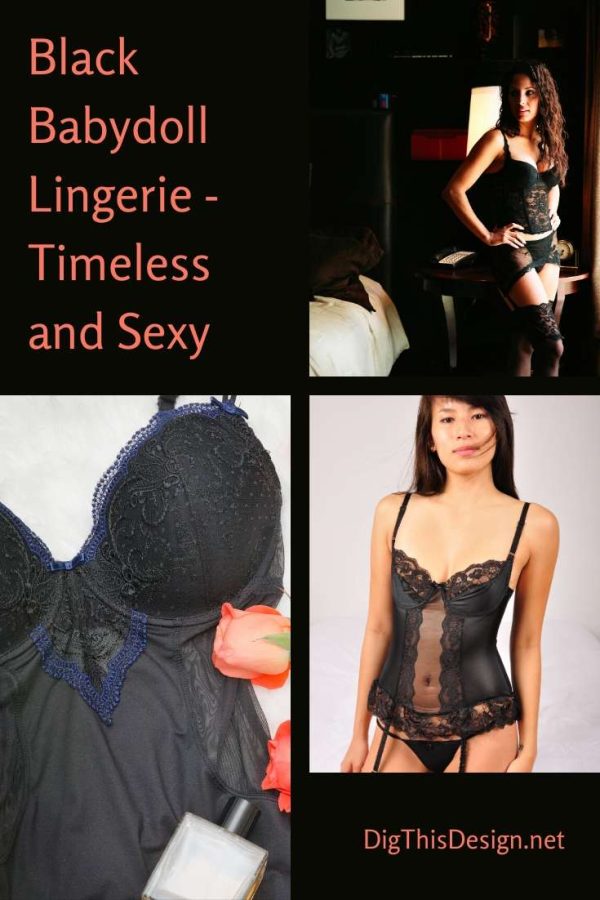 For men, the answer to this question involves looking at a brief history of black lingerie in general. Back in the Victorian-era, widowed women would spend multiple years in mourning. This required them to wear black clothing, as well as black undergarments. Since widows could remarry, this created a "gentleman's fascination" with the thought of the "naughty widow" concept. As time progressed, this idea was taken on by the more socially empowered women of the early twentieth century. Movie actresses would wear black lingerie in movie roles to demonstrate their power of seduction over men. This was the birth of the "femme fatale" look. It allowed women to look and feel sexy, to feel sexually empowered over men in a time when it was not so acceptable.
History of Babydoll Lingerie
From the mid-twentieth century onward, this naughty vixen image associated with black lingerie remained, and was also augmented by another image. This one carried with it all of the naughtier elements of earlier decades but softened it ever so slightly. This way, it was not too threatening to men, and not too overt for the sensibilities of the women of the time. This was the birth of black babydoll lingerie in the 1940s and 1950s.
Blending naughtiness with elegance; female seductiveness with sexy sheerness — this is why men go crazy for black babydoll lingerie. It didn't happen overnight. It's been a social paradigm, with over a century in the making.
It's Worn to Entice!
Women know the reaction that they inspire by wearing black lingerie. Some wear it to passively entice the man in their life. Others wear it in order to actively feel the surge of seductive power that it bestows upon them. No matter how timid or how flirtatious the woman, all appreciate the "power" of black lingerie.
When a woman receives black babydoll lingerie as a present from the man in her life, it reminds her of how much she is desired; of how she is perpetually alluring; and of how she can be naughtily empowered. Black lingerie accomplishes this far more effectively than other colors or patterns because it retains the focus on the woman and her natural essence. Black lingerie accentuates the beauty and seductiveness of a woman without detracting from it. This cannot always be said about vibrant colors and patterns that can draw focus and attention away from the woman. Black babydoll lingerie effectively accessorizes her sensuality, it doesn't mask it.
Why Buy Black Babydoll Lingerie For Yourself?
Purchasing black babydoll lingerie for yourself is a way to assert self-confidence. It is a way to elegantly put forward your sensuality. It is a visual manifestation of your intimate personality; a way to express your seductiveness in a style that is both timeless and will provoke the best of reactions.
On a more practical level, it makes for a better addition to any intimate wardrobe, simply based on the universality of its appeal. Brightly colored lingerie often focuses more attention on the garment itself and can, as a result, highlight even the slightest of body flaws. Black lingerie, on the other hand, accentuates the appeal of the natural curves of any woman, regardless of body shape. It makes you look more seductive without having to hide any flaws.

The Ideal Gift to Say, "You are desirable"
Black babydoll lingerie is suited for any intimate occasion. Valentine's Day, anniversaries, birthdays or date night — there is never an inappropriate occasion for a black babydoll. Instead of purchasing babydolls in multiple colors, why not purchase multiple black babydolls in different style variations? Lightly lined styles give you that sexy look you want, but with a more sedate appeal — perfect for a mid-week surprise. Lace flyaway styles offer you a more provocative appeal and will add spice instantaneously. Front-close styles are perfect when you want to set that slow seduction mood for the evening.
Tested over time, proven to exude sex appeal, and available in so many style variations, black babydoll lingerie is definitely the ideal intimate apparel.
Images Courtesy of Canva.
Other posts you might enjoy:
A "Brief" History of Underwear
Closet Designs – Over The Top!
Share This Story, Choose Your Platform!