Diamonds are a girl's best friend! However, top celebrity brides who ditched traditional engagement rings for ruby rings include Katy Perry, Victoria Beckham, Jessica Simpson, and more. Amazingly, one line from the jazz song, Gentlemen Prefer Blonds by Carol Channing, changed history forever. In 1953, Marilyn Monroe released the same song as Lorelei Lee in the movie by the same name.
Ever since, diamond are the choice of stone for anyone proposing to spend life together. As the strongest naturally occurring substance on earth, diamonds symbolize love and commitment. But lately, there is a shift in the trend, and colored gemstones are making a comeback. In fact, celebrity brides Naomi Watts, Scarlett Johansson, and Taylor Swift all wear ruby jewelry. Some even go a step ahead and select rubies for their engagement ring. Here are some celebrity brides rocking ruby on their rings.
The Celebrity Brides Who Rock Rubies in Their Engagement Rings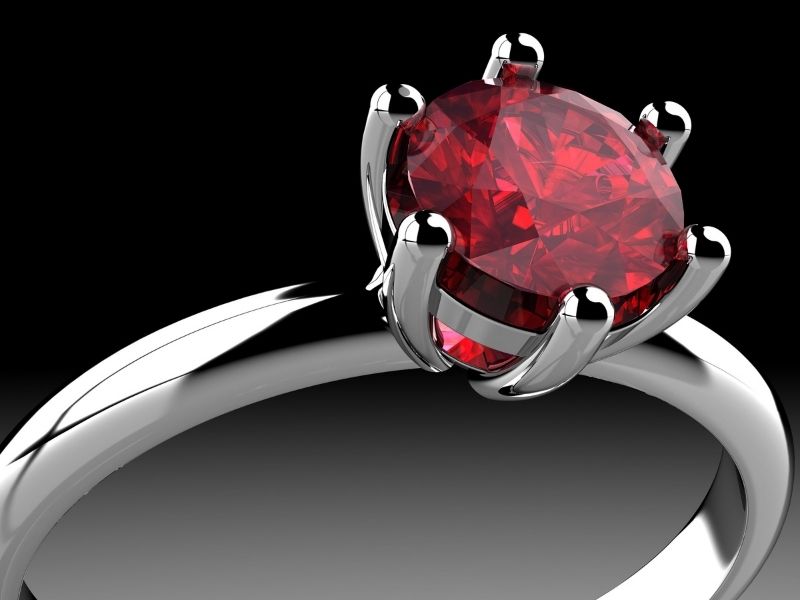 1. Katy Perry
Katy Perry announced her engagement to Orlando Bloom on Instagram back in 2019. The singer was given an engagement ring featuring an oval-shaped ruby with diamond petals. Befitting the flower-shaped ring, the caption posted by the singer read, "Full Bloom."
According to crystal experts, the magenta essence in ruby rings — like the ones we found at leibish.com — represents the power of the high heart. Not surprisingly, this one of the reasons rubies are so popular among celebrity brides.
2. Eva Longoria
Back in 2015, American actress, producer, director, and activist Eva Longoria announced her engagement with Jose Antonio Baston. As an extra touch, the actress shared a picture of the moment she said yes, in Dubai. The photo showed a Platinum ring with a round ruby in a halo setting. The gorgeous ring features ​​a 6-8 carat ruby complete with a halo of sparkling diamonds.
3. Princess Marie of Denmark
Prince Joachim proposed to Marie Cavallier, his second wife, now known as Princess Marie of Denmark, on October 3, 2007. Back then, both Prince and Marie made a public appearance where the princess presented her ruby engagement ring.
Granted, the main gemstone was a diamond, but it was flanked by gorgeous ruby and sapphire stones on either side, set in a wide gold band. The red, white, and blue colored gems were a nod to the French flag to recognize Marie's French heritage.
4. Victoria Beckham
The English singer, songwriter, fashion designer, and television personality, Victoria Beckham has been married to the former English footballer David Beckham for 22 years. Over two decades of companionship, the footballer has presented his spouse with a whopping 15 engagement rings. Of course, that's far more than most celebrity brides!
From a classic diamond on a yellow gold band and infinity ring to a cushion-cut emerald and oval-cut sapphire on a platinum band, the fashion designer has them all. However, the collection's crown goes to the oval-cut ruby mounted in a white-diamond setting, which she picked in 2009.
5. Jessica Simpson
Jessica Simpson is among the most well-know celebrity brides who chose rubies instead of diamonds. The singer and her boyfriend, former NFL San Francisco 49er Eric Johnson announced their engagement in November 2019. The engagement ring was a three-stone celestial ring featuring a ruby in the center with a pair of two-carat diamonds on either side set in a yellow gold band.
Designed by celebrity jewelry designer Neil Lane, this ring follows the popular style in the Victorian and Art Deco eras. of course, the reason behind picking rubies is that it is her birthstone. In addition they are also rarer than diamonds.
6. Sarah Ferguson
Sarah Ferguson and Prince Andrews announced their engagement back in 1986. The ruby ring presented by Prince Andrews is one of the most recognizable jewels in the history of celebrity engagement rings. The ruby and diamond ring came from Garrard Jewelers, a British firm specializing in luxury goods.
The ring is a white and yellow gold band with an oval Burmese ruby surrounded by ten diamonds. The Prince himself is the designer and crafted by Garrard, the Royal Jewelers at that time. Notably, Garrard Jewelers also made Princess Diana's engagement ring.
Again, rubies are considered stones of passion and love, making them perfect for an engagement ring. Moreover, rubies are rarer than diamonds, which makes them an excellent investment.
In conclusion.
In the ancient Sanskrit language, the word for ruby means the king of gemstones. Historically, kings and queens also wore it to symbolize love, success, and prosperity. Therefore, what better than a ruby to represent your engagement? If you have any questions or suggestions, we always love to hear from you in the comments below. Also below are links that will take you to more fantastic articles about ALL things DESIGN for your home or business.
Images Courtesy of Canva.
Other Posts You Might Enjoy:
4 New Trends In Ethical Jewelry Design
7 Tips for Hosting an Outdoor Evening Dinner Party
Share This Story, Choose Your Platform!