Introducing the perfect guide for all parents out there: "Baby Outfit Ideas for Special Occasions." When it comes to attending a wedding or any other formal event, finding the right outfit for your little one is crucial. Gone are the days of uncomfortable and restrictive dresses that leave your baby feeling fussy and cranky. Instead, opt for delicate floral patterns that add a touch of elegance to simple clothes for baby girls. Whether it's a charming onesie and pants set or a cozy sleeper, incorporating a floral pattern allows your baby to look dressy while staying cool and comfortable throughout the occasion.
Baby Outfit Guide for Special Occasions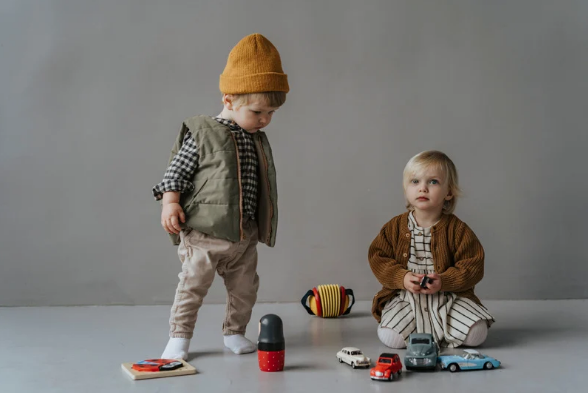 Satin Sundress
Embrace the sun-kissed season with a satin summer dress that combines beauty and comfort. Satin fabric, known for its silky texture, adds a touch of elegance to any dress. Choose from classic colors like black, white, or opt for a charming pink hue. The smooth and lustrous finish of satin will make your little one shine.
Look to brands like Janie & Jack for a curated collection of occasion-wear that's portrait-worthy for kids, or shop Vestiaire Collective for pre-loved pieces that close the fashion loop while giving back. Shoppers can dig through the closet of nine million global members to find a stunning pre-loved look just right for your little one.
Frilly Princess Dress
For little girls who love twirling and enchantment, a frilly princess dress is a perfect choice for special occasions. These dresses feature delicate lace accents on the bodice, sleeves, and skirt, exuding an elegant and graceful appeal. The soft chiffon fabric drapes beautifully and ensures a snug fit with its back tie closure. Available in various colors, such as pink or dark grey, these princess dresses are designed to make your little one feel like royalty.
Striped Shorts and Bodysuit
To dress up your baby boy for festive and formal events, consider striped shorts paired with a charming bodysuit. The soft cotton fabric ensures comfort, while the addition of a red bow tie cummerbund adds a touch of sophistication. This outfit is perfect for occasions like Christmas, Valentine's Day, or any other special event you have planned.
Suit Set
If you're planning a wedding or formal gathering for your little one, opt for outfits that prioritize ease of movement and convenience during diaper changes. Look for dresses with built-in bodysuits or matching bloomers to ensure comfort and coverage. Consider a soft button-front cardigan set to keep your baby cozy and stylish.
Shirt and Chinos
Dressing your baby for a special occasion doesn't get any cuter than a little suit set.
For an adorable and dapper look, dress your baby in a mini suit set that includes pants, suspenders, and a cute bow tie. This ensemble is perfect for those extra-special occasions where you want your baby to look exceptionally charming. Accompanied by a button-down bodysuit, your little one will feel comfortable and stylish throughout the event.
When selecting outfits for your baby, keep in mind their comfort and well-being. Fancy dresses can sometimes be itchy, so opt for soft and breathable materials to ensure your baby remains content. Explore unique occasion clothes for babies and toddlers or browse online boutiques for a wide range of high-quality and affordable dresses and rompers.
Other posts you might enjoy:
Baby Chic – How To Style Your New Child's Nursery
3 Reasons to Throw a Children's Villain Costume Party
Share This Story, Choose Your Platform!