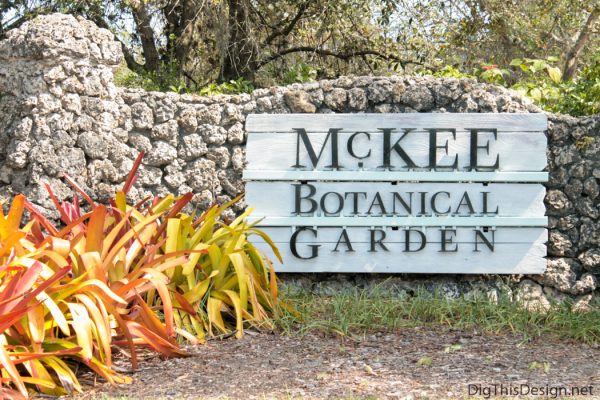 "I am not much of a sightseer", I tell my husband who very much is. I assume that is the reason why I have never been to McKee Botanical Garden after living in Vero Beach, Florida for 39 years. Recently, a friend and gift shop manager at McKee invited me to come see a new exhibit that was there, so I took her up on it. From the moment I entered the wrought iron gates and she began to tell me the history of the garden, I was hooked!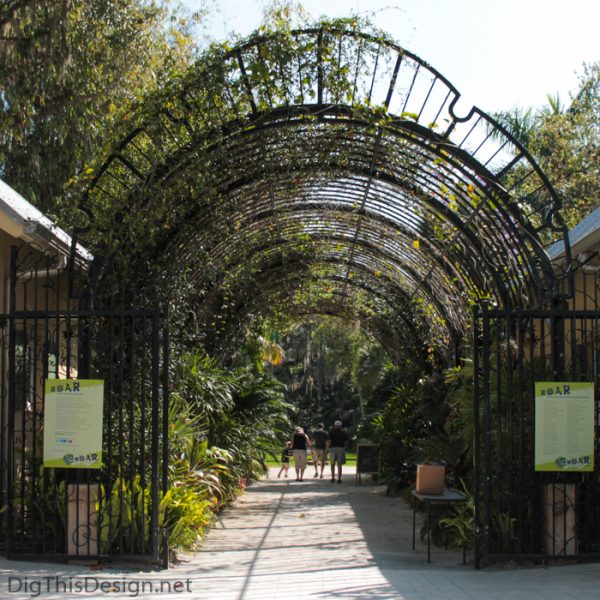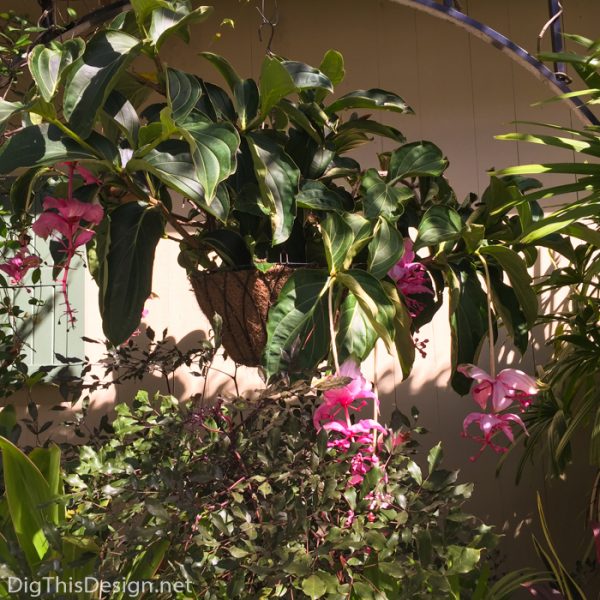 History
These gardens are rich in history. Arthur G. McKee was an engineer and designer of steel installations. He was best known for designing the feeding mechanism blast furnace which catapulted him and his company into a very successful producer of iron and steel throughout the world. After the 1900's Mr. McKee began to vacation in Indian River County. His cousin, Charles McKee, had formed the Florida East Coast Groves Company with Waldo Sexton and Walter Buckingham, cousin to Mr. Sexton. Arthur took a special interest in a particular portion of this property which is what he used as his personal retreat.
He became enthused over this lush tropical property and began cutting paths throughout the dense jungle to take visiting friends through the natural beauty of the Florida landscape. In 1922, McKee became a partner with Sexton on this parcel of land to preserve it. He started to send plant explorers to South America to bring back exotic orchids, bromeliads and other plants that he had seen during his travels.
William Lyman Phillips, a landscape architect was hired to design the gardens. Phillip's design was to create a plant covered corridor entrance that led to an open lawn. Branching off from the open lawn is the beginning of the main trail, leading you deeper into the natural Florida hammock. Unlike other botanical gardens which present botanicals in a series, McKee gardens were designed with the botanical collections throughout, so as not to disturb the original character of the Florida coastal hammock.
I find the history so fascinating because from living in Indian River County since 1977, I know the great grandchildren of Waldo Sexton and I am familiar with the Buckingham's and feel a personal connection to this place.
The Tour
Just off the open lawn, we came upon an incredible rustic kitchen. I was particularly in awe with this Spanish kitchen, circa 1940's. Being familiar with Waldo Sexton's style, as a Vero Beach local, he was known for collecting old stuff and incorporating it into the architecture of his buildings. The famous Driftwood Inn, the Ocean Grill, and the old Patio restaurant has this same undeniable eclectic style.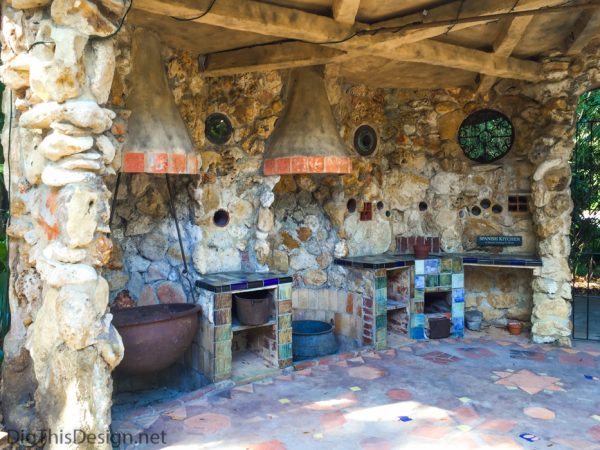 The grills could cook 100 steaks at a time and were used to prepare swamp cabbage and potatoes cooked in rosin, in big iron kettles. They took the menu from an old Miami restaurant that I was familiar with when I lived in Miami, Black Caesar's Forge.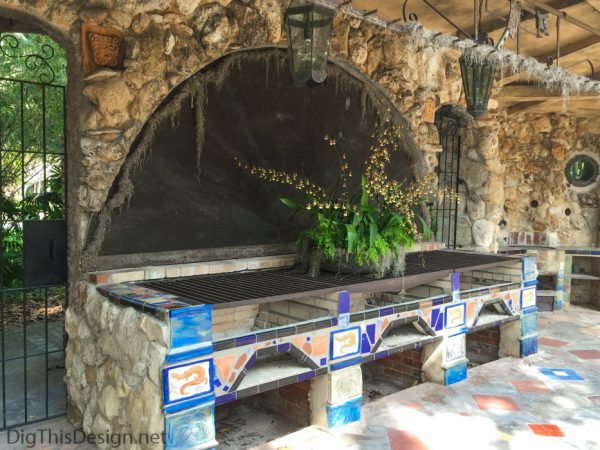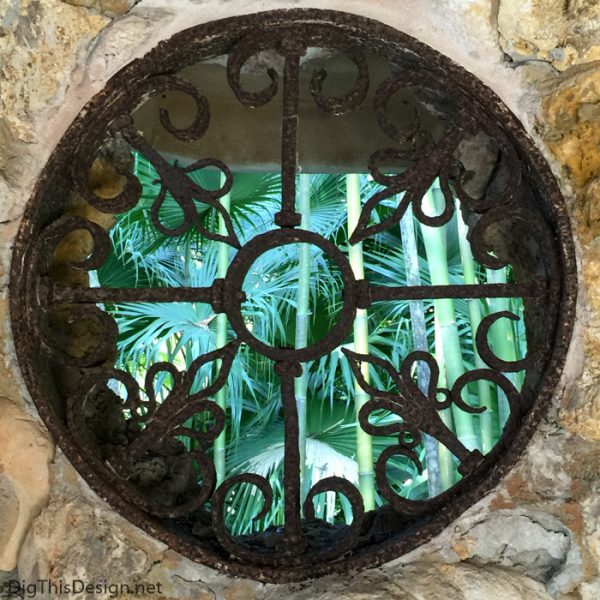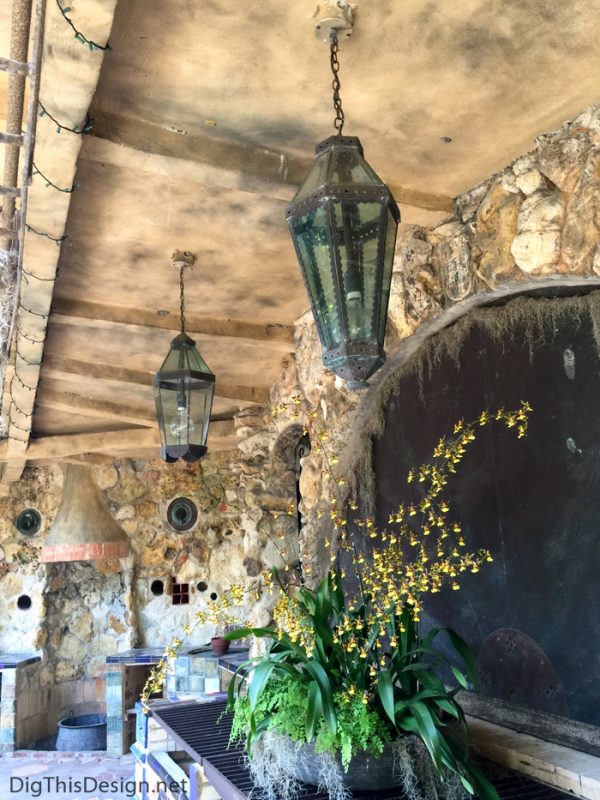 The Hall of Giants was built to house one of Waldo's treasures, a 38-foot piece of Philippine mahogany.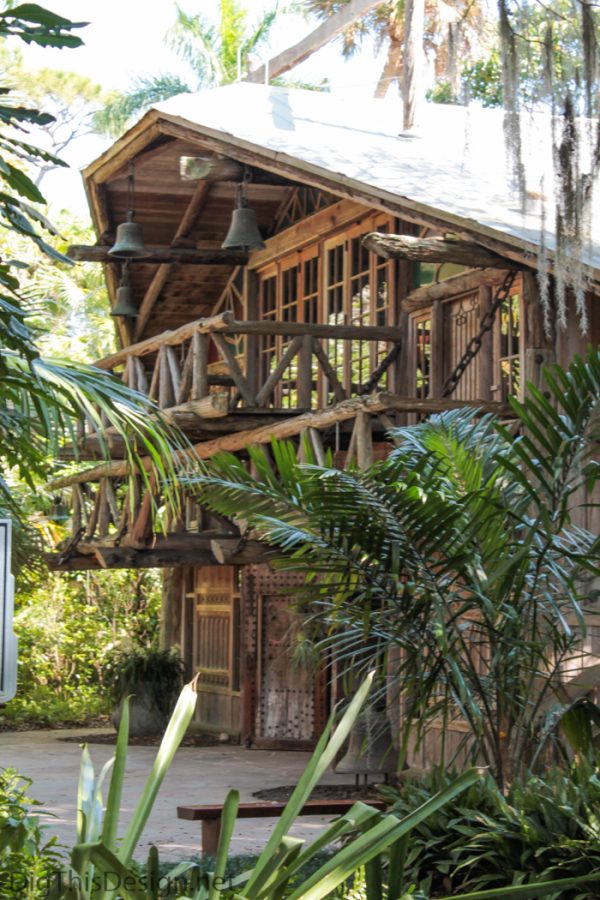 He turned the board into the largest mahogany table in the world.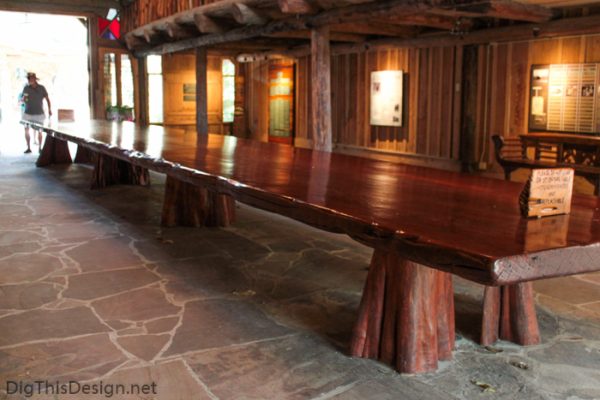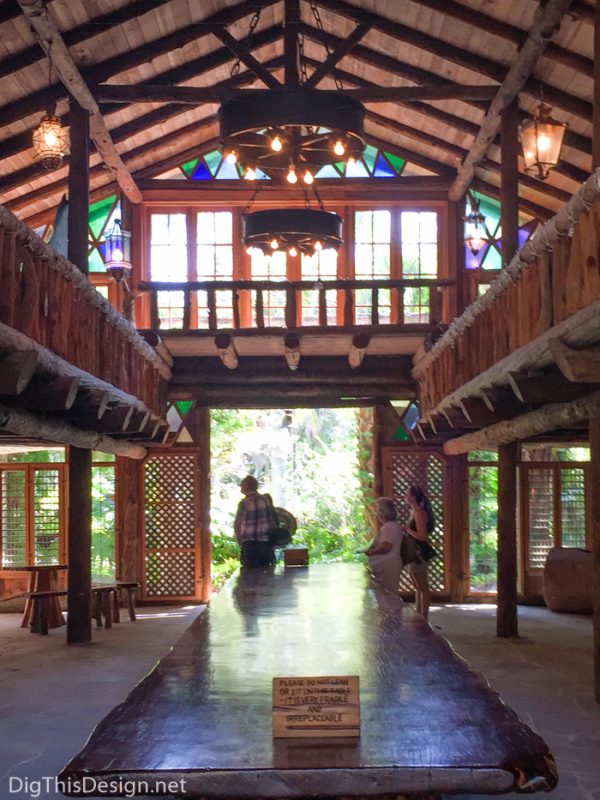 The lily pond hosts one of the largest collections of water lily's.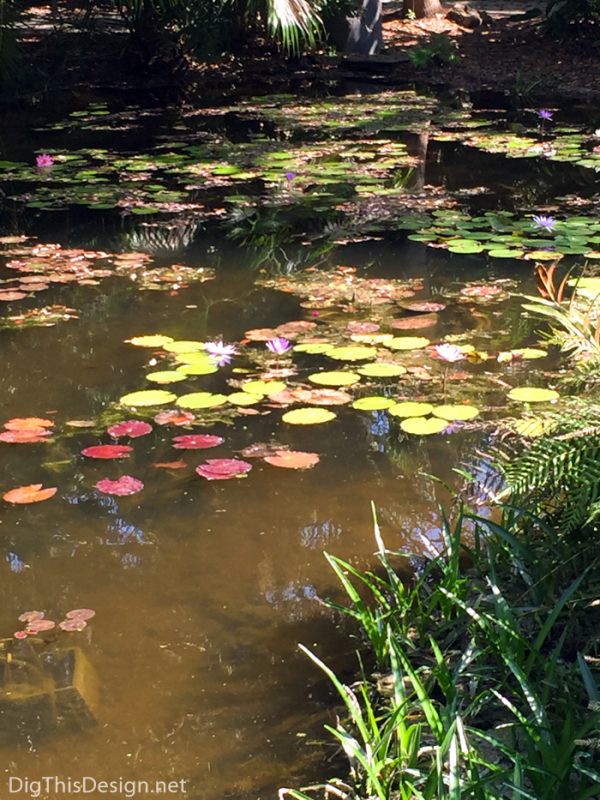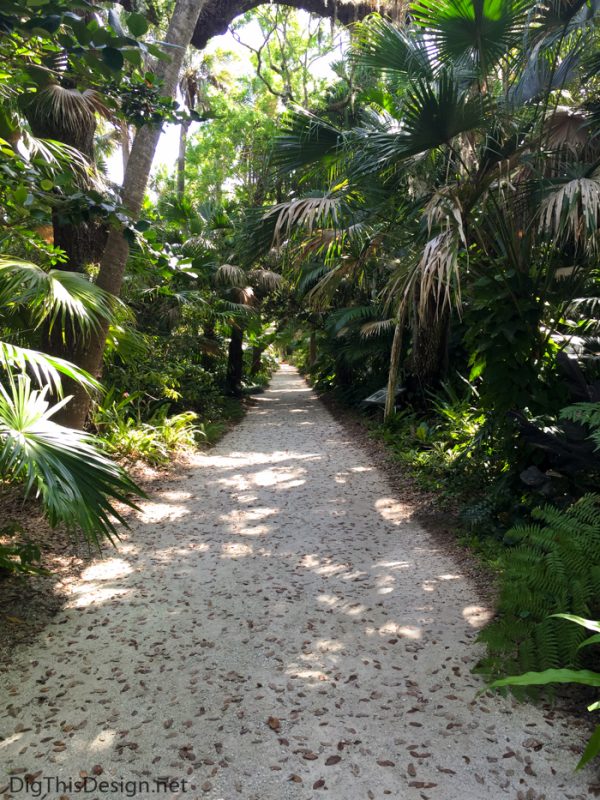 The bamboo pavilion is a beautiful tropical structure made up of bamboo and palm fronds. Small events are held here, which is the perfect setting to enjoy the natural garden.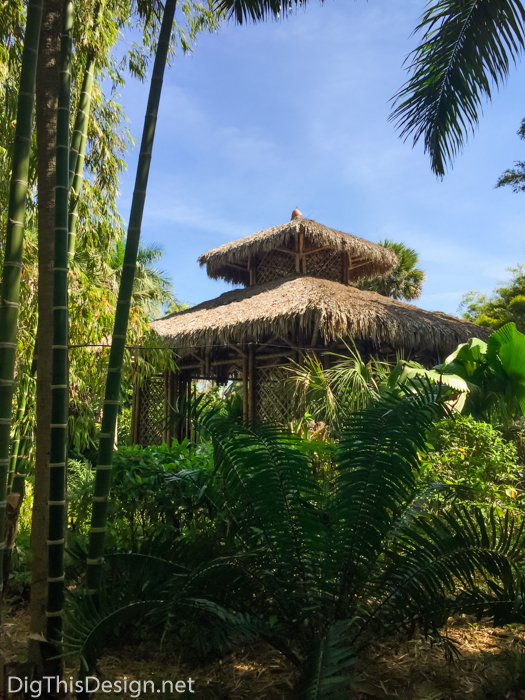 The sound of running water mixed with the sounds of nature gives such a calming feeling.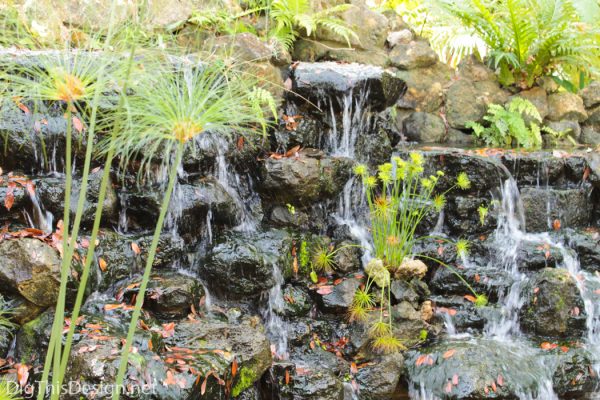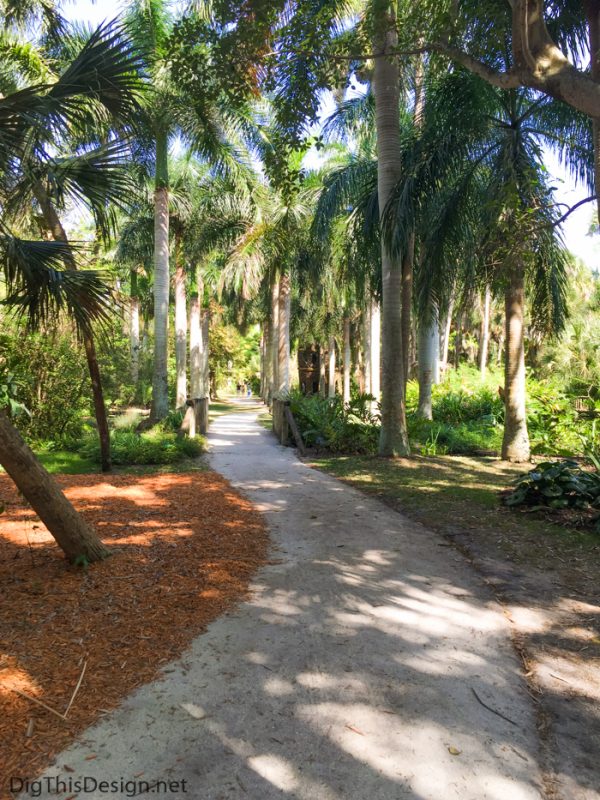 Cathedral of Palms
The Mckee Botanical Garden mission statement: To nurture and enhance a historic garden in a unique tropical setting for the education, enjoyment, and enrichment of all. McKee meets its mission statement by offering education programs to local schools, summer camp opportunities, and presenting and maintaining the gardens that live here. If you are planning a special occasion you might want to consider this beautiful treasure as your venue. Call 772-794-0601 for more information.
For other posts on outdoor living:
A TROPICAL HOME FOR MAXIMUM OUTDOOR LIVING
MAKING THE MOST OUT OF YOUR OUTDOOR LIVING SPACE THIS SUMMER
BEAUTIFUL DESIGNS FOR OUTDOOR LIVING SPACES
Share This Story, Choose Your Platform!