Are you considering living in Richmond, VA? This city is home to 230,436 people and it's a hidden gem of the south. But, no one wants to move to a new city without knowing enough about the city in question. That's why we're here to help you out. In this guide, we're going to take a look at what it's really like to move to Richmond and what type of life you can expect to have in the city.
Are you ready to find out more and start planning your move? Then keep reading!
8 Fantastic Benefits of Living in Richmond VA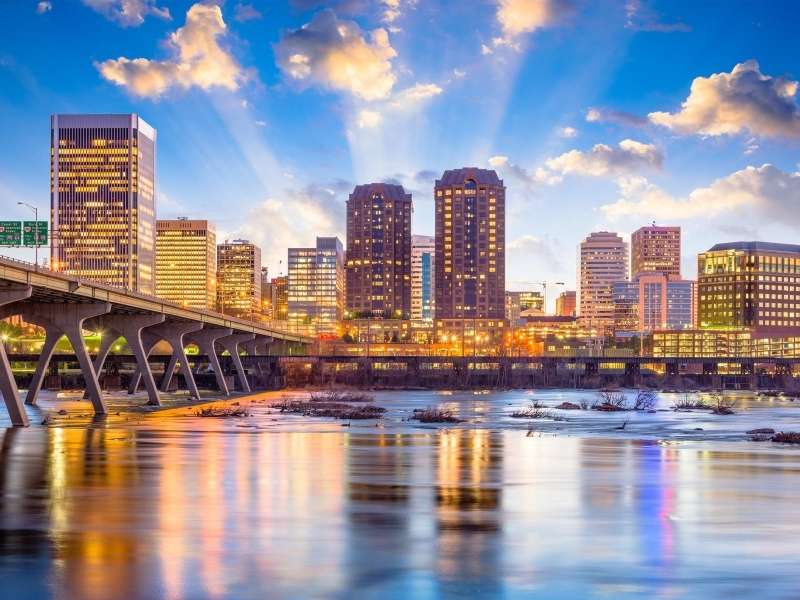 What's the Weather Like?
The weather in Richmond is generally pleasant. On average, the city gets around 44 inches of precipitation per year and over 2500 hours of sunshine per year.
It's a balanced climate, never getting too hot and never getting too cold. July is, on average, the hottest month, with temperatures peaking at 90 Fahrenheit on average. The coldest month is January, where temperatures drop to 28 Fahrenheit.
The city only gets around 10 inches of snow per year too, which means you're not likely to have adverse weather stop you from getting to work or school.
The Cost of Living
Richmond's cost of living is overall quite average. The average rent for a three-bedroom home in Richmond is around $1412 per month, which is below the American average of $1537 and the Virginian average of $1614.
Utilities, transport, and groceries are also all less expensive than the American average. That isn't to say that you should expect a pay cut if you move to Virginia, though. The average salary in Richmond is close to the national average at $61,000.
If the cost of living has been a sore point at your current location, call up movers in Richmond Virginia today! You might have found your new favorite city.
Public Transport
Compared to larger cities, public transport in Richmond is quite poor. There is no metro system and only fairly limited bus service.
However, if you own a car, you'll find it easy to get around Richmond. The city sits on two interstates, I-95 and I-64, which provide easy access across all points of the compass.
Walking and cycling are not the best ways to get around Richmond with the exception of certain neighborhoods such as the center and Jackson Ward.
Culture of Richmond
Richmond is one of the most historic cities in the United States. From its founding in 1737, through the Civil War years and more recent history, Richmond has always been at the epicenter of regional history. If you're a fan of historic buildings, Richmond's center is packed with enough incredible historic edifices to interest you for years.
The local arts and music scene are vibrant and thriving too: Richmond has one of the best underground music scenes in the country including fantastic punk scenes and hip hop. If you're interested in catching a little upscale culture, the Altria Theater on the VCU campus is a great place to catch a show.
VCU has also had a huge impact on the city's art scene and the Arts District is often bursting with fantastic exhibits for you to peruse.
Average Age of Residents
If you're hoping that living in Richmond, VA, you'll be surrounded by the energy of youth, you're in luck. While the average age of Richmond's residents sits at 33.8, VCU and Richmond University mean that the city is packed with young people during college semesters.
These students play a huge part in the culture of Richmond and help keep the city vibrant and interesting. If you're older and would like more mature neighbors, don't worry either. Many of Richmond's neighborhoods are a mix of older and younger people, students and professionals: you won't feel out of place anywhere in the city!
Food & Drink in Richmond
If you like beer, you'll fall in love with Richmond right away. The city is home to a ton of different craft breweries all creating their own special brews for you to enjoy.
Hardywood Brewing offers superb beers and great food at good prices, which makes for a fantastic boozy dinner. In the West End, The Answer Brewpub is another great place to enjoy beer and food in crisp, modern surroundings.
The food scene in the city is well-developed, too. If you're interested in fine dining, head down to Lemaire restaurant to enjoy superb fantastic cuisine or Texas de Brazil for incredible Brazilian barbecue. For amazing food at low prices, Greek On Cary and Garnett's Cafe are two of your best bets in the city.
The Job Market
The job market in Richmond is very healthy. If you're hoping to move to Richmond without a job, you're unlikely to have too much trouble finding one in the city.
Only around three percent of the city's population is unemployed. Richmond is a hub for banking jobs, due to the Federal Reserve branch in the city. If you are employed in finance or have corporate experience, this is a huge boon.
There are also several large hospitals and a growing tech sector in the city which also offers great job opportunities to residents.
Nature and Scenery
Richmond is home to some of the most beautiful scenery in Virginia thanks to the James River which flows leisurely through the city. For the best views, we'd recommend going to Church Hill or Rockett's Landing.
If you want to venture a little further afield, you'll find the city's location is perfect for visiting national parks. The Blue Ridge Mountains are only a few hours away as is Shenandoah National Park.
Living in Richmond, VA is Fantastic!
We hope you've enjoyed this article on what living in Richmond, VA is like. It's a superb city to live in with a low cost of living, high employment rates, and a thriving local cultural scene. If you decide to move to Richmond, we're sure that you'll fall in love with it.
If you'd like to read more interesting articles like this, please check out the rest of our blog!
Images Courtesy of Canva.
How to Deep Clean Carpet: A Homeowner's Guide
What Is the Best Roofing Material for Homes? 4 Common Options
How Much Value Does a New Roof Add?
Share This Story, Choose Your Platform!