Summertime urges us to spend time outside enjoying warm weather and the beauty that nature has to offer with those we love. When I think of dining al fresco, scenes of the lush countryside come to mind. Here are 3 basic elements needed to achieve this style and successfully entertain outdoors during the summer.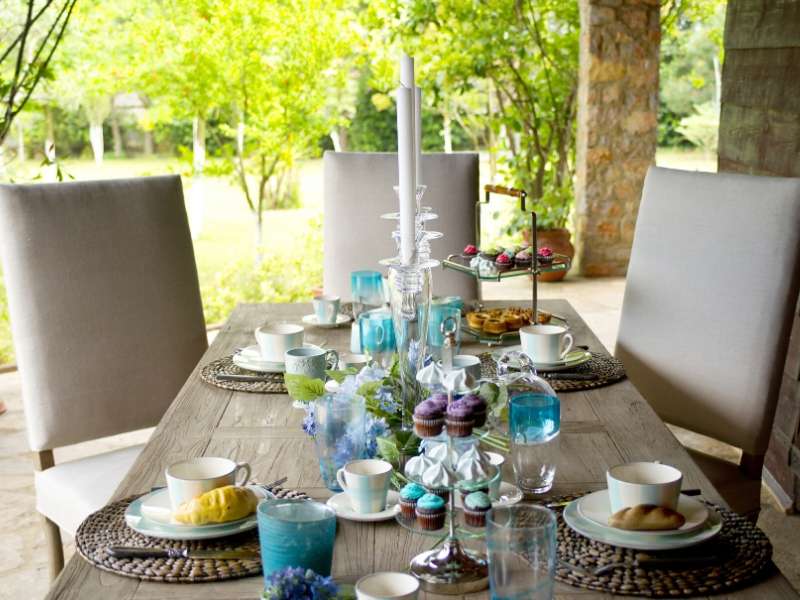 Creative Shade
Providing shade is a must for a comfortable meal outdoors, especially if that meal is earlier in the day. This means that the what you use for shade is an ideal opportunity to make it attractive. It's also a good idea to incorporate fans to keep your family and guests cool and keep bugs away.
I'm not sure why anyone would want to obstruct ocean views, but there is something to be learned from this contemporary Island Residence design about using light fabric to create a feel good vibe. Being able to see the movement of the wind has to have mood-lifting benefits.
Designing Tablescapes
Balance formal and casual when thinking about table settings. The object is to dress the table up nicely while still maintaining a laid-back feel. Al fresco dining is all about relaxation, so you may not want to get too formal with it.
Views Add So Much
While we may not all have the blessing of overlooking an Italian vineyard from our outdoor dining area, a good view is achievable with landscaping. Use tall shrubs or plants in tall pots to provide privacy and a feeling of coziness by being surrounded by foliage. Australian designer, Sarah Davidson does a fantastic job of framing the ocean views beyond while still providing privacy and defining the dining space through the use of foliage.
A row of trimmed small trees will also do the trick.
Images Courtesy of Canva.
Share This Story, Choose Your Platform!