Many film producers love New Zealand as a location for spectacular filming of movies. However, primarily this nation is known for its All Blacks Rugby team, Maori heritage, kiwifruits, and sheep. But seriously, who can forget Tolkien's Lord of the Rings trilogy that was filmed in New Zealand?
A simple Google image search is all you need to understand the rich geographical and biological diversity of New Zealand. The entire island nation is filled with stunning mountains, glaciers, golden sand beaches, hot springs and more. Its beauty allures several filmmakers each year. With the best getaways in New Zealand, no wonder it remains a filmmakers' first choice.
Here is a list of some popular movies which have been filmed either partially or entirely in New Zealand.
New Zealand is the Perfect Location for Amazing Movie Filming!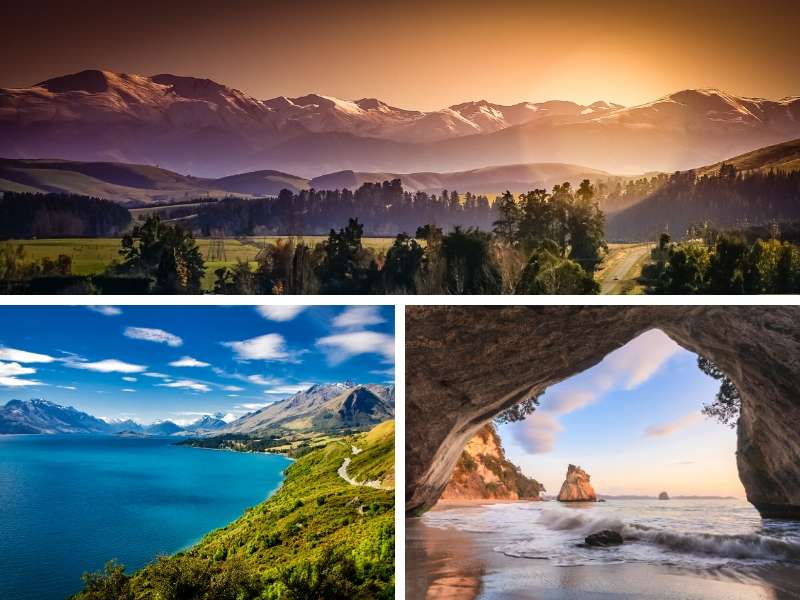 ① The Lord of the Rings Trilogy (2001-2003)
② The Hobbit Trilogy (2012-14)
Arguably the greatest epic fantasy trilogy ever made, the Lord of the Rings trilogy was filmed throughout New Zealand. Both LOTR and The Hobbit series serve as a great promotion of New Zealand tourism. Over 150 actual locations have been used for filming purposes. Remember Mordor? Mount Ngauruhoe was set as a fill-in for Mount Doom which is the place where the Ring was created. The entire land of Mordor was depicted by the Tongariro National Park. Other popular locations include the Hobbiton (near Matamata town), Putangirua Pinnacles, Mount Sunday, Kaitoke Regional Park, Harcourt Park, the Hutt River, and many more.
③ The Last Samurai (2003)
Tom Cruise starred as the protagonist in this critically acclaimed film by Edward Zwick. The film was inspired by the Satsuma Rebellion- depicting the lives of Japanese Samurai during the Meiji Era. A large portion of the film was shot in Taranaki- a region lying on the western side of New Zealand's North Island. The region owes its name to Mount Taranaki (also known as Mount Egmont)- which was used to depict Mount Fuji in this film. Uruti Valley was used as the set location to depict Japanese villages.
④ X-Men Origins: Wolverine (2009)
Our beloved mutant from Marvel's X-Men Universe got his first single film in 2009. The big-budget production from 20th Century Fox was shot mostly in Australia and New Zealand. Deer Park Heights was the location where Wolverine's remote cabin was filmed. The mountains as seen in the backdrop are the Remarkables of Otago. The Stirling Falls at Milford Sound, one of New Zealand's most popular tourist destinations, was depicted as Stirling Falls. Another notable location was the Paradise at Glenorchy Road.
⑤ The Chronicles of Narnia Series (2005, 2008, 2010)
Another entrant in the epic fantasy category – a significant portion of the first two movies were shot in New Zealand. The RNZAF Hobsonville Base near Auckland was where filming for the first part began. Shooting locations included the Flock Hill in Canterbury, Elephant Rocks (Duntroon, North Otago), Purakaunui Bay, Cathedral Cove.
⑥ Whale Rider (2002)
One of the most acclaimed movies from New Zealand, Whale Rider won several awards and nominations. It was a New Zealand-German production based on Witi Ihimaera's novel of the same name. The primary set location was Whangara – a place on the east coast of North Island. Parts of the film were shot in Auckland.
⑦ Other Popular Films shot in New Zealand
Did you know that several popular and cult films have been shot in the country? Here is a list of some of them.
Black Sheep (2006) • Shot in Wairarapa and Wellington.
Vertical Limit (2000) • Shot in the Queenstown and Southern Alps.
The World's Fastest Indian (2005) • Shot on Muriwai Beach, New Zealand.
Without A Paddle (2004) • Shot in Taupo, Rotorua, Wanganui, Waikato.
Mission Impossible 6: Fallout (2018) • Shot in Nevis Valley, Rees Valley, and Cromwell,
Images Courtesy of Canva.
10 Tips To Keep Your Home Clean And Fresh During The Summer
10 Factors to Consider When Hiring A Professional Plumber
Building Owners Beware: 3 Vital Functions of Roofing Insulation
Share This Story, Choose Your Platform!