More Finds From Miami Art Week
In our last post about Miami Art Week for 2015, we've rounded up a collection of eccentric work. Check out our other Miami Art Week posts on political art and beautiful technical skill. It can be difficult to stand out from an artistic crowd, but these artists have found a voice that is perhaps on a different wavelength. They have crafted a niche for themselves that made many at the shows stop and ponder.
Out of the Box
"These days my artistic inspiration derives from the vibrant fixtures of my environment,
fatherhood, life's circumstances, subcultures and the ability to create something out of nothing." –Alex Yanes Facebook, Instagram
Performance artist Tiffany Trenda interacted with the audience to align heartbeats via sound. Trenda wore pulse sensors on her fingertips in order to listen to the visitor's heart while her own heartbeat played through headphones for the visitor. The screen on her chest displayed a visual signal once both heartbeats were aligned. Facebook, Twitter, Instagram, Youtube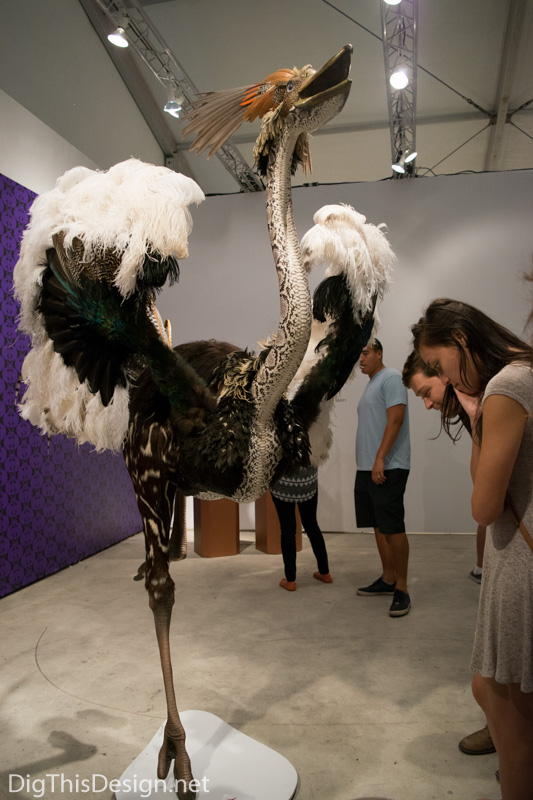 Enrique Gomez De Molina's specialty is creating taxidermy animal hybrids. This ostrich hybrid was at Context, and one of the largest of his works displayed there. Others included animal heads covered in vibrant jewel beetle wings. Due to some shifty international trading to source his art's (often endangered or threatened) specimens, Gomez De Molina was imprisoned back in 2012 for 20 months.
Chris Guarino creates sculptures and life casts. His work ranges from casts of World War II veterans to out of this world fantasy figures. Facebook
"Michael Jackson (Moonwalker)" by Nick Veasey
Nick Veasey's artist statement for his X-ray work is a desire to delve past the superficial images of everyday life. "To mix my metaphors, we all know we shouldn't judge a book by its cover, that beauty is more than skin deep." –Nick Veasey. Twitter Facebook
"He has a fascination with combining the opulent and the grotesque. He contrasts the refined with the depraved. Nude figures, rough textures, fine details, dirty light, and layered expression, characterize his images. He often uses elaborately built sets and numerous models."- from Benjamin Skinner's website,  Facebook
Alexis Mata A.K.A. Ciler is a Mexican artist who transforms and defaces imagery with layers of ink, paint, newspaper, photographs, and other mediums to bring out a darker meaning. He often covers topics ranging from death to beauty, from violence to the built environment. Instagram Behance
Evan Penny is a master at his craft. This was a very unique find at Miami art week. He creates hyper-realistic sculptures of people made out of pigment, hair, silicone, and metal. As a genre, hyper-realism always amazes, but Penny has taken his skills out of the box by creating distortions on top of his realistic sculptures. The human form stretched in all sorts ways offer a different perspective.
As long as you have the skills to portray the effect of light on an object, you can take on any medium from pigments to pixels, and even tape! Mark Khaisman creates imagery with tape on backlit panels. As a Ukranian native once living behind the Iron Curtain, Khaisman's subject matter is filled with American pop culture, which he attributes to being after an "imaginary city".  Facebook
Ole Ahlberg enjoys mixing subjects and characters from completely different eras into his paintings. Pin-ups and comic book characters mingle in questionably erotic situations, classical still life sit alongside contemporary objects in obscure single light settings.
I hope you've enjoyed our collection of visual inspiration from 2015 Miami art week. Was there an artist we missed? Let us know in the comments.
Share This Story, Choose Your Platform!