With summer just around the corner, now could be the perfect time to consider investing in solar panels from Infinity Solar USA for your home. Installing solar panels can provide various benefits; you'll reduce your reliance on traditional energy sources, lower your cost of living, and potentially even earn money through government incentive programs. So buying solar panels could be a great idea if you're looking for ways to help both the environment and your pocketbook this summer. What's more, modern technologies have made it easier to install them quickly and efficiently – meaning you can rest assured that your money is being well spent on reliable products.
The Benefits Of Purchasing Solar Panels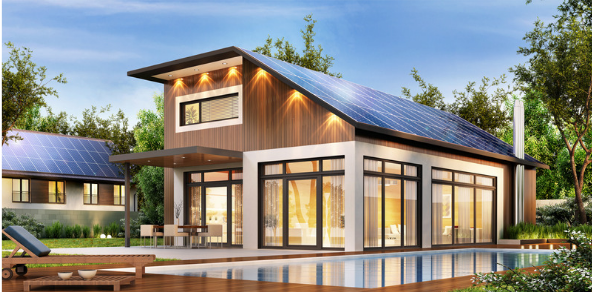 1. Save Money And Reduce Your Carbon Footprint
Going solar may be an intimidating decision, but it is a wise one. Installing solar panels in your home this summer will provide you with financial savings and reduce your carbon footprint. Solar energy relies exclusively on the sun's rays, which means there is no burning of fossil fuels involved in its production.
Instead, it produces clean electricity that can offset the cost of utility bills with little to no maintenance costs. It also helps to protect against future rate hikes and provides homeowners with greater energy independence. With solar panels, you are committing to take action and do your part for a more sustainable future – and maybe even set an example in your community.
2. Easy To Maintain
The summertime is a great time to start investing in solar panels for your home. The better news is that solar panels are very easy to maintain compared to other energy options. Generally, you just need to ensure the solar panel array is free of leaves or anything else blocking the sunlight and give the panels a plane at least twice a year.
Solar systems are designed with long-term, low-maintenance needs in mind, and with proper care, they can last for decades without any significant repairs or upkeep needs. This makes solar an excellent option for homeowners who want to reduce their monthly and yearly energy costs without needing specialized knowledge or much extra labor from professional installers.
3. Add Value To Your Home
Solar panels provide a great summer opportunity to add value to your home. Installing these panels on your home's roof not only increases the overall aesthetics, but they are also an investment that you can enjoy for many years.
On a sunny day, solar panels can generate clean and free electricity from the sun's rays and lower your energy bills significantly. You could potentially earn money back from the electricity you produce, as most countries have schemes encouraging people to adopt renewable energy sources.
Going solar not only means you're helping the environment, but it's also an investment that pays off in terms of improved resale value when it's time to move house. Now is the right time to buy solar panels and benefit from adding value to your home.
4. Long Lasting Performance
With the summer months quickly approaching, now is an excellent time to consider buying solar panels for your home. Solar energy is one of the cleanest and most efficient forms of renewable energy available.
Long-lasting performance is an essential factor to consider when choosing solar panel technology. Many of today's solar panels are built with durable materials and warranties that promise years of efficiency.
Over time, these panels will produce more reliable and consistent electricity, reducing your monthly electricity bill. Investing in quality solar panel systems also brings you a higher return on investments compared to traditional power sources such as fuel and coal-related sources. So, in addition to helping protect the environment from pollution, buying solar panels this summer can be an economically sound decision too.
5. Subsidies And Tax Breaks
With summer in full swing, it may be the perfect time to start looking into investing in solar panels for your home. By adding these panels to your home, you not only help protect the environment but also get great rewards through subsidies and tax breaks.
These tax incentives help offset many of the cost investments when buying and installing solar panels, creating an even more attractive investment. Many states have implemented measures to reward those who switch to solar energy, so why not take full advantage of them this summer?
6. Adaptable Design
Solar panels are the way to go if you're looking to reduce your energy bills and start using cleaner energy sources. This summer, you should upgrade your home with solar panels due to their adaptable design.
Solar panels are designed to absorb energy from the sun and use it as a renewable energy source for your home. This makes them highly efficient in reducing electric bills and helping your home stay environmentally friendly.
Additionally, solar panels are versatile enough to be mounted on various surfaces, walls, or rooftops, so you can find an installation that works for you no matter the structure of your home or environment.
Furthermore, because they can be tailored to suit any location or budget size, their use has grown exponentially, and more people than ever before are investing in them this summer. So why not join them and benefit from their amazing adaptable design?
7. Increase Self-Sufficiency
Summer is the perfect time to increase your home's self-sufficiency by installing solar panels. As a renewable energy source, solar power is both efficient and sustainable, which allows you to reduce your energy costs while also contributing to preserving the environment.
It also helps make your house greener by reducing carbon footprints and reliance on fossil fuels. With these benefits in mind, it's no surprise that many people are investing in solar panels for their homes this summer. The results aren't instantaneous, but they can be incredibly rewarding over time in terms of savings and long-term environmental impact.
Conclusion
If you are considering purchasing solar panels for your home this summer, several essential factors must be considered. The quality of the materials used and the panel's efficiency rating are two critical aspects to investigate.
Understanding, if local regulations or building codes mandate specific installations and requirements for any potential electrical work necessary with a solar panel installation, is also essential. Additionally, you should research and find out what incentives, rebates, or credits may be available through either state or local governments to help defray expenses associated with the solar application.
Other posts you might enjoy:
Can Wildlife Damage Solar Panels?
4 Reasons To Consider Adding Solar Panels to Your Home
Share This Story, Choose Your Platform!