A good Interior Designer will help you create a safe, practical, and aesthetic space where you and your loved ones can enjoy spending your time. However, interior decorating is time-consuming and requires a skilled eye to get it right. While many resources can guide your DIY decoration, hiring a professional designer remains one of the best ways to achieve the design of your dreams.
5 Reasons You Should Hire an Interior Designer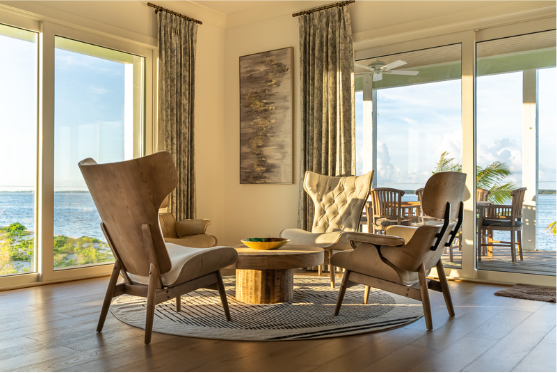 Design by Patricia Davis Brown Designs
Here are five reasons to consider hiring a professional designer for your next project.
An Interior Designer Helps You Save Money
Working with a professional designer will save you money in several ways. First, they can prevent you from making mistakes that can cost you a lot later. These include common design mistakes like investing in poor quality choices and disregarding the maintenance of your items. 
Secondly, since they work with other people in their circles, they can help you find items at lower prices than if you were to source for them. Thirdly, there's minimal room for error since they have the expertise. Finally, good interior design can also increase your property value, giving you significant financial gains when you decide to sell the property.
Define Your Style and Create a Plan
When it comes to interior design, everyone has different preferences. Professional interior design services can help you explore and find out what your design preferences are. Since they have the experience, they can expose you to many different styles, making it easier for you to find something that appeals to you. They can also customize designs to be both aesthetic and practical for you. 
Interior Designers Plan and Coordinate Your Space
Styling a home is a time-consuming and physically exerting project that requires proper planning and execution.  For you to get the home you want, planning is very crucial. It entails taking measurements and finding the perfect furniture for your space.
It also involves working with contractors and other service providers. A professional should be able to coordinate all this and oversee the entire project, which comprises many different activities such as installations and repairs.
An Interior Designer Has Knowledge and Experience
Professional designers have what it takes to help you bring your dreams to life. Due to their training, they can see things that you may be unable to, giving you a fresh perspective. Since styling can involve a lot of trial and error, working with a professional can help make the process less stressful.

They also know how to identify good quality items and can help you find and invest in quality pieces for your home. They can also help you create a timeless design that will serve you for a long time.
Interior Designers Have Unique Ideas and Contacts
Like every professional, interior designers have a vast network of people and resources. These may include suppliers for decorative items you may be interested in and contractors that can help with projects.
Working with a professional designer can offer you a unique perspective on your home, helping you create a one-of-a-kind interior that will go beyond just the aesthetics and meet your needs.
Hiring a professional designer can make the difference between a great home and an average home. They have the experience and eye for detail you need for that unique look. They can also save you time and money. Remember to work with licensed professionals and check their portfolios and recommendations to ensure they have the skills and experience you're looking for.
Other Posts You Might Enjoy
Tips for Choosing the Right Interior Designer for You
How to Create a Custom Design Bedroom
6 Billing Methods for Interior Designers
Share This Story, Choose Your Platform!