Having a concrete patio on your property is never a bad idea. It's a great place to sit and enjoy BBQ with your friends and family. Over the years, it can become outdated and dull. If that happens, it's time to renovate your concrete slap and redecorate your patio.
Concrete Patio Renovation – 4 Easy Steps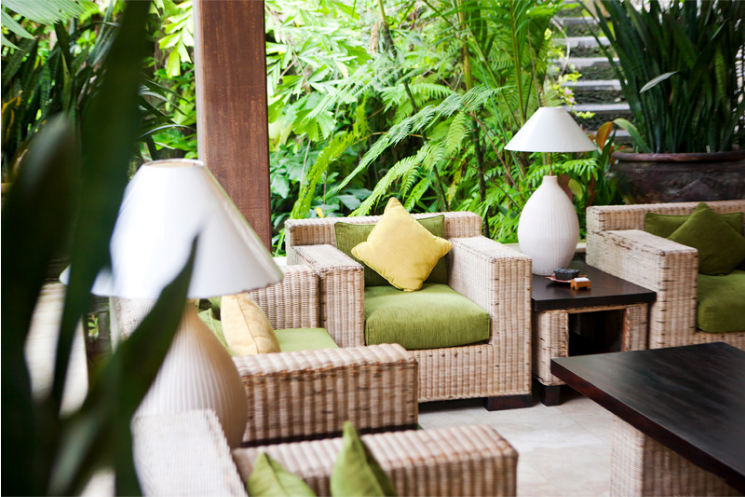 Let's look at a few ways you can renovate and redecorate your concrete patio. 
Clean and Prepare the Surface
Before you start the actual renovation and redecoration project, you must first clean and prepare the surface. In this step, you'll ensure that the new finishes adhere correctly so they last longer.
You can start by sweeping or blowing off any debris or dirt on the surface. Consider using a pressure washer on any stubborn stains, dirt, or grime that may have accumulated on the concrete patio. You can also use a concrete cleaner and a stiff brush to scrub the surface to remove any remaining particles. Rinse the concrete surface thoroughly and let it dry.
Reconstructing the Patio
If the patio is too old, you might notice damage on the concrete surface. If you notice cracks in the concrete now is the time to fix them. Sometimes cracked concrete can lead to damage deep within, making the whole patio unstable. If there is too much damage it might be time to bring in professionals, experienced in concrete removal.
Demolition contractor Five Points Excavating, who has two decades worth of experience in this industry, suggests that for a controlled demolition project like that, concrete removal via pressure bursting would be the best option. 
Don't get discouraged if you find out you need to replace the old damaged concrete patio. This will allow you to design exactly what you want. This will be the time to make any functional adjustments like fixing the drain pipes, gutter, or electrical wiring for proper outdoor lighting.
Add Color and Texture
One of the easiest ways to give your concrete patio a new look is by adding color and texture. You can use concrete stains, dyes, or pigments to add color to the surface. These products penetrate the concrete and create a translucent color that won't chip or peel. 
If you want to add a bit more texture, consider using a stamped concrete pattern or applying a textured overlay. Textured overlays can be customized to resemble natural stone, brick, or tile, giving your patio a high-end look. 
Furnish and Decorate
After you're done with the surface, it's time to furnish and decorate your patio. Start by choosing outdoor furniture that suits your style and needs. Look for pieces that are comfortable, durable, and weather-resistant. Consider lightweight furniture so that you can move them easily from one spot to another. 
You can also add layers to your design like rugs, throw pillows, and curtains if you want to create a cozy and inviting atmosphere. String lights or lanterns will add ambiance to your concrete patio design.
That concludes our list for renovating and redecorating your patio. Once all this has been done, your outdoor concrete patio will be ready for entertaining. 
Share This Story, Choose Your Platform!