Outdoor furniture gives a completely different look to the home exterior. It provides a unique appearance to the living space where you and your loved ones can enjoy quality time and lovely weather. Alike, indoor furniture, the outdoor cushions add to the beauty and comfort of patio furniture. Whether it is lounge chairs or sofas, a chaise lounge, or loveseats, patio furniture is incomplete without cushion covers.
Similar to indoor furniture, the patio furniture cushions need cleaning and care to maintain their wellness. Cushions for patio furniture come with a wide range of materials and colors to meet your demand and style. You can explore an exquisite variety of patio cushion covers from Fig Leaf Cushion Covers.
The patio furniture cushion covers are manufactured from specific materials to resist adverse outdoor conditions. However, it is necessary to take care of them so that they stay nice looking for a long time. If you're concerned about your patio furniture, we invite you to continue reading to learn some tips for patio furniture cushion cover care.
What to Consider Before Buying Patio Furniture Cushion Covers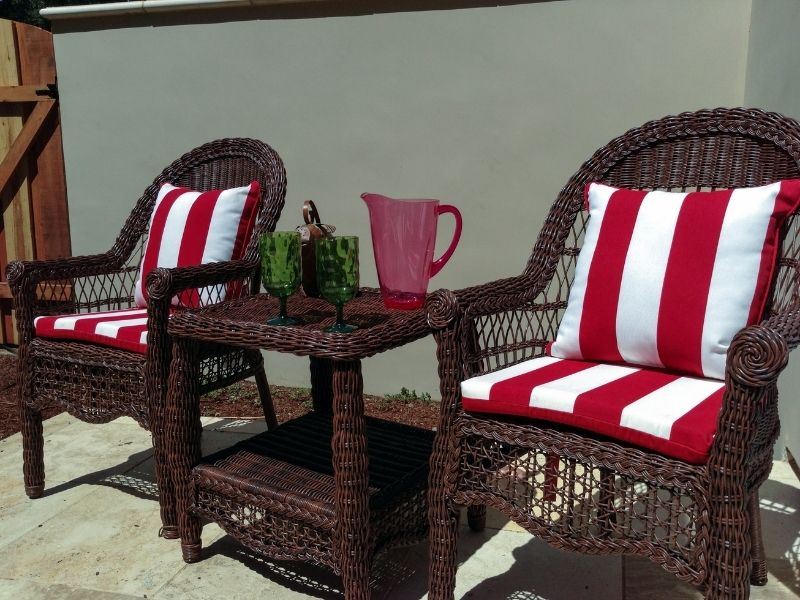 The outdoor cushion covers are available in a variety of materials, but you should consider a few things before purchasing them. Here are a few components you must consider before buying cushions for your patio furniture.
Develop a budget and stick to it.
Your budget for cushions is the most important factor. Of course, the more you spend, the better material you can buy. In fact, for a long-lasting and comfortable experience, you must pay more. Not everyone can afford expensive cushions for their patio furniture. Therefore, it's important to develop a budget for buying cushion covers so that you can choose accordingly.
Choose the material according to your habits or tastes.
If you love hygiene and clean couch cushions every week, then choose the color and material of your choice. However, if you don't have time to clean that often, opt for those colors and materials that are easy to maintain.
Of course, it depends on you how much time and effort you give to maintain patio furniture cushion covers but, the fact is that cleaning and maintenance extend the life of outdoor cushion covers.
Weather effects and what to do.
The climate of the region has its effects on outdoor cushion covers. You need cushions with different materials if the weather is typically humid or rainy or if they get sunlight exposure for the entire day.
Storage is another essential component
You need to store the outdoor cushions when you are not using the patio furniture. Consider this factor while purchasing the cushion covers for your patio furniture. If necessary, plan ahead by clearing out a special spot in your garage storage or backyard storage shed for the cushions.
Fabric material for outdoor cushions.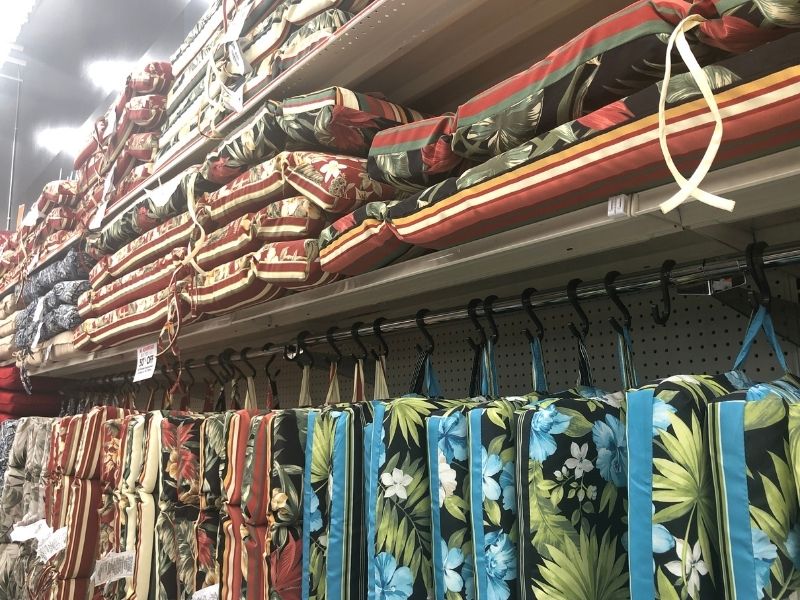 Fabric material for outdoor cushion covers has some similar and some different properties. First, the fabric must have the property to protect the cushions from mildew and molds. So, consider waterproofing, strength, UV resistance, and comfort while choosing the fabric. Also, go through the reviews available online before buying cushions for outdoor furniture.
Here is the list of materials commonly available in the markets:
⎆ Vinyl
Vinyl is a plastic material, and the price is very affordable. The material is strong enough to last for a long time. It is water-resistant and cleans easily. However, vinyl gives a plastic feeling and is not very comfortable. Although it is water-resistant, it gets hot when in the sun for a long time.
Therefore, you must ensure that you cover them up when the vinyl cushions are not in use.
⎆ Cotton Canvas
Cotton canvas is softer in comparison to vinyl. Additionally, it is durable and strong enough to survive the outdoor harshness. Cotton canvas material also covers a wide range of patterns and colors.
It is one of the economical options available in the markets. Cotton canvas can be treated to be water-resistant but it is not waterproof. So, you must allow for protection of the cushions in rainy and wet conditions. Although it is very comfortable, you need to store it away in winters and the rainy season.
Also, a damp cotton canvas material cushion cover is conducive to molds and mildew developing in it.
⎆ Textiline
Textilene contains the plastic element. It is a polyester fiber material covered with PVC, which enhances the strength of weaving. It is a mid-grade fabric for outdoor use, which is also water-resistant. The plastic element makes it hot in the sun. in addition to the fact that the colors and patterns tend to fade away.
⎆ Sunbrella
You must have a big budget to afford Sunbrella. However, it is one of the best options available in terms of durability and longevity. Sunbrella is prepared from solution-dyed acrylic material, which means the material is dyed in itself and is fade resistant. Sunbrella is fully waterproof, chlorine safe, and mildew and mold resistant.
Your cushions don't need a lot of maintenance if they are made from Sunbrella fabric.
⎆ Olefin
Just like Sunbrella, Olefin is also a strong material and an expensive one too. Olefin is water-resistant, fade-resistant, and also mold and mildew-resistant. The Olefin fabric is used in umbrellas, but the material is also great for patio furniture cushion covers.
Cleaning, caring, and maintaining patio cusion covers.
Follow the manufacturer's guidelines for cleaning and maintenance. It reduces the danger of damage to the outdoor cushions. Generally, manufacturers provide the cleaning instructions list on their website or mention customer service numbers for any information on the product.
You have to put some effort into your stuff to remain in good shape and last longer. Keep the cushions in the open air after cleaning to remove the remaining moisture. A soaked cushion allows molds and mildew to develop in it. It is necessary to maintain the patio furniture cushion covers, to get a pleasing ambiance when you spend your quality time in your open living space.
In conclusion.
If you have any questions or suggestions, we always love to hear from you in the comments below. Also below are links to more fantastic articles about ALL things DESIGN for your home or business.
Other Posts You Might Enjoy:
How To Create An Amazing Summer Ready Patio
3 Common Patio Door Styles for the Home
Benefits of Having a Patio at Home
Share This Story, Choose Your Platform!