While you should never delay a furnace repair, the best time to discover it is before you need to use it. Taking the time to make necessary adjustments before a cold front hits will help you get ready for the winter chill.
Tips for Home Furnace Repair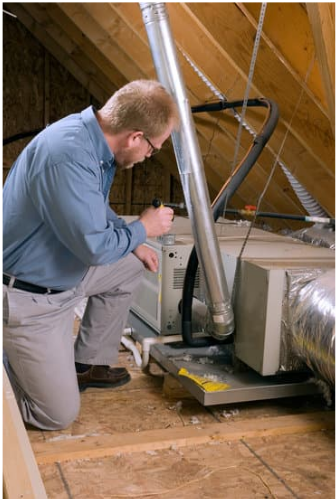 The first sign of a broken component is the burning smell that your furnace emits. Minor problems often lead to breakdowns later on. When this happens, it is time to call a professional. Here are some things to look for before it's too late.
Signs that your Furnace Needs Repair
Your home's temperature may not be balanced. Each room of your home should maintain the same temperature evenly throughout the home, if not it's time to call a professional. 

Inefficient heating could lead to high energy bills too.

Checking the pilot light and replacing it if necessary.

Look for signs of dust buildup around the vents and if you see a build-up clean it.

If your furnace filter is old, the air quality in your home may suffer so replace it with a new one.

Checking your heating bill every month for a change in energy consumption can help you identify if there is a problem that needs to be investigated. 

Check to see if the fan furnace needs to be set to AUTO instead of ON. If it is set to on it will force the fan to run continuously even when the heater is not needing to heat your home.
  Checking these problems is the first step toward a better-performing heater. 
Reasons to Call a Professional
A yellow flame on the pilot light indicates a problem with the gas mixture. If it's yellow, there's a chance that your furnace contains Carbon Monoxide, which is poisonous.
Another sign that your furnace needs repair is a broken heat exchanger. If this happens, carbon monoxide will begin to leak into your home, which is dangerous. It causes headaches and flu-like symptoms. If you notice any of these symptoms, you should leave your home and contact a professional to check the problem.
A carbon monoxide detector can alert you to the leak and make it easier for you to make the necessary repairs. Click here for CDC guidance on carbon monoxide poisoning. If you notice the flames are yellow, stop using the heater immediately and call a repairman to inspect it. Also, if your furnace produces excessive condensation or a foul odor, you should contact a professional to fix it.
It's not always a good idea to take on such a complex task without the proper knowledge and tools. This could damage important parts of your furnace, causing costly repairs down the road. HVAC professionals like the ones found at https://servicegenius.com/furnace-repair-woodland-hills-ca/ are trained to handle these tasks and can ensure the furnace is running at peak efficiency. They will ensure that the repairs are handled safely.
Signs that You Need a New Furnace
In the last few years of its life, your heating element will begin to show signs of wear and tear. Frequent cycling of the heating element, air quality problems and frequent repairs are all signs that your heating element has reached the end of its life cycle. 
The lifespan of a heating element varies depending on several factors, and it is best to consult a professional before making a decision. If your heating element is more than 15 years old, it may be time to replace it. These older units have trouble distributing heat throughout your home and increase your energy bill. Also, the repair costs alone could exceed half of the cost of a new heating element. 
If you need a new heating element, contact a heating element service provider for a free estimate. The service provider will help you determine the best replacement options for your home's heating and cooling needs.
Other posts you might enjoy:
3 Tips for Properly Maintaining Your Furnace
5 Tips for Maintaining Your Furnace
5 Things to do Before Your Furnace Installation
Share This Story, Choose Your Platform!