If you want extra space in your home, consider updating your basement. The basement usually features low ceilings, little lighting, and non-finished floors. Most of the older homes have electrical, plumbing, and other systems running along the ceilings of your basement. 
The renovations of the basements mainly depend on your budget, but you can use the basement space for living purposes. You could transform your lower basement in Toronto into a sleeping space, a recreational area for the kids, an office, or a potential rental space. 
How to Create Ceiling Height in Your Basement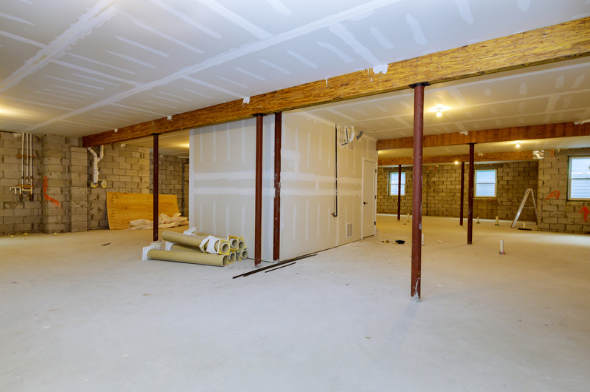 If you want to transform your basement, you must consider a few things. These are as follows:
How to Create More Space
In most homes, typically the ceilings are too low to walk comfortably. Therefore, you must do something to expand the area. For that, structural changes are required in the foundation. Usually, there are two methods of lowering the floor of your basement.
Both of these methods will make changes in the foundation walls and footings. You also need to show the scope of work done in the basement over the years to analyze how much more work is needed. There are pros and cons to each method.
One Ceiling Height Technique: Foundation Underpinning
Foundation Underpinning involves digging a series of holes below the existing foundation footing in the basement. These holes will be filled up in sequence to strengthen and lower the footings and foundation walls. The soil inside your basement foundation will be dug out creating higher ceilings for more room. 
Along with digging holes, all the cracks in your foundation will be rectified. You will need to upgrade your plumbing, electrical and insulation systems to meet modern day building code requirements. It is necessary to waterproof your basement, so it can remain dry.  
This method is done one step at a time, creating a longer construction time. It is more expensive and requires professionals to complete foundation underpinning.
Another Ceiling Height Technique: Foundation Benching
Foundation Benching involves, exerting engineers digging down to the depth you want your foundation floor to be. It is necessary to reinforce and extend the foundation walls. Thus, it will create a bench-like structure around the new foundation floor.
Benching requires certain conditions on the soil, sewage system, and proximity to neighbors. Conditions need to be in your favor for benching to be possible. In comparison to underpinning, benching cost less and has less construction time, but doesn't create as much space as underpinning would.
If you are unsure of how you want to design your basement, consider hiring an Interior Designer for a consult. 
Other Posts You Might Enjoy
Setting Up Your Budget for a Basement Renovation
4 Things to Consider Before Adding a Bathroom to Your Basement
Crucial Reasons to Waterproof Your Basement
Share This Story, Choose Your Platform!